Hendry, Tom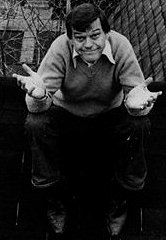 Tom Hendry
Playwright/administrator born in Winnipeg, Manitoba, June 7, 1929, died December 2, 2012 in Toronto. He was co-founded (with John Hirsch) of the Manitoba Theatre Centre (MTC) in 1958 - the first regional theatre in the country. He was the first literary manager of the Stratford Festival (1969-70). In 1971 he co-founded Playwrights Co-op which is now the Playwrights Guild of Canada and in the same year he also co-founded Toronto Free Theatre. He also co-founded the playwrights colony at the Banff Centre for the Arts and headed it from 1974-76.
He was educated (in accounting) at the University of Manitoba, but while studying began to act in television and radio, and was mentored by James Reaney in Winnipeg.
His plays include: Trapped (MTC, 1962, directed by Hirsch), Satyricon (Stratford, 1969, Hirsch), Fifteen Miles of Broken Glass (Central Players, Toronto, 1969, Martin Kinch), How Are Things With The Walking Wounded? (Toronto Free Theatre, 1972, Kinch), Gravediggers of 1942 (Toronto Free Theatre, 1973, Eric Steiner), Byron (Toronto Free Theatre, 1976, Kinch), Hogtown: Toronto the Good (Toronto Truck Theatre, 1981, Brian MacDonald), Not in My Back Yard (Golden Horseshoe Players, Toronto, 1994).
He has also written for television (notably for the CBC series, King of Kensington).
In 1986, Tom Hendry received the Toronto Drama Bench Award for Distinguished Contribution to Canadian Theatre. He was invested as an officer of the Order of Canada in 1995. In 2008, MTC's Warehouse Theatre was named the Tom Hendry Theatre in his honour. Statues of both Hendry and John Hirsch stand in front of the MTC.
He lived in Toronto since 1976.
According to theatre scholar Ric Knowles, Tom Hendry was "a huge champion of Canadian playwrights right up until the end of his life. He was also a person of extraordinary good humour, and a great story teller."
Last updated 2018-07-03