The Saints and Apostles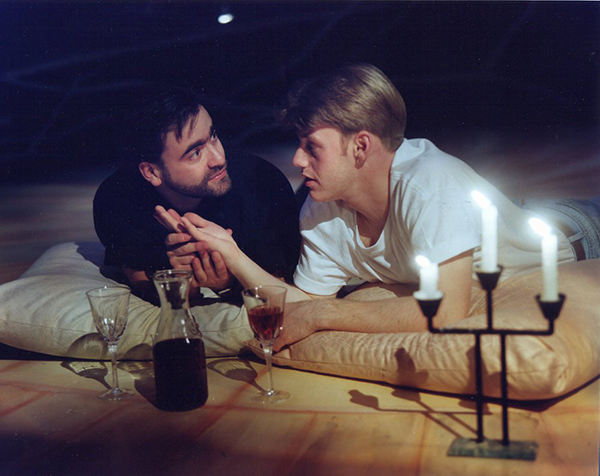 The Saints and Apostles, Workshop West Theatre, 1991. Michael Spencer-Davis as Michael (left), and Glyn Thomas as Daniel.
A moving and thoughtful depiction of family members and loved ones during the AIDS pandemic in the 1970s by Raymond Storey. The Saints and Apostles, premiered at Workshop West Theatre in Edmonton, Alberta, November 1991. It won an Elizabeth Sterling Haynes Award for Best New Play and for Best Actor (Michael Spencer-Davis). The production was directed by Raymond Storey, and featured Brian Taylor as Peter, Julie Bond as Madeline, Michael Spencer-Davis as Michael, Glyn Thomas as Daniel, and Ann McGrath as Rita.
The Saints and Apostles is set in Toronto, and explores issues of urban isolation and fear, and the possibility of caring, loving relationships in times of suffering and crisis. It is a deeply philosophical play that considers the conundrums of morality and religion, of sin and sainthood in a secular society.
Designer David Skelton conceived the set for the Workshop West premiere as a triptych – a three-part panel on which three different, but interrelated "religious" portraits are depicted. Peter the Elder, seated on a "throne" in the central panel or shrine upstage, is characterized by Storey as "a virile man in his early forties. His niche is filled with a clutter of paper, medical degrees, charts and books. His throne is an Italian modern reclining chair of chrome and leather." He likes to be in control. As the play begins, he is looking through some photographs of his ex-wife, Lorraine, and his son, Daniel, and remembering Daniel's childhood, in light of their current estrangement and Daniel's illness.
On the left panel of the triptych is "Saint Madeline," a fundraiser for an opera company in her late thirties, who likes a good time, but has trouble finding it. "She wears a bath robe and has wrapped her hair in a towel. She examines her reflection in a mirror on her makeup table, which is covered with brushes, cosmetics, and perfume bottles, a tape player, a bottle of extra-strength Tylenol, and a bottle of Absolut." As she gazes into the mirror, she laments over her mental and physical state. She has left an early abusive marriage and lives with her good friend Michael, a gay theatre director.
The right panel is occupied by Rita, a woman in her early fifties, a faded blonde who has kept her figure on a diet of cigarettes and white wine. Her niche is a cramped highrise balcony. She rests against the wrought iron rail and blows smoke into the distance towards the planes that take off or land at the airport near her apartment. Her relationship with her son, Michael, is a fraught one.
These three "saints and apostles" are closely connected to the two men whose precarious relationship the play explores: between Michael, a cynical, neurotic thirty-five-year-old director, who wears black well; and Daniel, twenty-one, tall, slender, blond with almost translucent white skin. who has AIDS. They are all frustrated by the limitations in their lives, and trying to connect with someone or something that will give their lives some significance or value, trying to find some form of salvation. Daniel's final realization, after he has left Michael, is that life has meaning only in a full awareness of the moment. The point of the exercise is the exercise itself; one runs the course for the exhilaration of the run. The length is of no importance.
Commentary by Anne Nothof, Athabasca University
Last updated 2019-05-24