Workshop West Theatre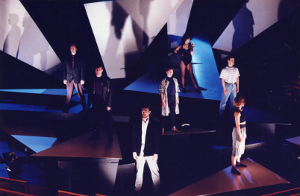 Unidentified Human Remains and the True Meaning of Love
by
Brad Fraser
, Workshop West 1990.
(L-R)
John Hudson
, Daryl Shuttleworth, Shaun Johnston,
Marianne Copithorne
, Kate Newby, Elizabeth Brown, and Jeffery Hirschfield.
Designed by David Skelton, Directed by Brad Fraser.
Photo credit: Ed Ellis
Established in Edmonton, Alberta in 1978 by Gerry Potter, a graduate from the University of Alberta, Workshop West's original mandate was three-fold: to give Edmonton a chance to share in the explosion of new Canadian theatre by producing shows that had proved popular elsewhere, and by sponsoring touring productions; to give Alberta playwrights more access to the stage; and to develop playwriting talent in Alberta. Workshop West remains dedicated to the development of Canadian plays and playwrights by producing a mainstage season that is a mix of premieres of new works primarily by Alberta playwrights, and recent works from across Canada; by a playwrights development program; and by Second Stage programming featuring works in progress. Since its inception, it has produced 70 world premieres.
The first season included One Night Stand by Carol Bolt; On the Job by David Fennario (with actor Paul Gross, a University of Alberta BFA graduate); and Punch and Polly by Rick McNair. The 1979/80 season featured Of the Fields, Lately by David French; and A Yard of Ducks by James DeFelice. Subsequent seasons included seminal plays by Canadian playwrights: Creeps by David Freeman (80-81 season, co-produced by Catalyst Theatre); Rexy by Allan Stratton, and Balconville by Fennario (1981-82); cross>Billy Bishop Goes to War by John Gray and Eric Peterson (83-84); Doc by Sharon Pollock (1984-85, dir. Potter); The Fighting Days by Wendy Lill (1986, dir. Dorothy A. Haug); The Melville Boys by Norm Foster (1987); Learning to Live With Personal Growth by Arthur Milner ( 88-89); Unidentified Human Remains and the True Meaning of Love (1990) and Poor Superman (93-94) by Brad Fraser; Polygraph by Robert Lepage (91-91); and See Bob Run by Daniel MacIvor (93-94).
In 1985, Workshop West initiated a "Playmaking Ensemble" of eight theatre artists. Over the next two years the ensemble worked collectively to produce new works, including It's your Turn to get Up, and to adapt stories from other media, such as Sweatlodge Tails and The Rich Man, based on the novel by Henry Kreisel.
Workshop West also collaborated with Teatro La Quindicina to produce a series of new plays by Stewart Lemoine, including Hopscotch Holiday, When Girls Collide, The Glittering Heart, and The Book of Tobit.
Other new works by Alberta writers included Closing Time (1986) and East Edmonton Maul (1987) by Daniel Libman; Prairie Report (1988), Sliding for Home, Farewell (1991), and Kidnapping the Bride (1992) by Frank Moher; DustSluts (1992) by Conni Massing; and The Saints and Apostles (1991) by Raymond Storey.
In 1994, Gerry Potter resigned as Artistic Director. The next AD, David Mann, continued the Springboards New Play Festival as part of the new work development process in 1995. Workshop West premiered Letters in Wartime by Ken Brown and Stephen Souvir in 1995 (dir. Mann); Banana Boots by David Fennario; and two plays by Clem Martini (Exit Othello in 1996 and Selling Mr. Rushdi in 1997, dir. Mann).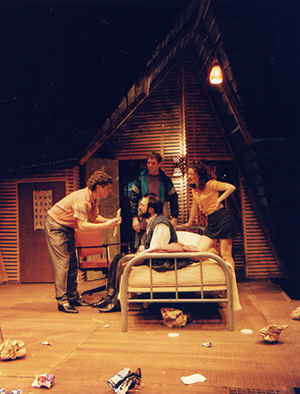 Selling Mr. Rushdie
by
Clem Martini
, Workshop West Theatre, 1997, dir. David Mann, with (l.to r.) Murray Utas, Dave Clarke, Kevin Kruchkywich, and April Banigan.
In 2000, Ron Jenkins became Artistic Director. In the 2001/02 season, he won the Elizabeth Sterling Haynes Award/Sterling Award for best director for the Workshop West production of Mesa by Doug Curtis, and directed the premier of Apple by Vern Thiessen (2002). He also initiated the KaBoom! Theatre Performance series, featuring new and unusual Canadian plays, including Shape of a Girl by Joan MacLeod (Green Thumb Theatre for Young People production); Jumpin' Jack by Lyle Victor Albert; and Head Movements of a Long-Haired Girl by Karen Hines. For the 2002/03 season KaBoom! presented three plays, including Jimmy by Marie Brassard, two readings, an evening with Joan MacLeod, and Playwrights Garage - 15-minute readings of new plays.
Jenkins directed Mary's Wedding by Stephen Masicotte in 2002; The Red Priest by Mieko Ouchi in 2003; and the premiere of Ron Chambers' 17 Dogs in 2003. Daniel MacIvor performed his play, Cul-de-sac in 2004 (dir. Daniel Brooks).
With Darrin Hagen's company, "Guys in Disguise," Workshop West has hosted the "Loud & Queer" cabaret for over twenty years. It also continued the annual Springboards New Play Festival, and founded the Canoe Theatre Festival, featuring performances from across Canada.
In 2008, Workshop West initiated the Rubaboo Performance Gala, a showcase of Indigenous theatre, dance, story-telling and music. In 2009, a small Indigenous company grew out of this endeavour, working with Workshop West for two years. Alberta Aboriginal Arts, under the artistic leadership of Ryan Cunningham and Christine Sokaymoh Frederick, produced major works in 2010, 2011 and 2012. In 2013, the Company again partnered with Alberta Aboriginal Arts to present Agokwe by Waawaate Fobister.
Michael Clark was AD from 2006 to 2014. He inherited cash flow problems, and suspended the 2006/07 season, using the time to regroup, but also continuing to encourage new play development through the establishment of a "Playwrights Unit," and collaborative projects with other Edmonton theatres such as Theatre Yes, Azimuth Theatre, and Guys in Disguise. Workshop West resumed a season of productions in the 2007/08 season with Stuck by David Rubinoff, and The Mighty Carlins by Collin Doyle (dir. Michael Clark). The Mighty Carlins garnered five Sterling Award nominations, winning two, including Outstanding New Play. The play text (NeWest Press 2018) was also nominated for the Gwen Pharis Ringwood Prize.
For the 2008/09 season Workshop West premiered Stray by Elyne Quan; and produced Three Little Birds by Kenneth T. Williams. In 2009/10, it presented The Seed Savers by Katherine Koller as theatre-in-the-round, suggesting a prairie landscape on the floor through lighting, with the audience surrounding the action. The Seed Savers was subsequently produced at the Station Arts Centre in Rosthern, Saskatchewan, and published by Athabasca University Press in 2011. Dry the Rain by Mark Stubbings garnered two more Sterling nominations for the theatre.
In 2010/11, Workshop West presented Native Earth Performing Arts' touring production of Almighty Voice and His Wife by Daniel David Moses; and produced together for the first time all three plays of Kenneth Brown's Spiral Dive trilogy, about a Canadian Spitfire pilot in WWII. It also premiered An Almost Perfect Thing by Nicole Moeller, which won the 2011 Sterling for Outstanding New Play. In 2013, it premiered Ken Brown's Double Double and teamed up with the Alberta Federation of Labour to celebrate its 100th anniversary with a special presentation of the Canadian musical, Strike!.
To celebrate its 35th season (2013/14), Workshop West premiered two plays by prominent Canadian playwrights who have a close connection with the theatre: Brad Fraser's Kill Me Now and Conni Massing's The Invention of Romance.
Several works premiered at the Canoe Theatre Festival have toured nationally and internationally. ONE by Jason Carnew, was invited to Tricklock Theatre in New Mexico, Ghost River Theatre in Calgary (winning three Betty Mitchell Awards) and Toronto's SummerWorks Festival. PIG by Kristine Nutting toured to One Yellow Rabbit's High Performance Rodeo, and a revised version of Operation EVAsion played at Fire Fly Theatre in 2012.
From July 2014 to September 2019, Vern Thiessen was Artistic Director, returning from New York to the theatre that gave him his start as a playwright. Under Thiessen's direction, Workshop West has focused on playwrights and play development, changing its name to Workshop West Playwrights' Theatre to underscore its mandate: to "illuminate issues important to our time; reflect the diversity of our country; and advance equality while engaging and building community" through innovation, partnership, and inclusion. The 2015/16 season included Café Daughter by Kenneth T. Williams, and Ursa Major by Megan Dart. The annual Canoe Festival featured new works in collaboration with the Expanse Movement Arts Festival and Fringe Theatre Adventures. Other projects included SOUND OFF: A Deaf Theatre Festival with Festival Director Chris Dodd, featuring deaf artists from across Canada – the only one of its kind in Canada -- and BAM! (Black Arts Matter). "This is YEG" embedded eight playwrights in diverse Edmonton locations, including a funeral home (Cat Walsh), the University of Alberta Math Department (Kenneth T. Williams), a comic bookstore (Minister Faust), City Hall (Jason Chinn), the Edmonton Valley Zoo (Conni Massing), and the Glenrose Rehabilitation Hospital (Dr. Heidi Janz). The eight ten-minute plays premiered at Cité Francophone, April 22-24, 2016. Workshop West is also heavily invested in theatre education: #writesofpassage is a collaboration between Workshop West, Citadel Theatre and Edmonton schools.
For the 2017/18 season, Workshop West continued its ambitious combination of new play development and production, outreach, and inclusivity. Café Daughter travelled to six northern communities following its acclaimed production at the National Arts Centre. In June 2018, Café Daughter was performed in Belgrade, Serbia at the Festival of Mime and Monodrama, with the Workshop West cast and crew, and took home two festival prizes: the Golden Medallion as the best of the festival, and the Audience Jury award to Tiffany Ayalik for her portrayal of Yvette Wong. Two new plays were premiered: John Ware Rediscovered by Cheryl Foggo and Pretty Goblins by Beth Graham.
The 2018/19 season included the premiere of Matara by Conni Massing, which tackled the controversy over the lone elephant remaining in the Edmonton zoo. The Deaf Theatre Festival and BAM! featured works and artists from across the country, including Songs My Mother Never Sung Me by Dave Clarke, produced by Concrete Theatre (dir. Mieko Ouchi and Caroline Howarth) in February 2019, performed by deaf and hearing actors and singers using ASL.
In November 2019, Heather Inglis was appointed Artistic Producer of Workshop West.
Early in the Covid-19 pandemic, which forced the cessation of live indoor theatre productions, Workshop West produced a socially-distanced outdoor production titled Here There Be Night in collaboration with Theatre Yes, Catalyst Theatre, Theatre Network, and Northern Light Theatre. Audience groups of one or two were guided via their cell phones and audio narration to see solo performers in a variety of outdoor and found space locations in Edmonton's Old Strathcona district. The Company also launched several education initiatives. In November 2021, Workshop West premiered Darrin Hagen's autobiographical monologue, Metronome(dir. Heather Inglis). "Metronome is about falling in love with music, and the very special Ennis & Sons piano which changed Darrin's life. From growing up queer in small town Alberta, through his move to the 'big city'" (Workshop West Facebook post).
Workshop West has operated out of several venues, especially at its beginning. It used Theatre 3's venue on 95th Street until 1983, when it moved to the Kaasa Theatre in the basement of the Northern Jubilee Auditorium. It also used the Rice Theatre in the Citadel Theatre complex, the Roxy Theatre, the Westbury Theatre and Backstage Theatre in the TransAlta Arts Barns, the Timms Centre Theatre at the University of Alberta, the Second Playing Space (a decommissioned Lutheran Church), and the Cité Francophone Theatre. In 2022, it moved its operations to the Gateway Theatre in Old Strathcona, formerly the temporary home of Theatre Network.
The archives of Workshop West are deposited at the University of Alberta Archives.
Sources: Moira Day."Workshop West," The Oxford Companion to Canadian Theatre. Eds. Eugene Benson and L.W.Conolly. Toronto: Oxford UP, 1989.
Don Perkins. "Introduction" to Finders Guide, University of Alberta Archives. Additional information by Michael Clark.
Workshop West website: www.workshopwest.org.
Profile by Anne Nothof, Athabasca University
Last updated 2022-02-23