Gross, Paul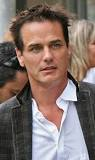 Paul Gross
Actor/writer/director/producer, born in Calgary, Alberta in 1959, probably best known for his television work, notably as the mountie in the CTV/CBS series Due South. Paul Gross believes strongly in the importance of telling Canadian stories to connect with the past and shape the cultural and political future of the country.
As an army brat, he travelled with his parents to Great Britain, Germany and the US before landing his first acting job, at 14, in a television commercial shot in America. On returning to Canada, he continued to act in commercials while studying theatre at the University of Alberta. With the encouragement of his professor, James DeFelice, he began to write. His first play, The Deer and the Antelope Play won an Alberta Culture Playwriting Award and a Clifford E. Lee National Playwrighting Award. It was co-produced by the University of Alberta Studio Theatre and Theatre Network. The Dead of Winter was mounted at Toronto Free Theatre starring Jackie Burroughs.
His other plays include: Sprung Rhythm (National Arts Centre, 1984, later performed in Toronto under the title Buchanan); Thunder, Perfect Mind (Toronto Free Theatre, Toronto Planetarium, 1986).
He was playwright-in-residence at the Stratford Festival and the Grand Theatre, London before writing for television and film, notably for director Atom Egoyan.
His early acting work includes roles in the Northern Light Theatre productions of A Midsummer Night's Dream (Lysander), and As You Like It (Sylvius) in the company's 1980-81 season; the Theatre Calgary's production of Mrs. Warren's Profession (1982-83); the National Arts Centre production of Walsh; Festival Lennoxville's production of The Kite by W.O. Mitchell; Take Me Where the Water is Warm by James DeFelice; and In the Jungle of Cities by Bertolt Brecht. In 1985, he played Romeo in Guy Sprung's production of Romeo and Juliet in Toronto's High Park.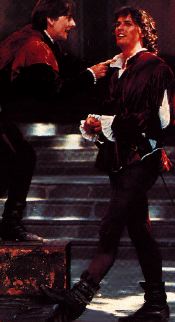 Paul Gross (r) in the lead role in
Guy Sprung
's 1985 Shakespeare-in-the-Park production of
Romeo and Juliet.
He continued to perform in the theatre, winning a Dora Mavor Moore Award for Observe the Sons of Ulster Marching Toward the Somme (Canadian Stage, 1989). In summer 2000, he returned to Stratford in the title role of Hamlet (dir. Joe Zeigler); the production set a box office record of 80% attendance. He then played the lead role of a dysfunctional artistic director of a Shakespeare Festival very much like Stratford in a satirical TV series entitled Slings and Arrows (2003-06).
In 2011, Gross co-starred in Noel Coward's comedy Private Lives with Kim Cattrall at the Royal Alexandra Theatre and on Broadway. In November, 2015, he co-starred with his wife, Martha Burns in Domesticated, a play about the infidelity of a US president by American playwright Bruce Norris (The Company Theatre/Canadian Stage).
His work in film includes the role of a handsome but inarticulate ranch hand determined to acquire a ranch through marriage in Getting Married in Buffalo Jump (2009), beautifully filmed in southern Alberta near his family's ranch on the Red Deer River; and the hilarious spoof, Men with Brooms (2002), which he wrote and directed, co-starring with Leslie Nielsen. In 2009, his film based on his grandfather's experiences in World War I, Passchendaele was awarded a Genie for best Canadian film. He played the lead role of the emotionally scarred soldier, and was writer, producer and director. In 2011, he was executive producer for the six-part mini-series The Yard, and began location-shooting for the feature film Hyena Road, set in wartorn Afghanistan, about the perilous exploits of Canadian snipers. Gross plays a conflicted intelligence officer who sees a larger socio-political scenario. The film was released in October 2015 to critical acclaim. In her review, Kate Taylor claims that this "Unprecedented Canadian war film [is] a marvel of quiet authenticity" (Globe and Mail 9 Oct 2015).
Gross was also writer, producer and star on the political drama series Jerusalem. He co-wrote (with John Krizanc) the CBC political mini-series H2O (2004), in which he plays a Canadian Prime Minister who abets an American scheme to access Canada's water, and then loses control of the country to the US army. The sequel, The Trojan Horse aired in 2008.
In 2009 Gross was honoured with a National Arts Centre Award for exceptional achievement. In 2013, he was named an Officer of the Order of Canada, and in 2015, he received the Earle Grey Award for the Academy of Cinema & Television for his three decades of creative work.
Since 1987, he has been married to actor Martha Burns, whom he met in 1983 while playing a young Mountie in Sharon Pollock's play Walsh. They have a son and a daughter, Hannah Gross, who is also an actor.
Source: Heather Mallick. "Not about to curl up and call it quits," The Globe and Mail, Toronto, 19 Sept 2000
Profile by Gaetan Charlebois and Anne Nothof
Last updated 2020-02-28