DeFelice, James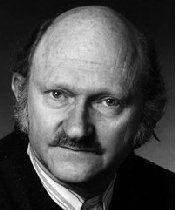 Alberta-based writer, actor, director, dramaturg and teacher, born in Lynn, Massachusetts, January 6, 1937. Jim DeFelice studied at Northeastern University, Boston, Tufts and at the University of Indiana.
His trilogy of parable plays The Elixir, Fools and Masters and The Merchants of Dazu has been produced across Canada. Other plays include: Take Me Where the Water's Warm (Northern Light Theatre, 1979, directed by Scott Swan), The Bird Prince (Chinook Theatre, 1985, directed by Ti Hallas). His most recent work, a romantic comedy entitled Ladder to the Moon, was read at the Playwrights Guild of Canada/Alberta Playwrights Network Script Salon in October, 2015.
He has written for cinema, notably the screenplay for the 1977 film Why Shoot the Teacher, which won a Canadian Screen Award for best screenplay in 1978. He has also written frequently for CBC radio.
DeFelice has acted at Shadow Theatre (Fool for Love 1989), at the Edmonton Fringe, Phoenix Theatre, the Citadel Theatre, and Northern Light Theatre. At Theatre Network, he played the challenging role of a father in early stages of Alzheimer's in Eugene Stickland's Closer and Closer Apart (2007). In 2018, he was a guest member of the improv group, Coyote Comedy (with Neil Grahn, Peter Brown, Cathleen Rootsaert and Donovan Workun), which performed every Thursday at The Grindstone in Edmonton.
He has directed 62 plays, including 40 plays at the University of Alberta (where he was a drama professor for 33 years before retirement in 2002), notably the well-received 1999 production of Sharon Pollock's Doc. At the Edmonton International Fringe Festival, he has participated in 21 productions. He directed Underneath the Lintel (Shadow Theatre 2003), and AR Gurney's Sylvia at the Varscona Theatre in Edmonton (January, 2000)
He told the Edmonton Sun (November 4, 1999) that the text of a play is, "the wellspring of all the information I require. So my directing approach involves very close script work with the actors. I don't try to impose myself on the play, I try to discover it."
He won Sterling Awards for lifetime achievement (1995) and for his production of The Baltimore Waltz (1997). He is a member of the Edmonton Cultural Hall of Fame, and with his partner, Gail, the father of two daughters: Gwen, and the theatre director, Amy DeFelice.
Profile by Anne Nothof, Athabasca University
Last updated 2020-06-12