Rootsaert, Cathleen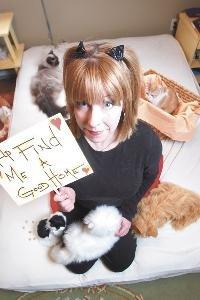 Cathleen Rootsaert
Playwright, actor, and director, born in 1970 in Winnipeg, Manitoba and currently based in Edmonton Alberta. She has written for stage, radio and television. Plays include Choke (Theatre Network 2009), After You, House of Cats (Teatro La Quindicina 2007), Make Me, Legacy, and Mimi Amok.
She began her acting career with the improvisational group, Rapid Fire Theatre, and until 1985 she was one of four "Three Dead Trolls in a Baggie" who entertained loyal audiences with their farcical pranks at the Edmonton International Fringe Festival. She has acted in several of Stewart Lemoine's plays, including My Miami Melody (1985), Two Tall, Too Thin (1992) and Connie in Egypt (1994 and 2009). She is also a long-time cast member and sometimes director of the live improvised soap opera Die-Nasty. From 2008 she has performed with Leona Brausan and Davina Stewart in Hey Ladies!!, a "live Info-tainment, Comedy, Variety, Game, Therapy, Alibi, Dame Fest. Learn, laugh and tipple" (Theatre Network website). She also performs weekly in the improv company, Coyote Comedy at the Grindstone in Edmonton.
Cathleen has been playwright-in-residence for Theatre Network and Teatro La Quindicina.
She has received the Elizabeth Sterling Haynes Awards (Sterling Awards) for Outstanding New Play for Mama Mia! Me A Mama?. Her magical-realist work, Abigail in Twilight(2005), was the grand-prize winner of the Alberta Playwriting Competition.
In 2009 her play Choke was chosen by a jury of experts set up by the Embassy of Canada in Germany (Berlin) to study and select new Canadian stage plays with the potential for success in German-speaking countries. Since 2007, a jury has chosen five plays notable for their subject matter, and their linguistic and dramatic qualities. In the black comedy, Choke, two irresponsible sons who are exploiting the kindness and patience of their mother find the roles reversed when she has a stroke, and they must learn not only to care for themselves, but to care for her.
Profile by Anne Nothof, Athabasca University
Last updated 2019-04-04