Stewart, Davina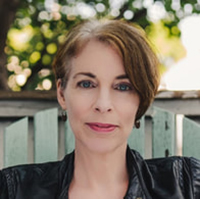 Davina Stewart
Actor and director, based in Edmonton Alberta since 1983, and an Artistic Associate with Teatro La Quindicina, the company with which she has been associated since her graduation from the University of Alberta Fine Arts Program in 1986. For Teatro, she has performed in the plays of Stewart Lemoine, including Cocktails at Pam's (1986, 2016)), The Vile Governess (1986), Mother of the Year, Connie in Egypt, Happy Toes, A Rocky Night for his Nibs, Hey, Countess!, At the Zenith of the Empire, and Pith!, including a revival and tour across Canada and in New York City. More recently, she has appeared in: Marvellous Pilgrims, Cause and Effect, Angels on Horseback, The Scent of Compulsion, When Girls Collide, The Ambassadorís Wives, On the Banks of the Nut, The Oculistís Holiday (reprised in 2014), and The Finest of Strangers (2018). In 2008, she directed The Revenge of the South Sea Bubble by Lemoine. In July 2014, she convincingly played the fraught mother who learns to enjoy life in Neil Simonís Barefoot in the Park (dir. Lemoine) for Teatro. An accomplished comic actor, Davina Stewart has often appeared with Jeff Haslam as his love interest or nemesis.
Since 1986, she has frequently appeared in productions at the Edmonton International Fringe Festival, including: The Worldís Wife and Skirmishes. In 2017, she played the receptionist in Adam Bock's play of that name, skilfully creating the role of a woman whose kindness and efficiency provides a convincing front for an office whose business is brutal interrogation. In 2018, she was a wry but sympathetic narrator in Stravinky's The Soldier's Tale, observing and interacting with events and characters as they played out to music and dance.
At Theatre Network she performed in Marion Bridge and A Beautiful View, both by Daniel MacIvor; in Poster Boys by Michele Riml: and in Bitchslap with Guys in Disguise. In 2016, she appeared for Workshop West in Darrin Hagen's Witch Hunt at the Strand, achieving the unique distinction of being nominated for a Sterling Award for her portrayal of Elizabeth Sterling Haynes in that production.
For Shadow Theatre, she played in Later Life, Three Viewings, and as a ruthlessly egotistical Masha in Vanya and Sonia and Masha and Spike by Christopher Durang (2019). In March 2022, she convincingly expressed the perspective of a "non-native" older woman who attempts to stop the sewing and harvesting of wild rice by a local First Nations man in an Ontario lake on which she has a family cottage in Cottagers and Indians by Drew Hayden Taylor.
She has appeared at the Mayfield Dinner Theatre in Deathtrap (2013), The Odd Couple, and Run for Your Wife. In 2015, she convincingly played an obsessive psychologist in Norm Foster's The Long Weekend at the Mayfield.
In April, 2021, during the Covid-19 pandemic, she performed in the two-hander, Something Unspoken by Tennessee Williams in a zoom production for Northern Light Theatre, with Pat Darbasie (dir. Trevor Schmidt). In August, 2021, she compellingly played an art history professor who has been targeted on social media in Woman Caught Unaware by Annie Fox (dir. Trevor Schmidt) in a live performance at the Varscona Theatre.
Davina Stewart has been a company member of the improvised soap opera Die-Nasty, which performs weekly at the Varscona Theatre in Edmonton, and appeared three times in the Soapathon in London, England, at the Chicago Improv Festival, and the Liverpool Metafex Festival. With Leona Brausen and Cathleen Rootsaert, she has produced and appeared in a variety/talk show entitled Hey Ladies! for thirteen years.
At the Grindstone Theatre in 2019, she appeared monthly in Gertrude and Alice with Leona Brausen, Darrin Hagen, and Trevor Schmidt.
Davina Stewart has been awarded the Sterling Award three times. She is married to Dana Anderson, actor, director, improviser, writer, and Artistic Director of the Capital Theatre in Fort Edmonton Park.
Profile by Anne Nothof, Athabasca University
Last updated 2022-03-23