Theatre Yes
Independent theatre company, based in Edmonton Alberta since 2001.
The mandate of Theatre Yes is to produce intelligent theatre for adventurous audiences--diverse artistic events that surprise, challenge and empower (website). It instigates inquiry into risky national and international issues through the production of unique works from Canada and the world. The Company's work often has to do with space and relationships to audiences, and it may take small audiences to unusual found spaces-–such as sleazy hotel rooms and subterranean car parks for Ravenhill's Shoot/Get Treasure/Repeat (Edmonton International Fringe Festival 2010), and eight different elevators in Edmonton for The National Elevator Project in 2013/14.
Artistic Director until November 2019, was Heather Inglis, a graduate of the National Theatre School of Canada. Artistic Associates of Theatre Yes are designer Brian Bast, and actors Melissa Thingelstad and Lora Borvold.
Productions of Canadian works, all directed by Inglis, include Treatment by Trevor Schmidt (2001), which traces the decline and resurrection of a mental patient; Halfway House, a collective creation by a company of actors, dancers and musicians (2002), inspired by Christina Rossetti's poem, Goblin Market and reconfigured as The Enchantment in 2007; The Making of Warriors by Sharon Pollock (2003), an unsettling investigation of the murder of Native activist Anna Mae Pictou Aquash; Get Away by Greg MacArthur (2006); and The List by Jennifer Tremblay (2012).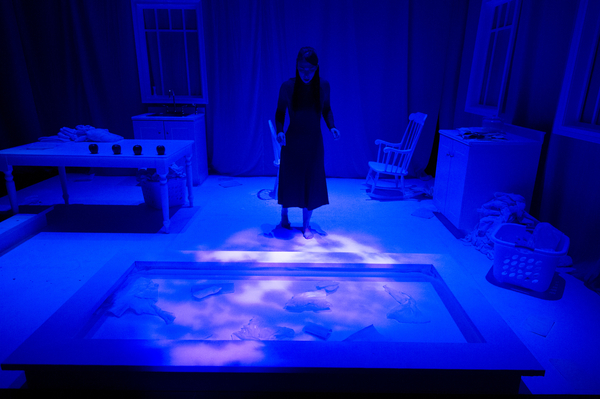 Melissa Thinglestad in The List. Photo by Ian Jackson
The National Elevator Project (2013/14) included commissioned five-minute plays by playwrights from across Canada: Brad Fraser, Kenneth T. Williams, Catherine Banks, Rick Chafe, David van Belle and Eric Rose, sponsored by Eastern Front Theatre, Artistic Fraud of Newfoundland, Mulgrave Road Theatre, Playwrights Atlantic Resource Centre, Magnetic North Theatre Festival, Nightswimming Theatre Company, Persephone Theatre, Unithéâtre, Ghost River Theatre, Workshop West Theatre, The Canadian Centre for Theatre Creation at the University of Alberta, Shadow Theatre, and Rumble Theatre.
In September, 2015, Theatre Yes produced a riveting interpretation of Bone Cage by Catherine Banks, with the cast positioned around and on a wooden platform and scaffolding, observing and participating in the entropic scenario of a small lumber town in Nova Scotia. The Company also premiered The Laws of Thermodynamics by Edmonton playwright Cat Walsh.
Anxiety (2016) comprised a collage of six short plays from theatres across Canada: Northern Light Theatre, Theatre Skam (Victoria), Outside the March (Toronto), LoHiFi Production (Halifax), Curtain Razors, and Théâtre à corps perdus (Montreal). Participating companies received packages in the mail with objects that prompted their contribution to the project on the theme of anxiety. The audience was taken in a bus to a warehouse located in an unidentified Edmonton suburb in which the plays were performed in small rooms. It made for an anxious and surprising experience for performers and audience.
In November 2018, Inglis mounted a documentary place in which actors playing the diverse lives of oil patch workers tell their stories one-on-one to audience members. According to Inglis, "The reality and complexity of ordinary peoples' experiences working in the epicentre of Canada's most contentious and powerful industry is not often given voice in public dialogue. VISCOSITY gives us the opportunity to share time and space with the men and women whose lives and work are fuel for Canadian society" (website).
Theatre Yes has also mounted compelling productions of the challenging British play, My Name is Rachel Corrie by actor Alan Rickman and journalist Katharine Viner (2008), and the contentious American play, Race by David Mamet (2012).
Theatre Yes's play-reading series, entitled Stripped Down, was designed to showcase recent controversial works from other places in Canada and abroad. In 2011, it included The Toxic Bus Incident by Greg MacArthur; Scarborough, a 2007 two-hander about an affair between a teacher and her teenage student by English playwright Fiona Evans; and Afterimage, the 2010 Governor General's Award-winner by Robert Chafe.
In 2019, the Citadel Theatre and Theatre Yes co-developed and produced a site-specific, roving production which took the audience from the Citadel lobbies to its backstage spaces. Sight of Mind by Beth Graham (dir. Inglis) employs the characters of detective fiction to investigate the nature of truth in a "hall of mirrors" scenario.
The Company's productions have been nominated for ten Elizabeth Sterling Haynes Awards (Sterling Awards).
Website: http://theatre-yes.ca
Profile by Anne Nothof, Athabasca University
Last updated 2020-07-17