Banks, Catherine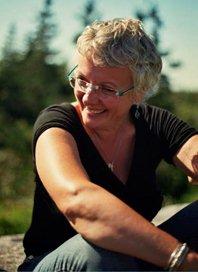 photo by Alex MacAulay Photographic
Playwright and poet, born in 1957 in Middleton Nova Scotia, and currently residing in Sambro, NS. Catherine Banks began her professional life as a Special Education teacher, and wrote plays while raising her children, Rilla and Simon, inspired by seeing a production of Les Belles-soeurs by Michel Tremblay. While resident at the Banff Centre for the Arts for 29 days, she gained a strong sense of her writing vocation.
Her plays are characterized by black humour and compelling dramatic metaphor. They have been described as "Atlantic gothic" because of their unflinching exploration of poverty, monotony and the addictions that often provide an escape from such social limitations. They have been performed in Winnipeg, Toronto, St. John's, Calgary, and Edmonton.
Early works include: Eula's Offer; The Summer of the Piping Plover (UpStart Theatre); Bitter Rose (Women's Theatre and Creativity Centre). Bitter Rose has aired on Bravo! Canada.
Three Storey Ocean View (Mulgrave Road Theatre, 2000) won the Silver Medal in the 1995 du Maurier National Play Competition and was nominated for a Merritt Award for best new play in 2000. It explores the concept of home from the point of view of a prospective buyer, a divorcee with a rebellious teenage daughter and a mother with dementia; and of four families who have previously lived there, whose fraught lives inform the present.
Bone Cage (Playwrights Co-op Forerunner and Ship's Company Theatre) was awarded the Special Merit prize in the 2002 Theatre BC New Play Competition and was showcased at the National Arts Centre's On the Verge 2005. In 2008 it was awarded the Governor General's Award for English drama. The press release describes Bone Cage as "show[ing] us the life-blood of rural Canada flowing through the conflicted, bone-caged human heart. What is the cost to the human spirit, [Banks] asks, when good people are forced by circumstance to kill the thing they love – in this case, the Canadian wilderness? The playwright finds that which is most noble in unexpected places, the heroic in what appears to be the simplest of lives." It takes place in a small Nova Scotia logging town, whose residents live impoverished lives of desperation, with little chance of escape. Jamie works night shifts "processing" trees, then drinking beer as an antidote. His impending marriage to his high school girlfriend is discouraged by his sister, who sees this only as a way of further limiting his future, and who struggles to escape from her own emotional cage. Bone Cage is published by Playwrights Canada Press, and is being made into a film.
In It is Solved By Walking (Urban Curvz 2011), a poet whose former husband has died in a car accident gradually finds her way to a personal creative process through her memories of their marriage, and the words and images of Wallace Stevens' poem, "Thirteen Ways of Looking at a Blackbird," the subject of her incomplete Ph.D. thesis. It is published by Playwrights Canada Press, and won the Governor General's Award in 2012. It was translated into Catalan as Tant per Tant, and was one of three Canadian plays to tour Catalonia in 2012.
Her play, Miss N' Me, is about a small-town hairdresser who steals her husband's plumbing van to drive to New York to meet the American rapper Missy Elliot. She has also adapted Ernest Buckler's novel The Mountain and the Valley for the stage. In This Light, an adaptation of Henrik Ibsen's An Enemy of the People premiered at Two Planks and a Passion Theatre in July 2019.
She is currently writing two new plays, Downed Hearts, about the aftermath of an air/sea disaster; and The King of Days about climate change and the fishery.
Catherine Banks has taught playwriting at Dalhousie University and Sage Hill. She was awarded the degree of Doctor of Humane Letters (Honorary) from Mount St. Vincent University.
In an impassioned letter to the PLaywrights Guild of Canada (2015), Banks wonders if she can continue writing for theatre when women playwrights are still bypassed by large regional theatres, and new plays with large casts are rarely performed. although she is "most alive when [she is] working at crafting a complex story and telling it fully through character and dialogue." She believes that theatres should embrace rather than lament their audience demographics: "It is my plea for theatres to embrace the audiences they have, women over fifty. Don't preach to these women (they are compassionate) or feed them pablum (they've survived births, deaths, loss) or talk down to them (they are thinkers) or give them a steady diet of never seeing their own lives authentically reflected back at them."
Sources: Playwrights Canada Press; Playwrights Guild of Canada; Geoff Agambar, Annapolis County Spectator 24 Nov 2008.
Profile by Anne Nothof, Athabasca University
Last updated 2020-03-16