Urban Curvz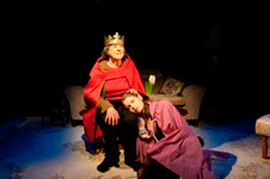 Joyce Doolittle and Georgina Beaty in Queen Lear by Eugene Stickland.
Theatre company, founded in 2005 in Calgary Alberta with the goal of creating professional productions to provide emerging and established female artists with challenging artistic opportunities. Its mandate was to invest in and celebrate a diversity of women's perspectives, stories and experiences through cutting edge productions and collaborative relationships with other organizations. In 2007, it became a registered not-for-profit society, and in 2008 merged with Broad Minds Productions to gain non-profit charitable status. The Artistic Director was Jacqueline Russell.
Productions included: Living Shadows: A Story of Mary Pickford (2006), written and performed by Tracey Power; Vajayjay Monologues (2007), written and performed by Lindsay Burns; Helen's Necklace by Carole Fréchette, translated by John Murrell; Queen Lear by Eugene Stickland (2009), with Joyce Doolittle as Lear; Essay and The Russian Play by Hannah Moscovitch (2009); It is Solved by Walking by Catherine Banks (Joyce Doolittle Theatre at the Pumphouse 2011); Hunger Striking (2012) by Kit Brennan (four Betty Mitchell Award nominations); The List by Jennifer Tremblay, translated by Shelley Tepperman (2013).
In May 2014, Urban Curvz presented Montrosities, a collective creation with The Maggie Tree, in which three women project their fantasies of the ways in which they are perceived to be monstrous in a "normal" world.
The Riveter Series supported the development of new works by women.
In 2016, Urban Curvz re-branded as Handsome Alice Theatre, and produced Good Night Desdemona (Good Morning Juliet) (directed by Kate Newby). In September of 2016, it produced The Tall Building by Edmonton playwright Jill Connell (dir. Denise Clarke) -- a "brittle, surreal, funny meditation on city life, in a dystopian world where people live atomized lives that are piled on top of one another, even as they're completely separated from one another" (Stephen Hunt.https://thehalfstep.live 13 Sept 16).
Handsome Alice has partnered with Mount Royal University's department of diversity and human rights and the Calgary Sexual Health Centre to create an opportunity for female MRU students to share their stories through the inVISIBLE Project.
The Artistic Director is Meg Farhall.
Website: www.handsomealice.com
Last updated 2022-02-14