Brennan, Kit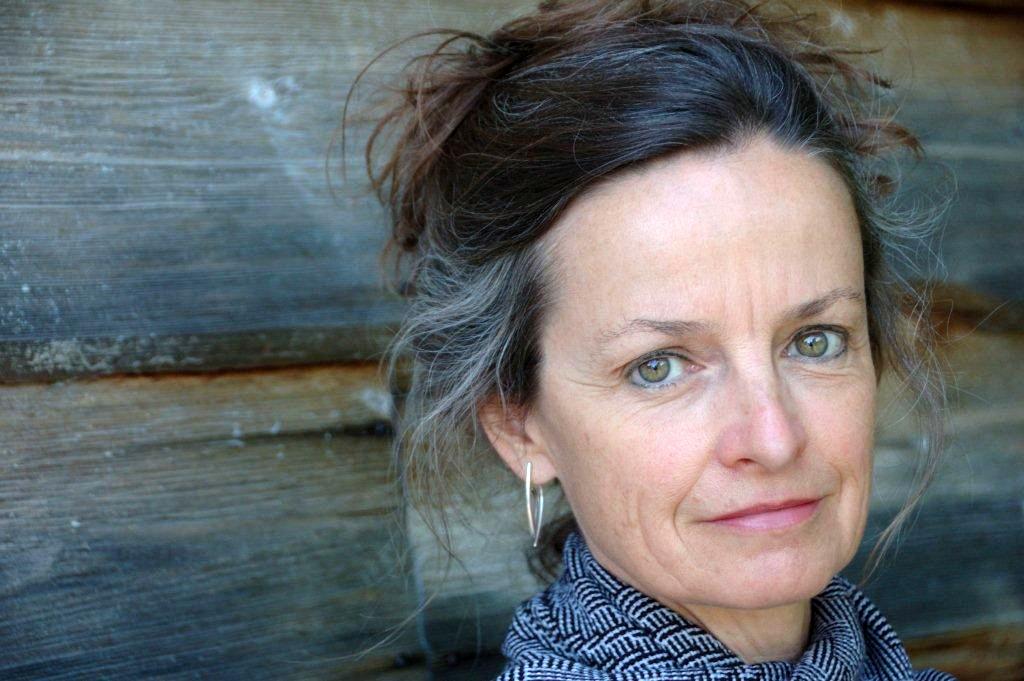 Kit Brennan
Playwright and novelist, Kathleen (Watters) Brennan was born in 1958 in Vancouver British Columbia, and grew in Kingston Ontario, where her father was an English professor at the Royal Military College. She graduated from Queen's University with an Arts degree in English and drama in 1990, and from University of Alberta with an MFA.
Kit Brennan worked first as an actor. Since 1993, she coordinated the playwriting program for Concordia University in Montreal; currently she is Professor Emeritus. She was playwright in residence at Centaur Theatre (1997-98).
Her eight published plays include Tiger's Heart, which portrays the conflicted life of Dr. James Barry, a military doctor and physician to the British Governor of South Africa, who as a young woman had disguised herself as a man so that she could study medicine. It has been produced at Ship's Company Theatre, Great Canadian Theatre Company, and at the Women in View Festival; and is the winner of the Canadian National Playwriting Competition, 1994. It is published by J. Gordon Shillingford.
Spring Planting (Ship's Company, Western Canada Theatre Company) tells the story of two neighbours, an elderly man and a young woman, whose spouses have died, and who are experiencing anger and guilt, while their respective grandson and daughter have their own problems, which erupt into violence.
Hunger Striking (Theatre Passe Muraille) examines anorexia from a personal and historical perspective: When one of her students dies of anorexia, a high school English teacher recalls her own multiple pasts: her own past as an anorexic girl twenty years earlier, her Celtic heritage with its vivid creatures and mythology passed on to her by her father, and the world of the hunger-striking suffragettes at the beginning of the twentieth century.
In Magpie (25th Street Theatre), a middle-aged woman fantasies an alternative life when a dance instructor arrives in her small town.
Having (Centaur Theatre, 1999) features a dysfunctional family, each member facing a bitter reality (epilepsy, cancer, bankruptcy) and dealing with it through different fantasies and, occasionally, sharing these fantasies. It is theatrical sleight-of-hand. Magpie, Having and Hunger Striking are published by Signature Editions.
Brennan's work is marked by an examination of the separate realities of her characters and, via this, a wish to, as she once said, "...shock people. If I can shake up their reality, that's good."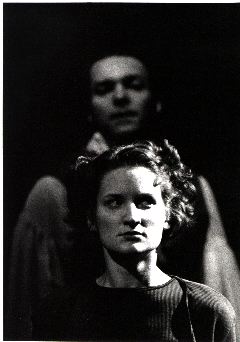 The premiere production of Kit Brennan's
Having
,
Centaur Theatre
, 1999, with Helen King and Hugh Thompson, directed by Rona Waddington (photo: Lydia Pawelak)
Kit Brennan has also edited the anthologies Going it Alone: Plays by Women for Solo Performers. Winnipeg: Nuage Editions, 1998; Out on a Limb: Short Plays by New Playwrights (Signature); Two Hands Clapping: New Plays for Two Actors (Signature); Three on the Boards, including "Starter Home" by Katherine Koller, and "Purity Test" by Scott Sharplin (Signature); Things That Go Bump: Plays for Young Adults, Vols I and II, including "Lig & Bittle" by Elyne Quan and Jared Matsunaga-Turnbull, "The Secret Life of the Octopus" by Clem Martini, "Bluenose" by Emil Sher, "The Incredible Speediness of Jamie Cavanaugh" by Chris Craddock (Signature)
Whip Smart: Lola Montez Conquers the Spaniards (2013) is her first novel.
Profile by Anne Nothof, Athabasca University
Last updated 2020-05-14