Koller, Katherine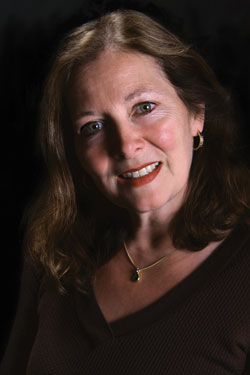 Katherine Koller
Playwright, librettist, novelist and educator, born in 1957, and based in Edmonton Alberta, who writes for radio, stage and screen. Katherine Koller's first plays were produced at the Edmonton Fringe Festival. Cowboy Boots and a Corsage (1991) tells the story of a resilient woman attempting to save what's left of her family and her legacy by working at a bar. It was revised and produced at FemFest!: A Festival of One-Act Plays by Women, in Winnipeg, June 7-15, 2003, and a radio version was broadcast by the CBC. Other radio plays for the CBC include Magpie, and Going to the Dump.
Jagged Edge Lunchbox Theatre in Edmonton has produced three of her one-act comedies: The Early Worm Club (2000), Starter Home (2001) and Magpie (2001). Two one-acts were produced in 2007: Perdu at Walterdale Theatre in Edmonton, and Intimacy, Inc. at Alumnae Theatre in Toronto. Magpie was produced at FemFest in 2011.
Her full-length play, Coal Valley: the Making of a Miner, was commissioned by the Town of Drumheller and the Historic Atlas Coal Mine to celebrate the Year of the Coal Miner. It was produced in February 2005 by the Sloughfoot Stubble Jumpers at the Royal Tyrrell Museum Theatre, Drumheller. As the granddaughter of an underground coal miner, Koller took a particular interest in the subject. This epic work outlines the history of coalmining in the Drumheller valley, and the creation and dissolution of a community through fifty years of a miner's life, from a young boy working with the ponies in 1914 until he closes the last mine as a pit boss. In the protagonist's friendship with a Polish immigrant miner, Koller evokes the strong male bonding forged through work underground, and through her portrait of their wives, the resilience, courage, and strength of the women. The play also indirectly comments on the social conditions of the current oil boom in Alberta – a shortage of housing, a large influx of diverse peoples from abroad, the precarious working conditions of a resource-based economy. Primarily, however, like the plays of Gwen Pharis Ringwood, it is about the creation of an Alberta community by individuals working together, despite differences, to create a future for their families.
In 2006, Koller received an Alberta Short Term Residency and a Production Residency at the Banff Centre for the Arts, and a grant from the Alberta Foundation for the Arts to write another play about a threatened way of life on the prairies. The Seed Savers was inspired by the story of Saskatoon-area farmer Percy Schmeiser, who decided against growing genetically modified canola, and fought back against Monsanto when the company claimed that it had found its patented canola in his fields. Again, Koller focuses on historical events in terms of a family: farmers for fifty years are faced with losing their farm and their home. The Seed Savers was first produced by Workshop West Theatre in October 2009. It was published by Athabasca University Press in 2012, and is available on-line.
Koller's most recent play, Last Chance Leduc, completes her trilogy of Alberta Landworks - "plays with people in crisis because of a change in the industry that sustains them" (Playwright's Note). Set in 1947, it focuses on a young couple with a baby, living in rural isolation while the husband drills for oil with his friend, and the wife attempts to mitigate her isolation by befriending a Cree woman trapper, living by the river. The play shows the personal and social consequences of the blowing of Leduc #1 at the beginning of Alberta's oil industry. It won the Alberta Playwriting Competition in 2013, and had a staged reading at the Banff Centre for the Arts in September 2013. The play premiered at Grand Prairie Regional College's Black Box Theatre in March 2015 (dir. Annie Smith); and was subsequently produced in Edmonton at Backstage Theatre in May 2018 (dir. Tracy Carroll).
Koller also wrote the script for Sustainable Me, a six-part web documentary with Company of Women on the Screen, which features environmental initiatives of Edmonton youth (sustainablemeyeg). Her novel, Art Lessons (Winnipeg: Enfield & Wizenty 2016) was a finalist for the 2017 Alberta Readers' Choice Award. A collection of short stories, Winning Chance was published in 2019 by Enfield and Wizenty.
Profile by Anne Nothof, Athabasca University
Last updated 2019-10-09