Martini, Clem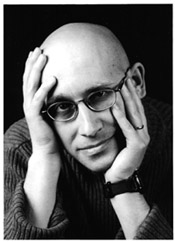 Clem Martini
Playwright, screenwriter, and fiction writer, born in Calgary, Alberta in 1956.
He has written over thirty plays, many of which have been produced nationally and internationally, including: Afterlife (Lunchbox Theatre 2005, directed by Johanne Deleeuw); The Secret Life of the Octopus (Quest Theatre 2005, dir. Duval Lang); The Replacement (Lunchbox Theatre 2004, dir. John Cooper); Turnaround, co-written with Cheryl Foggo (Lunchbox Theatre 1999, dir. Duval Lang); Selling Mr. Rushdie (Workshop West Theatre 1997, dir. David Mann); Bite Me (Lunchbox Theatre 1997, dir. Bartley Bard); Borrow Me (Lunchbox Theatre 1997, dir. John Cooper); Exit Othello (Workshop West 1996, dir. Mann); Illegal Entry (Alberta Theatre Projects 1995, dir. Daniel Libman); Up On The Roof (Lunchbox 1995, dir. Bartley Bard).
The Devil We Know, co-created with Cheryl Foggo (Blyth Festival 2012, dir. Eric Coates) is set on the edge of Regina in 1944, the home of a small group of African-Canadians determined to live with dignity despite hard times. When teenage twins, Vivian and Verna are left home alone for the weekend, they share stories of their hardships and romances, and tales of murder and hidden treasure right in their own neighborhood. Then evil comes calling on them.
Martini's plays exhibit a strong social conscience, and a quirky sense of humour, often focusing on the lives of troubled teens. They also have a fine sense of the absurd, expressing the world as unconventional and fantastical. Selling Mr. Rushdie (published in The Alberta Advantage, Playwrights Press, 2008) explores Western culture's obsession with fame and wealth. Three teens from a residential school for young offenders, working in a seedy bar, kidnap a man who claims to be Salman Rushdie. They stash him in a barn and attempt to figure out how they will claim the million dollar fatwa reward, even though the man now denies that he is Rushdie; however, he proves to be a formidable opponent. The play challenges the notion of freedom of speech – whether it can go too far, or whether it is ineffective compared to violent action. The director of the Rogues Theatre production (Calgary 2004) compared the characters' patter to the dialogue of Quentin Tarantino and of playwright-filmmaker David Mamet.
Martini is a three-time winner of the Alberta Writers Guild Drama prize, and a Governor General's Award nominee for his anthology, A Three Martini Lunch (Red Deer Press, 2000). Martini With a Twist: 5 Plays by Clem Martini was published by NeWest Press in 2012.
He has also published tne books of fiction and non-fiction: Bitter Medicine: A Graphic Memoir of Mental Illness (Freehand Books 2010) recounts his two brothers' 30-year struggle with schizophrenia and with the health system. His novel, The Comedian (U of Calgary Press, 2018), an imaginative interpretation of the life of the Roman playwright, Titus Maccius Plautus as he tries against all odds to mount a play, was nominated for an Alberta Literary Award in 2019.
Martini is Chair of Drama in the School of Creative and Performing Arts at the University of Calgary, where he teaches Playwriting, Screenwriting and Theatre for Young Audiences. He works with troubled youth as a drama consultant through the charitable organization Woods Homes. He is a past President of the Playwrights Guild of Canada, and author with Kathleen Foreman of an "unauthorized" oral history of Theatresports, Something Like a Drug (Red Deer Press, 1995); and of the playwriting texts The Blunt Playwright (Playwrights Press, 2006) and The Greek Playwright (Playwrights Press, 2009).
He lives in Calgary with his wife, author Cheryl Foggo, and two children.
Last updated 2021-04-19