Theatre Aquarius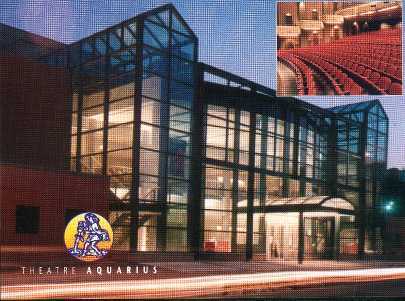 Theatre Aquarius
Company in Hamilton, Ontario, founded in 1973. Its founding Artistic Director was Peter Mandia; its founding production director was Stephen Newman.
Until 1991, the company performed at the Hamilton Place Studio Theatre. In September, 1991, it moved into the $12 million du Maurier Ltd. Centre (now Dofasco Centre for the Arts), designed by Lett Smith Architects, with a 750-seat proscenium theatre and a 125-seat studio theatre. After the move, the company experienced a financial crisis due to a shortfall in the building fund and increases in the company's property tax. In 1996 the company faced bankruptcy. After a period of fundraising, cuts to the budget and deferred payments, the company went into its 1997-98 season at the break-even mark. By 1999, nearly 96% of its budget of $3.5 million came from box office and fundraising, and it was the most self-sufficient not-for-profit company in the country.
Prior to 1996, the company presented a largely populist theatre, with occasional Canadian work (Fortune and Men's Eyes, 1973-4;Jitters, 1979-80; Balconville and Salt-Water Moon1985-6/1993-4 among others). Since 1996, a commitment was made by managing Artistic Director Max Reimer to present more Canadian works, and some of the company's productions have been Canadian premieres. Notable productions include: Fronteras Americanas by Guillermo Verdecchia (1996); 2 Pianos, 4 Hands (1999) by Ted Dykstra and Richard Greenblatt: Lawrence and Holloman by Morris Panych (2001); The Drawer Boy (2001) by Michael Healey; For the Pleasure of Seeing Her Again by Michel Tremblay (2002); Unity (1918) by Kevin Kerr (2004); Strawberries in January by Evelyne de la Chenelière (2005); Sexy Laundry by Michele Riml (2006); In a World Created by a Drunken God by Drew Hayden Taylor (2008); and Half Life by John Mighton (2009). The 2011/12 season included Queen Milli Of Galt by Gary Kirkham and Wingfield Lost and Found by Dan Needles. In 2012, Theatre Aquarius produced Where the Blood Mixes by Kevin Loring, directed by Bradley Moss. The Ladies Foresome by Norm Foster played on the main stage in 2016.
During the Covid-19 pandemic in 2020-21, the theatre was closed, reopening in December 2021 with a Christmas show. The 2022 productions, Old Stock: A Refugee Love Story by Hannah Moscovitch, Christian Barry, and Ben Caplan; Made in Italy, created and performed by Farren Timoteo; and The Hours that Remain by Keith Barker were rescheduled.
Theatre Aquarius features new and more experimental Canadian works in the TA2 Studio Theatre series on its studio space (125 seats).
Some artists who have worked for the company: Henry Czerny, Martin Short, Wayne Best, Martha Henry, Douglas Campbell, Stephen Russell, Kate Reid, Marion Gilsenan, and Jim Betts.
From 2008 to 2020, the Artistic Director was Ron Ulrich. In 2021, Marie Francis Moore began her tenure as AD.
The company has a Performing Arts Program which includes a theatre school. Its archives are at the L.W. Conolly Theatre Archives of the University of Guelph, Ontario.
Website: www.theatreaquarius.org
Profile by Gaetan Charlebois. Additional information provided by Christopher Hoile and Anne Nothof.
Last updated 2022-02-14