Barry, Christian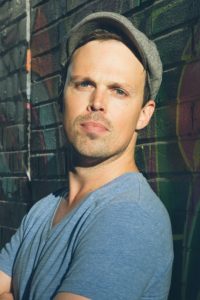 Christian Barry
Innovative and imaginative director, dramaturg, actor, writer, and designer from Halifax, Nova Scotia, and a founding member and artistic co-director of 2b Theatre Company. Christian Barry has a B.A. (Honours) in Theatre from Dalhousie University, and is a graduate of the directing program at the National Theatre School of Canada.
Barry directed part two of The Mill Cycle, which won the 2010 Dora Mavor Moore Award for Outstanding Production (independent). He has won two Theatre Nova Scotia Merritt Awards for Outstanding Direction (eight nominations), one for Outstanding New Play, and one for Outstanding Lighting Design. He has also received fifteen Merritt Award nominations in other categories. He received the 2008 Halifax Mayor's award for an Emerging Artist, and the 2006-7 Urjo Kareda residency grant at the Tarragon Theatre. He is a winner of the Nova Scotia Masterworks Award, the largest arts prize in the province.
He has directed and co-created award-winning shows for 2b Theatre that have toured nationally and internationally, including: Old Stock by Hanna Moscovitch and Ben Caplan; We Are Not Alone by Damien Atkins; The God that Comes by Hawksley Workman (Alberta Theatre Projects, Citadel Theatre, Magnetic North Theatre Festival, PuSh International Performing Arts Festival, Tarragon Theatre, Noorderzon Performing Arts Festival Groningen); The Story of Mr. Wright (Globe Theatre, Regina); Homage (Magnetic North and Luminato Festivals); Revisited (World Stage Festival, Freefall festival in The Theatre Centre, Theaterformen Hanover, PuSh Festival, Intrepid Theatre); The Russian Play by Hanna Moscovitch (Western Canada Tour); East of Berlin by Moscovitch; Manners of Dying; and Cherry Docs (Eastern Canada tour). Other directing credits include: El Camino or the Field of Stars (Plutonium Playhouse at Queer Acts Festival), 59 Minutes (Suburban Beast and Buddies in Bad Times), and The Laramie Project (Dalhousie University).
With Stewart Legere, Barry formed The Accidental Mechanics Group in 2011 to facilitate the production and touring of their original collaborations which explore and celebrate the nature of persona, queer identity and performance through storytelling, music, dance and media. The company has presented work at theatre festivals including Videofag, Queer Acts, Stages, OUTstages, SummerWorks, PuSh International Performing Arts Festival, and Festival TransAmériques. For MT Space's Impact '17, he directed Legere in Let's Not Beat each Other to Death.
Barry is married to playwright, Hanna Moscovitch, with whom he has collaborated on several projects. They have one son, Elijah.
Source: 2b Theatre website
Profile by Anne Nothof, Athabasca University
Last updated 2019-10-03