Atkins, Damien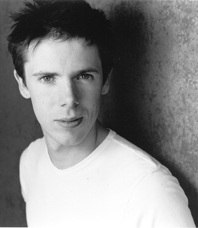 Damien Atkins
Actor and playwright Damien Atkins was born in Australia and grew up in St. Albert Alberta. He is a graduate of the theatre program at MacEwan University in Edmonton, and currently lives in Toronto.
Atkins is the author and performer of three solo shows: miss chatelaine (Edmonton Fringe Festival); Real Live Girl (Buddies in Bad Times; and We Are Not Alone, 2015 (with Crow's Theatre, 2b Theatre Company and Segal Centre for Performing Arts, dir. Chris Abraham and Christian Barry). In We Are Not Alone, Atkins undertakes a quest for truth about alien life; he travels to the International UFO Congress in Phoenix, enacting the stories of a wide range of unusual "experiencers" who want their stories to be heard and believed, and finding through his own experience of "toning" with a hybrid woman and her hippy husband in Sedona, an enlightenment about his own place in the universe. The play has travelled across Canada since its inception, from the Neptune Theatre and the Magnetic North Theatre Festival in Whitehorse in 2016, to Theatre Network in 2019.
Full-length plays include Good Mother which won the $25,000 UBC Creative Writing Dept./Prism International Prize for 2000 and received its world premiere at the Stratford Festival in 2001 (dir. Miles Potter and starring Seana McKenna). Lucy, about an autistic girl, opened at Canadian Stage in 2007.
In 2013, Atkins co-created and performed with Paul Dunn and Andrew Kushnir The Gay Heritage Project, using a collage of personal stories, and exploring experiences of gays in the military, famous gay people, and the AIDS crisis.
Acting appearances include the role of Tom in The Glass Menagerie (Canadian Stage 2005); the Cat in the Hat in Seussical (Young People's Theatre; The Clockmaker (Tarragon Theatre); Geometry in Venice (Segal Centre for Performing Arts); 7 Stories by Morris Panych (Canadian Stage/Theatre Calgary); Unidentified Human Remains by Brad Fraser for Crow's Theatre; Sextet by Panych (Tarragon 2014); and Hosanna by Michel Tremblay (Soulpepper Theatre Company 2016). Of his performance as the conflicted gay character of Hosanna, Karen Fricker wrote: "Atkins has an extraordinary capacity to communicate this complex internal reality through vocal, facial and physical expression; just him waving his long-nailed hand trying to brush away an unwanted chunk of memory is mesmerizing" (Toronto Star 3 Oct 2016).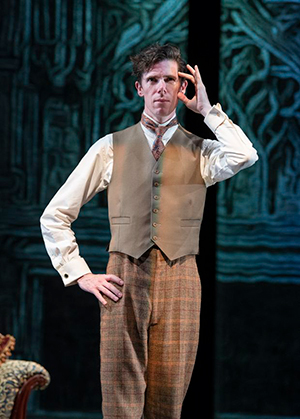 Damien Atkins as Sherlock Holmes in The Hound of the Baskervilles. Photo by Emily Cooper, Shaw Festival.
He has worked with the ensembles at the Shaw Festival and Stratford Festival for four seasons. In 2018, he played Sherlock Holmes in The Hound of the Baskervilles at the Shaw Festival (dir. Craig Hall from Vertigo Theatre). In his review, J. Kelly Nestruck considers him "Canada's answer to Benedict Cumberbatch": "Atkins gives the audience exactly what they want: an eccentric, superior smarty-pants with a soupcon of inner sadness that must be constantly covered up by either cocaine or crime-solving. The wiry actor is a pleasure to watch every moment he's on stage" (Globe & Mail 12 Aug 18). In 2021, he again played Holmes in Sherlock Holmes and the Raven's Curse.
He has also acted extensively in film and television.
Damien Atkins has been playwright-in-residence at the Canadian Stage Company, at Crow's, the Factory Theatre, and at the University of British Columbia. He is a member of the Theatrefront Ensemble and a guest instructor at the National Theatre School of Canada.
He is the recipient of four Dora Mavor Moore Awards (two Dora Awards for Real Live Girl, and a nomination for Best New Play for Lucy); a Sterling Award for miss chatelaine; a Jessie Award and a Tom Hendry Award.
Profile by Anne Nothof, Athabasca University
Last updated 2021-08-18