Kushnir, Andrew

Andrew Kushnir
Playwright, actor, director, and community arts worker, Andrew Kushnir was born in Montreal in 1980 to Ukrainian parents. His father worked for the railroads, and the family relocated often. He attended St. Paul's High School, a Jesuit institution in Winnipeg, and graduated from the University of Alberta in Edmonton with a Bachelor of Fine Arts in acting in 2002. He is currently based in Toronto.
Andrew Kushnir is the creative director of Project: Humanity (PH), which has the mandate to raise social awareness through the arts. His verbatim play Small Axe is based on interviews with people who have experienced both racism and homophobia.
His produced plays include Captain Princess; foto, a Ukrainian-Canadian folktale (SummerWorks 2008); and The Middle Place, a piece of verbatim theatre about youth homelessness based on over 100 interviews (SummerWorks 2009). The Middle Place toured to twenty-one Toronto high schools. It was produced for general audiences by Theatre Passe Muraille and Canadian Stage, and was toured by PH to Great Canadian Theatre Company and the Belfry Theatre. It received two SummerWorks Jury Prizes, the 2011 Toronto Theatre Critics Award for Best Production of a Play and a Dora Mavor Moore Award nomination for Outstanding New Play (Tarragon Theatre website).
In 2013, with Paul Dunn and Damien Atkins, he wrote and performed in the critically acclaimed The Gay Heritage Project at Buddies in Bad Times, which used personal histories and individual cultural heritages as starting points to connect to a history of gay people and events.
Small Axe opened at The Theatre Centre in January 2015 (dir. Alan Dilworth). In this documentary/reality play, Kushnir interrogates homophobia in Jamaica through a series of interviews with five Jamaicans, who challenge his motives as a white man enacting another culture, and the self-serving nature of documentary theatre which purports to expose injustices.
Wormwood premiered at Tarragon Theatre in November, 2015 (dir. Richard Rose). It considers the complex aftermath of the Orange Revolution in Ukraine from the perspective of a young Canadian who has gone there to be an observer for the 2004 democratic elections. But as the narrator/bard in the play observes, "Sometimes it is not worth to keep together what wants to split apart."
In 2019, his verbatim play Towards Youth: A Play on Radical Hope, premiered at Crow's Theatre. With an ensemble cast, it shows the ways in which theatre in education impacts and enables young people in a diversity of cultures, including Toronto, Coventry, Athens, Tainan in Taiwan, and Lucknow in India.
Andrew Kushnir was playwright-in-residence at Tarragon Theatre from 2011-2016; and in residence at The Theatre Centre.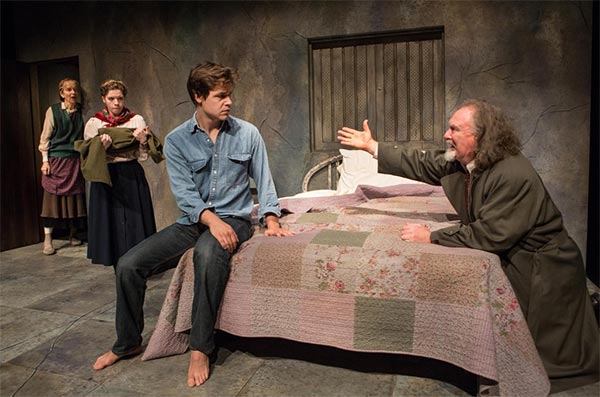 As an actor, Kushnir has worked with theatres across Canada in a variety of challenging and controversial roles: Since its beginnings in 2006, he played Victor in Catalyst Theatre's adaptation of Frankenstein. In summer 2013, he played Jesus Christ in Passion Play, an indie production which locates the crucifixion of Christ in a wide range of time zones, from Elizabethan England to Nazi Germany. In 2014, he played the central role of a gay man who has a dislocating sexual encounter with a woman in Cock by English playwright, Mike Bartlett, produced by Studio 180 Theatre at The Theatre Centre.
He has also performed at the Globe Theatre, Theatre Network, Canadian Stage, Teatro La Quindicina, Citadel Theatre, Theatre Calgary, Vancouver Playhouse, Young People's Theatre, and Studio 180. He was a company member for a season at Shaw Festival, River City Shakespeare Festival (Free Will Players), and the Colorado Shakespeare Festival.
He is a recipient of a 2013 Alumni Horizon Alumni Award from the University of Alberta; a four-time Dora Mavor Moore Award nominee, and one-time recipient.
In 2021, when the Covid-19 pandemic was closing theatre spaces across Canada and around the world, Kushnir was commissioned by Ashlie Corcoran to write and host a podcast on the history of the Arts Club Theatre. In this five-part series, entitled This is Something Else, he draws on interviews with forty-three actors, directors, administrators, and historians, interpreting history as a set of interactive, complex relationships of people, places, and ideas. History is a verb: what people do (Arts Club website).
Profile by Anne Nothof, Athabasca University
Last updated 2021-09-20