Vertigo Theatre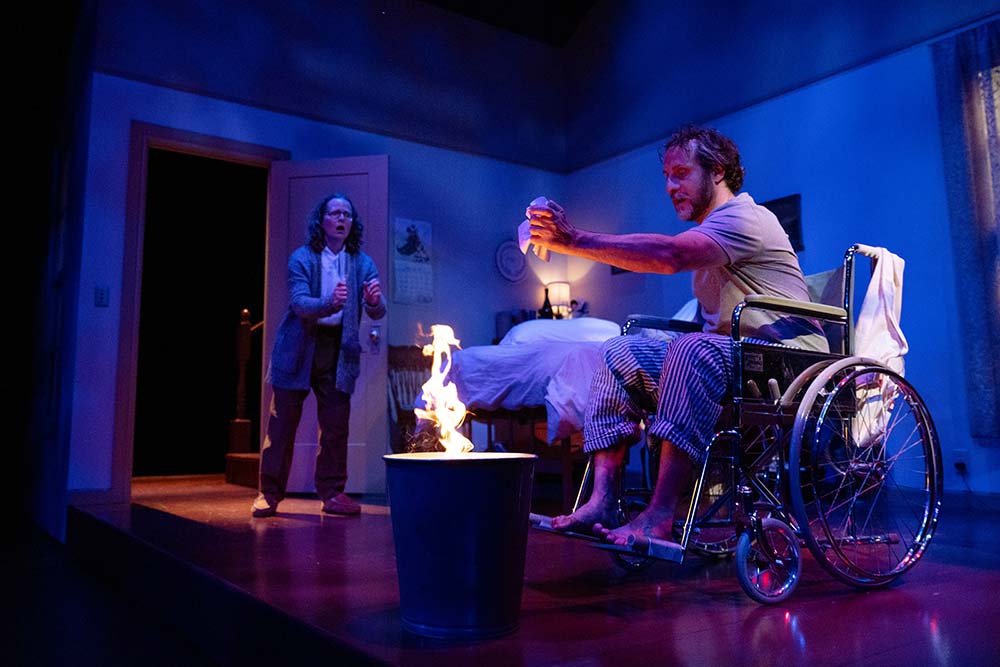 Misery, adapted by William Goldman from the Stephen King novel (Sept 10 - Oct 14, 2022 at Vertigo Theatre). Actors Anna Cummer and Haysam Kadri. Photo by Tim Nguyen.
Vertigo Theatre is based in Calgary Alberta, and is the preeminent professional theatre company in North America that focuses on and produces a full season of plays in the intrigue and mystery genre. These include: horror, thriller, suspense, mystery, crime, courtroom and political drama, and noir, among others.
Founded as Pleiades Theatre in 1971, it changed its name to Vertigo in 2002. In 2003 Vertigo Theatre moved to the base of the Calgary Tower in downtown Calgary. The Company has three performance venues: The Playhouse (350 seats mainstage); The Vertigo Studio (150 seats black box theatre); and the Rehearsal Hall.
Georgie Collins was the first Artistic Director of Pleiades Theatre from 1976 to 1990; Stephen Hair from 1990 to 1995; John Paul Fishbach from 1995 to 2004; Mark Bellamy from 2004 to 2012; Craig Hall from 2012 to 2022; followed by Jack Grinhaus.
The first production in 1978 was Agatha Christieís The Mousetrap, which played almost every season until 1992. Other notable productions have included, The 39 Steps, An Inspector Calls, Misery, and Murder on the Orient Express. Select Canadian plays include: Silver Dagger by David French (1994); The Reluctant Resurrection of Sherlock Holmes by David Belke (1995); Beautiful Lake Winnipeg by Maureen Hunter (1999); Tuesdays and Sundays by Medina Hahn and Daniel Arnold (2005); Blood Relations by Sharon Pollock (2009); Evelyn Strange by Stewart Lemoine which won a Betty Mitchell award for Best Production in 2010; When Girls Collide by Lemoine (2012); Nevermore (by Catalyst Theatreís Jonathan Christenson and Bretta Gerecke in 2010. It launched world premieres of Jovanni Syís Nine Dragons; Aaron Bushkowskyís The Big Sleep; Lucia Frangioneís The Thin Man; and Arun Lakraís Heist.
Until 2017, Vertigo also produced a Y Stage series, and was Calgaryís only theatre company presenting a full season of professionally produced theatre for young audiences. Productions included: Lig and Bittle by Elyne Quan and Jared Matsunga-Turnbull (Quest Theatre 2003); Secret Life of the Octopus by Clem Martini (Quest Theatre 2005); Bird Brain by Vern Thiessen (Quest Theatre 2008); King Arthurís Kitchen by Leslie Mildiner (Axis Theatre Company 2010); The Tooth Fairy, a musical by the Old Trout Puppet Workshop with David Rhymer (2010); Invisible Girl by Michele Riml (Quest Theatre 2010); Raven Stole the Sun by Drew Hayden Taylor (Red Sky Performance 2010); The Shape of a Girl by Joan MacLeod (Green Thumb Theatre 2011).
Vertigoís productions have proved popular in Calgary, with strong reviews and over 200 nominations for Betty Mitchell Awards. In 2019, there were 5000 subscribers and 25,000 single and group ticket buyers. Vertigo was one of the first theatres to bounce back from the 2020-21 pandemic with its offerings of Vertigo Mystery Radio and socially distanced performances. Once live entertainment returned, Vertigo saw an average of 85% tickets used for the run of each production.
Commissioning, developing and premiering new plays by local, national and international artists, the Company has expanded its mandate over the years, featuring new plays and World, North American and Canadian premieres.
Website: www.vertigotheatre.com
Profile by Anne Nothof, updated by Jack Grinhaus.
Last updated 2023-08-31