Hunter, Maureen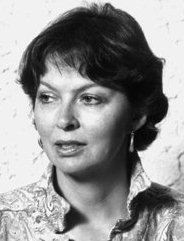 Maureen Hunter
Playwright born on a farm near Indian Head, Saskatchewan in 1948.
Maureen Hunter graduated from the University of Saskatchewan in 1970, and began her writing career as a reporter for the Saskatoon Star-Phoenix, Winnipeg Tribune and the Southam chain. Since 1983, she has written mainly for theatre.
She co-authored a play for young people entitled I Met a Bully on the Hill (Prairie Theatre Exchange 1987, dir. Kim McCaw).
Footprints on the Moon (Agassiz Theatre 1988) was nominated for the 1988 Governor General's Award, and the winner of Labatt Award for Best Canadian Play in 1995. It was published by Blizzard. Set in the small prairie town of Rose Coulee, it is a portrait of rural life in Canada--the positive and negative aspects of life in a small town; why some people stay, and why others choose or are compelled to leave. Footprints on the Moon is about change and permanence, the inevitable erosions inflicted by time, and the enduring marks that one person makes. Through the depiction of a mother-daughter relationship, it shows the consequences of the daughter's decision to leave home. Joanie, a young mother, struggles against yet another abandonment: both her mother and her husband have walked out on her, and she is now faced with the prospect of losing her teenage daughter, who is returning by train after a visit with her father in Toronto. In June 2017, it enjoyed a European premiere at the Finborough Theatre, London, to very positive critical reviews: "An emotional journey centred on women who are warm, determinedly hopeful and generous in their behaviour...A story told with sensitivity and charm" (Keith Mckenna, British Theatre Guide); "Maureen Hunter shows an ear for dialogue and subtle plotting which reminds us of Tennessee Williams" (Alice Josephs, Traffic Light Theatre Goer).
Beautiful Lake Winnipeg, (Manitoba Theatre Centre 1990, dir. Larry Desrochers) is a psychological mystery thriller--a twisted variation of the eternal triangle scenario. An idyllic weekend for two lovers at a secluded cabin on Lake Winnipeg is disturbed by the unexpected appearance of an ex-husband, and the ensuing sexual and psychological games become increasingly sadistic.
Her play, Transit of Venus (1992, directed by Larry Desrochers), was the first play by a Manitoban playwright performed on the Manitoba Theatre Centre mainstage in a quarter century. It was subsequently performed by the Royal Shakespeare Company in Great Britain and recorded by BBC Radio. It has also been translated into Danish, and was produced as an opera in 2007 by Manitoba Opera, with libretto by the playwright and music by Victor Davies.
Atlantis (MTC 1996, dir. Steven Schipper) was performed in French as L'Atlantide at Théâtre la Licorne (1999, dir. Olivier Reichenbach). It was nominated for a Governor General's Award in 1997 and has received over eight productions across the country.
Vinci opened at the National Arts Centre in 2002 (dir. Dennis Garnhum). Wild Mouth premiered at the Tarragon Theatre in January 2008. In 1917, a woman mourning the loss of her son returns to her brother's farm on the prairies and experiences the impact of war on the local population and on the returning soldiers. Sarah Ballenden, set during the Red River settlement, is the story of the Métis wife of a high-ranking Hudson's Bay Company officer (MTC, April 2017).
Maureen Hunter has been a playwright-in-residence at MTC. She lives with her husband Gary in Winnipeg.
Profile by Anne Nothof, Athabasca University
Last updated 2020-04-17