Gerecke, Bretta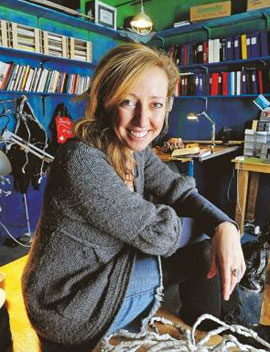 Bretta Gerecke
Photo by Ed Kaiser, Edmonton Journal
Innovative and imaginative lighting, set and costume designer, based in Canada (at a summer home she designed on Devil's Lake Alberta), and in London, England. She grew up in Winnipeg, and graduated from the University of Manitoba with a Bachelor of Interior Design in 1992, and from the University of Alberta with a Master of Fine Arts in Theatre Design in 1996.
Since 1996 she has been the resident designer of Catalyst Theatre, working collaboratively with artistic director, Jonathan Christenson, where she has designed seventeen world premieres, many of which have toured internationally and across Canada.
Her early work for Catalyst includes The House of Pootsie Plunkett and The Blue Orphan. One of her most extraordinary production designs was created for Catalyst's musical adaptation of Frankenstein (2007, 2008), in which the actors were attired in white paper costumes, held together with wire and glue, lit with translucent colours of red and blue.
For Nevermore: The Imaginary Life and Mysterious Death of Edgar Allan Poe (2009) she created a series of ghostly apparitions out of paper mache and glue. For Hunchback (2011), the extravagantly stylized costumes and masks were created out of wire wrapped with strips of landau foam.

Frankenstein, written and directed by Jonathan Christenson, designed by Bretta Gerecke. Left to right: Tracy Penner, Andrew Kushnir, Tim Machin, Sarah Machin-Gale & Nick Green. Photo by Jackson Hinton.
In 2011, she designed the Catalyst production of Hunchback, commissioned by Citadel Theatre. In 2013, she was scenographer (set and costume design) for Catalyst's The Soul Collector, creating a passage of spectral barren trees through which the inhabitants of the town of Cold Comfort moved inevitably towards their fate. In 2015, she designed the costumes for Vigilante, an interpretation of the Donnelly family story. More recently, she designed set, costumes, lighting, and projections for The Invisible (2020), a story about indomitable women spies during WWII.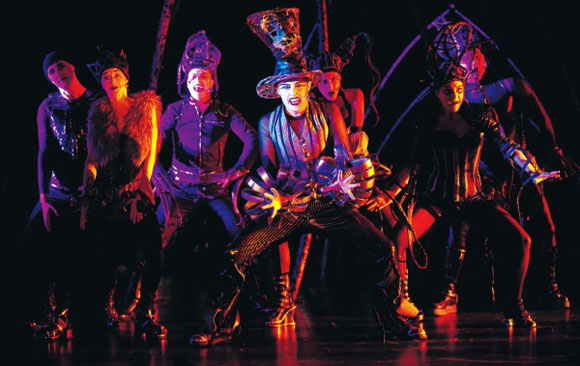 Hunchback, Citadel Theatre, 2011. Photo by Epic Photography.
Bretta Gerecke has also worked at the Citadel Theatre (West Side Story, Einstein's Gift 2003, Vimy 2007, A Midsummer Night's Dream 2012, The Penelopiad 2013, Make Mine Love 2014). For Canadian Stage she designed (Fire in 2007. Her many set and lighting designs for Edmonton Opera include The Emperor of Atlantis; Fidelio 2012; Salome 2014 (Elizabeth Sterling Haynes Award for lighting); and Don Giovanni 2018, with a monumental two-level set of arches and stairs, which deconstructs at the end of the first act, presaging the fate of Don Giovanni. She also designed for Workshop West Theatre in 2004; the River City Shakespeare Festival's Free Will Players; the Globe Theatre; Calgary Opera; and Pacific Opera Victoria (Carmen 2012).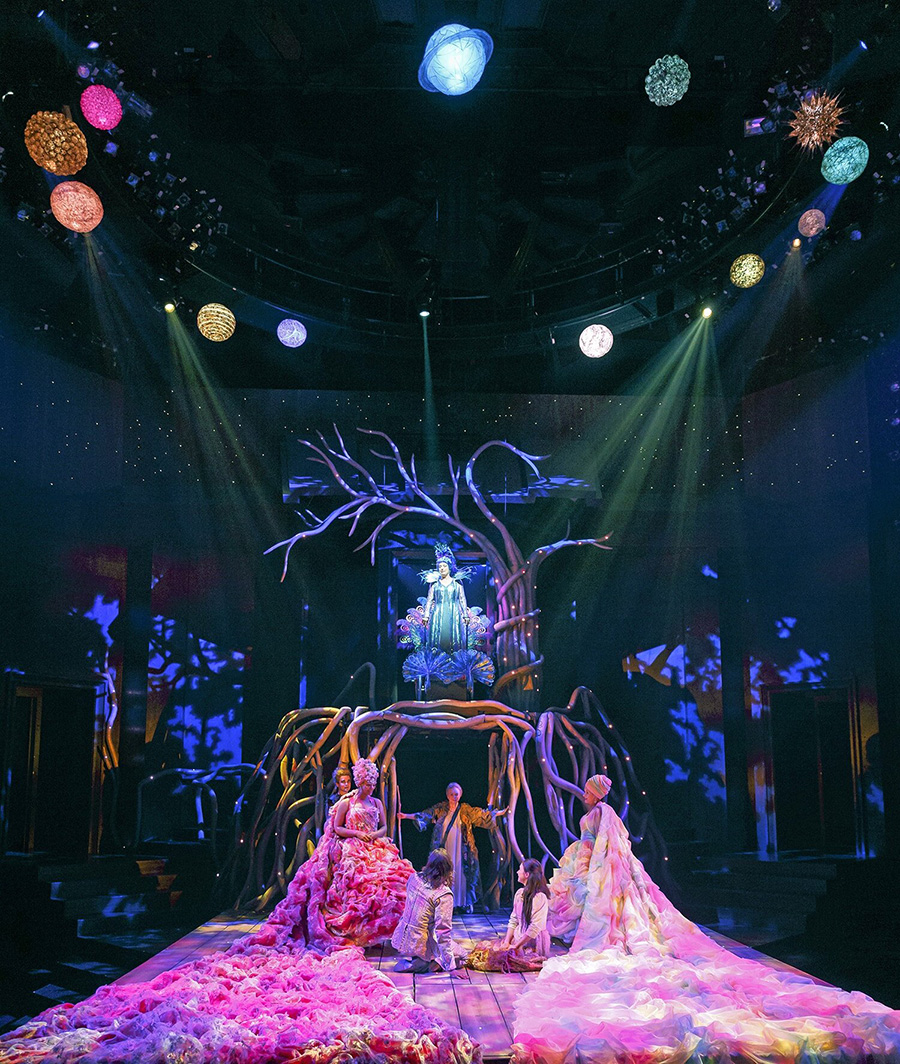 The Tempest Stratford Festival, 2020. Photo credit: Brette Gerecke website.
In 2014, she designed a checker-board set and fanciful costumes for a production of Alice Through the Looking Glass (adapted by James Reaney, directed by Jillian Keiley) for the Stratford Festival, which then toured to the National Arts Centre, Manitoba Theatre Centre, Charlottetown Festival, and the Citadel Theatre, with the same set and costumes, but different actors. She designed the Newfoundland attire for the Stratford production of As You Like It in 2016, and the visually stunning set and costumes for The Tempest in 2018. The following year, she designed fanciful set and costumes for Stratford's production of The Neverending Story.
In 2015, Gerecke designed the set for Cirque du Soleil's new production, Allavita!, for the Universal Expo in Milan on a large outdoor stage. The stage was a giant pantry shelf, stocked with jars, bottles, and bowls, wedges of cheese, and a pasta curtain made of rope, which functioned as a screen for projections.
Gerecke also designed the sets, props and costumes for Theatre Calgary's world premiere production of The Little Prince – The Musical in 2015, evoking an imaginative world with an array of materials, including tinfoil.
She has designed plays for the Royal Shakespeare Company in England, and an exotic carnivalesque installation at Castle Howard in North Yorkshire (2020).
Gerecke has been awarded seventeen Elizabeth Sterling Haynes Awards for costumes, lighting and set design, including a Sterling for set design for Make Mine Love in 2014. She has also won several Betty Mitchell and Jessie Richardson Awards, as well as an Enbridge Award for best emerging artist. In 2007 and in 2011, she was nominated for the Siminovitch Prize in Theatre.
In her stage designs, Gerecke combines vision, bold theatrical instinct and inventiveness with unconventional, inexpensive materials. She is "drawn to the immediacy and temporary nature of theatre ... work[ing] furiously for a year, and within six weeks it's gone. It's exciting and ever-changing, and a lot less committed. [She is] fascinated by space and light and how to make that magical."
For Gerecke, "Theatre is about being fearless, just going for it and not being governed by what other people think. You have to be true to the story and work with the director, but you have to be able to find inspiration everywhere, say 'yes,' and 'let's be scared.' I think fear is a great motivator; oftentimes it just takes you along to places unknown, and that's exciting." (Quoted in Legacy Fall 2007).
Website: www.bretta-gerecke.com
Profile by Anne Nothof, Athabasca University.
Last updated 2021-01-05