Vimy
Epic memory play by Vern Thiessen, premiered on the MacLab stage in the Citadel Theatre, Edmonton Alberta, October 25, 2007, with Daniela Vlaskalic as Clare, Mat Busby as Will, Phil Fulton as Sid, Vincent Hoss-Desmarais as J.P./Bert, Sheldon Elter as Mike/Claude, and Billy MacLellan as Laurie; directed by James MacDonald; co-designed by Bretta Gerecke and Narda McCarroll; sound design by Dave Clarke. It has subsequently played across the country, including Eastern Front Theatre in Nova Scotia in 2008, and the National Arts Centre in a co-production with Great Canadian Theatre Company in 2010.
The play is set in a field hospital in France just before the Canadian forces attacked the entrenched German army at Vimy Ridge, and tells the story through the experience of four soldiers from different divisions, and a nurse, who represent regions of Canada: Sid from Winnipeg, Manitoba; Will from Renfrew, Ontario; Jean-Paul from Montreal; Mike from Standoff, Alberta; and Clare from Nova Scotia. Thiessen based his play on the diaries and journals of WWI soldiers, but shifts back and forth in time through the memories of the soldiers to provide a wider perspective and significance to events and lives.
Vimy moves through the borders of place and time to create a space for a reflection on the construction of a national and individual identity in terms of an international conflict. Thiessen contends that Vimy "is not a play about war," but an exploration of "the small moments [that] define us as individuals, as communities, and as a nation." As Liz Nicholls points out in her review in the Edmonton Journal, Vimy is also a play about memory, "how it works, how we remember, how we resist memory. The flashbacks get triggered by little things that happen in the present of the play" (24 Oct 2007: D2). These "little things" begin to assume iconic significance.
Memory enables the construction of individual and collective identity; it is a means to articulate, legitimate, and even constitute a sense of self and of relationships to others. In order to validate themselves, nations need to discover or construct a collective past through experiential metaphors. Through the memories that both sustain and haunt four Canadian soldiers and their nurse, Vimy constructs a portrait of social and cultural differences and similarities. Self-awareness extends itself beyond the confines of a hospital room into the blighted landscape of France, and into the various communities across Canada from which these soldiers came. Their values, hopes and fears are tested in combat and in their memories of that combat. In his review in The Globe and Mail, entitled "Another Victory at Vimy," Kamal Al-Solaylee points out that Thiessen is writing against the "grand narrative" of Canadian history: "What fascinates him and ultimately makes Vimy a victory of a play … is not the historical platitudes but the contradictions inherent in them. Yes, Canada put on a united front at Vimy Ridge, but that unity was forged out of regional, ethnic, religious, and sexual differences …". (R8 & 10)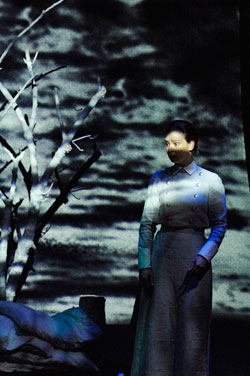 Daniela Vlaskalic as Clare, Citadel production. Photo by David Cooper
The nurse who moves among the soldiers in the hospital as an observing, caring "angel" provides a choric commentary that attempts to negotiate differences and smooth over frictions. She also, according to Thiessen, "crack[s] the surface of these four men and pollinate[s] the discovery of memory" (See Magazine 18 Oct 2007).
Vimy begins with memory – Clare's recollection of the sun rising over the Bay of Fundy. Her memory of place is bound up with the stories of place – in this case the Mi'kmac myth of Glooscap, the creator. The director of the Citadel Theatre production of Vimy, James MacDonald, discovered in the process of rehearsal that "all of [their] experiences and memories were linked strongly to the earth – to the beauty and poetry of the Canadian Shield, the rocky shores of Nova Scotia, or a mountaintop in southern Alberta. These memories embody a unique Canadian identity - the beauty and wistfulness of these memories was juxtaposed with the characters' experiences with another sort of connection with the land: months or years spent literally living in dirt; the absolute filth of the trenches of France" (Interview).
Although the soldiers initially have no memory of going over the top at Vimy, their horrific experiences haunt them as nightmares. But their longer-term memories, their recollections of their lives in Canada before they enlisted, piece out their personal scenarios – their family, friends, location, dreams and frustrations, and their reasons for joining the war. Each soldier comes from a different Canadian place and regiment. All are in their 20s, encountering war for the first time. Jean-Paul, a butcher from Montreal, wants to improve his station in life. As a Quebecois, he feels marginalized in his own country – a second-class citizen. His dream is to prove himself by showing "those Anglos" who can really fight by defeating a common enemy. He is an infantryman from the 22nd Battalion – the "Van Doos," and suffers from shell shock. Sid is an infantryman with the 44th Battalion from Manitoba. He has worked on the construction of a water pipeline in Winnipeg, building the infrastructure of a nation. He has been blinded and suffers head injuries as well as tuberculosis. Will, an infantryman with the Royal Canadian Regiment, is a canoe maker from Ontario who dreams of canoeing in Algonquin Park. He suffers from the effects of shrapnel to his arm and lower body. Mike is a Blood Indian from Standoff Alberta and an infantryman with the 10th Battalion. He suffers from the effects of a gas attack. The war has tested his bravery as a warrior, but it is not the realization of the vision he experienced with his brother on Chief Mountain.
The characters are in a sense "representative" of Canada before the war, coming from different provinces and backgrounds, but they also embody the diversity of cultural background of the 97,000 soldiers in the four divisions of Canadian troops at Vimy. As Liz Nicholls points out, "Vimy's fancy is to locate a Canadian signature on homegrown skills tapped for the battle: the way a canoe glides, or a labourer digs a water tunnel in Manitoba, or a native vision quest links northern lights and the unearthly fire of war." (Edmonton Journal 27 Oct 2007: C9).
The play begins with Clare's memory of her home in Shubenacadie with her lover, Laurie, a mining engineer who has joined the Nova Scotia Highlanders, and of their brief time together in Montreal, surveying the city from the top of Mount Royal. Through memory, her life, and the shattered lives of the soldiers are pieced together, exposing inner conflicts and cultural differences. The play moves inexorably towards a reenactment of the battle as the memories experienced by each soldier. They surface as images of Vimy Ridge evoked in terms of their own home landscape: "A whale's back. … A horse's spine… A muddy bank." Then their memories of the battle come flooding back like a Fundy tide: Mike relives a gas attack; J.P. remembers being part of a firing squad which killed his friend from Quebec for desertion; Will remembers killing a young German soldier with his bayonet. Their recollections move inexorably to the climax when the whistle blows for going over the top, and they wait "Holding their memories tight" until the inevitable tragic confrontation with pain and death.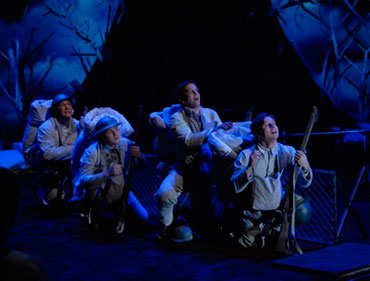 Vimy by Vern Thiessen, Citadel Theatre, 2003. Photo by David Cooper.
In Vimy the phrase, "It's all stuck in here" is a recurring refrain, spoken by each of the characters. They cannot forget; they are impelled to remember. The play enacts their memories so that they are communally experienced, and become a collective memory of the nation. However, Canadians are notorious for forgetting their own history. In the program for the Citadel, and in the published text, Thiessen provides "Historical Notes" on the battle at Vimy Ridge, in which he points out that although noted historians have argued aggressively "that Vimy Ridge was the symbolic birth of Canada as a nation… [h]owever, in a poll conducted by The Globe and Mail in 2002, only 36 per cent of Canadians could name Vimy Ridge as the most significant Canadian victory of the Great War" (vi). In his Notes Thiessen provides not only the statistics, but also an ironic commentary on the social injustices at the time: one in three Native men volunteered to serve in the Great War, approximately 4000 of whom served overseas, at a time when residential schools were in full operation. Over 3000 women served as nurses when women did not yet have the vote. In an "Introduction" to the published text, he explains why he wrote the play – to address this cultural memory loss, but also to explore the relationship between memory and history, between personal and communal memories, between what is forgotten and what is mythologized. And he also wanted to investigate the way in which memory operates on a personal and national level.
Moreover, in writing the play, the playwright not only creates a record of the past, but also constructs a present culture through an identification of individual, private and subjective territory. "Lest we forget" is not only a slogan for Remembrance Day. In memory lies the cultural history and health of the nation.
Vimy is published by Playwrights Canada Press (2007).
Commentary by Anne Nothof, Athabasca University
Last updated 2018-02-06