Eastern Front Theatre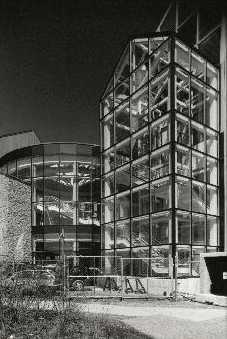 The Alderney Landing Theatre
Theatre company in Halifax, Nova Scotia, founded in 1993 by Wendy Lill, Gay Hauser and Mary Vingoe to produce new Atlantic Canadian plays. The Company focuses on Atlantic Canadian theatre artists and their work, supports the development of plays by local writers, and promotes this work to the rest of Canada and the world.
Eastern Front produces three Mainstage shows, the SuperNova (now Stages) Theatre Festival, and mentors a youth theatre production each season.
In May, 1999 the Company moved into the 285-seat Alderney's Landing Theatre. Its first presentation there was an edition of the Company's annual On The Waterfront new play festival. It also presented the hit Ship's Company Theatre production of Salt-Water Moon in July, 1999.
Eastern Front has produced thirteen world premiere plays, including Consecrated Ground by George Elroy Boyd in 1999; and The Glace Bay Miner's Museum, adapted from Sheldon Currie's novel by Wendy Lill.
Among other playwrights presented there are Sheree Fitch, Andy Jones, George Elliott Clarke, Daniel MacIvor, and Michael Melski.
Eastern Front has had great success producing East Coast musical theatre tribute shows since 2006, including Singalong Jubilee, Stan Rogers – A Matter of Heart and Canada's Songbird – A Musical Tribute to Anne Murray. In 2018, it premiered Kamp, a co-production with Neptune Theatre (book by Jamie Bradley, music and lyrics by Gary Williams), a musical set in a Nazi concentration camp, where prisoners created a cabaret which expressed their humanity in inhuman circumstances. It won five Merritt Awards, including Outstanding Production, and Outstanding Original Score.
Atlantic Canada's National Professional Theatre Festival, SuperNova was re-branded in 2008, replacing On the Waterfront. The 10-day festival is an innovative and eclectic mix of theatre from across the country and features the successful Ten-Minute Play Contest for high school students across Nova Scotia.
Scott Burke was Artistic Producer from 1998 to 2003, followed by Charlie Rhindress, Jeremy Webb, and Sam Rosenthal, who resigned in February 2020. Because of the Company's "significant debt," The Eastern Front Theatre Board of Directors has taken stock of its mission, mandate, and community responsibilities, while recruiting a new Artistic Producer.
Website: www.easternfronttheatre.com
Last updated 2020-08-24