Jones, Andy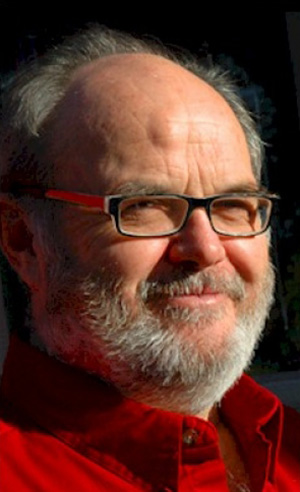 Andy Jones. Photo courtesy of CBC Media Centre.
Actor, writer, director, born January 15, 1948 in St. John's Newfoundland and Labrador, where he still lives. There he co-founded and worked at the Resource Centre For The Arts at The LSPU. Hall where he co-wrote, acted in, and directed many original productions. He had been a member of the Newfoundland Travelling Theatre, before he joined the Newfoundland Comedy troupe CODCO in its theatrical form from 1974 to 1976; and in its television format from 1986 to 1991 (with Mary Walsh, and his sister, Cathy Jones).
Andy Jones has performed in theatre productions across Canada including Dog In The Manger (at Theatre Passe Muraille, Toronto); Pilk's Madhouse (at Halifax's Second Stage); Love and Anger (Alberta Theatre Projects, Calgary); Pope Joan (Nightwood Theatre, Toronto); Bloomsday--where he played Leopold Bloom (Anna Livia Productions, Toronto); The Postal Show (Theatre P.E.I.); and The Time and Place by Botho Strauss (Theatre Smith-Gilmour, Toronto).
He also performed with the Ken Campbell Roadshow (Upstairs at The Royal Court, London), with the Madhouse Company of London England in their European Tour (1972-73), and with the Jack-Five-Oh and Sheilagh's Brush Theatre Troupes in their numerous Newfoundland Folktale Tours.
Andy Jones has also written, performed and toured his five one-man shows: Out of the Bin (National Tour 1984-85); Still Alive (National tour 1994-95); King O'Fun (LSPU Hall in St. John's and Du Maurier Theatre in Halifax as part of Eastern Front Theatre's 1997-98 season); An Evening With Uncle Val (St. John's and Halifax); and To the Wall (National Tour 2002, Scotland and Ireland). His one act play Albert has been performed in St. John's and at the Rhubarb Festival in Toronto as well as being made into a half-hour film.
In To the Wall he takes on the big questions in his typically off-the-wall comic style, trying to reconcile his belief in science with his Newfoundland Irish upbringing, creating "a spellbinding and utterly mad evening of quiet reflection and blissful silliness" (Toronto Sun).
Andy Jones has had principal film roles in The Adventure Of Faustus Bidgood (which he also co-wrote and co-directed), Life With Billy, A Secret Nation, Paint Cans, Coleslaw Warehouse, Brain Candy, Extraordinary Visitor, and Rare Birds.
In television he has co-written and performed in the Codco Series, Dooley Gardens, The Cathy Jones Special, Kids in The Hall, (where he was part of the team nominated for an Emmy Award), and Nasty Habits. He has also narrated the children's cassette Jack Meets The Cat, and has written five award-winning children's books based on folk tales.
He is the winner of numerous awards including a Gemini in 1992, Atlantic Film Festival Awards for best actor in 1989 and again in 1998, and the Chicago Film Festival Half Hour T.V. Award (with Codco). In May 1993, he was elected to the Newfoundland Arts Council Hall of Honour, and received a Gemini for Lifetime Achievement in November 2002. In 2019, he was appointed to the Order of Canada.
Profile by Gaetan Charlebois and Anne Nothof. Additional information supplied by Brenda O'Brien.
Last updated 2021-02-12