Musical Theatre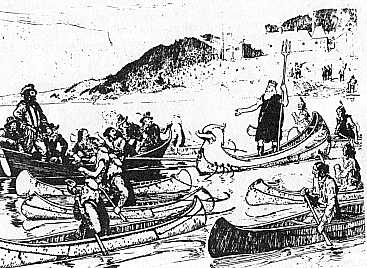 Artist's depiction of a performance of Le Théâtre de Neptune en la Nouvelle-France (CW Jefferys)
Musical theatre has been extant in Canada since the performance of First Nation rituals and ceremonies, but also from the first European settlements. Indeed, the first Western production to be staged in the Canadian New World, Marc Lescarbot's Le Théâtre de Neptune en la Nouvelle-France (1606), included music.
Early works in the country included Joseph Quesnel's operetta Colas et Colinette (1790) and the burlesques of the local amateur societies and garrison troupes. Touring companies from the United States and Great Britain (sometimes featuring ex-patriot Canadians like Arthur Deagon) came to Canada with the arrival of the trans-Canada railroad. Locally produced satires of the 1800s often lampooned these productions - music revues, burlesques, operettas and the works of Gilbert and Sullivan.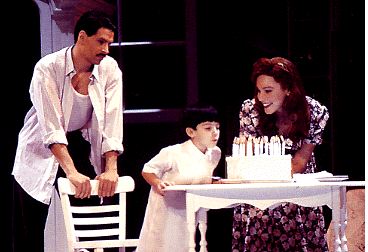 The
Mirvish
production of
Des McAnuff
's
Tommy
by Pete Townshend, 1995 (photo courtesy of Headquarters Entertainment)
In the 1900s, revues became made-in-Canada with the popular soldier-entertainers The Dumbells (who toured into the 1920s) and the political revues of the unions which included music. In 1938, Gratien Gélinas began his famous revues, Les Fridolinades. In 1948, the annual satirical revue, Spring Thaw, began at the New Play Society and was the company's cash-cow until it disbanded. In 1957, the huge success My Fur Lady began at McGill University and went on to become a national phenomenon (and drew at least two talents to national attention: Galt MacDermot and Brian Macdonald).
The arrival of intimate musicals and revues that could play the burgeoning dinner/café theatre scene occurred at the beginning of the 1960s. Stars began to be created by these works, for instance Clémence Desrocher in Quebec and Dinah Christie in Ontario. Legitimate theatres also began to sponsor some of these works (like L'Osstidcho at Théâtre de Quat'Sous, 1968). One particular production, in Toronto, must be noted in this period as well: Godspell which included in its cast Andrea Martin, Martin Short, Eugene Levy and Dave Thomas (who would all go on to star in SCTV); and Victor Garber, Gilda Radner and Paul Shaffer (David Letterman's band leader).
With the foundation of the Charlottetown Festival in 1964, the creation of true American-style musicals made in Canada exploded. Though the most notable from the company is, of course, Anne of Green Gables, the Festival was also responsible for Fauntleroy, Kronborg: 1582 (a rock musical based on Hamlet) and a musical adaptation of Gordon Pinsent's The Rowdyman.
With the occasional success and the growth of an industry (not to mention the training of talent in the acting and music institutions), the theatre in Canada hovered between so-called Broadway-bound works (like the ill-fated Duddy or Flowers for Algernon at Citadel Theatre), and products that were uniquely Canadian like the Jacques Languirand/Gabriel Charpentier work Klondyke, Ken Mitchell/Humphrey and the Dumptrucks' prairie-version Othello, Cruel Tears, and the smash-hit collective creation, Paper Wheat. Some companies, like Young People's Theatre, saw the creation of musical theatre as a winning formula to attract new audiences and made it part of their mandate with great success (Jacob Two-Two Meets the Hooded Fang by Jim Betts, Mordecai Richler, Dennis Lee and Philip Balsam).
Things changed dramatically in 1985, however, when the Andrew Lloyd Webber musical, Cats, opened in a Canadian production in Toronto. In the next years, between producers Edwin Mirvish, David Mirvish and Garth Drabinsky, Toronto became a mega-musical haven with Les Misérables, Phantom of the Opera, Miss Saigon, Showboat, Kiss of the Spider Woman, Tommy and Crazy for You coming to town in spectacular versions. Bound-for-Broadway productions like Ragtime were tried out in Toronto as well. After the difficulties encountered by Livent, and the critical failure of the epic musical extravaganza, The Lord of the Rings in 2006, the future of the creation of mega-musicals in Toronto was uncertain.
The legitimate houses have also felt compelled to present musicals, not always the home-grown variety. Centaur Theatre has presented Little Shop of Horrors, Cabaret and My Fair Lady; Stratford has presented Cabaret, Camelot, Man of La Mancha, West Side Story, Music Man, Fiddler on the Roof , My Fair Lady and Oliver (aside from its success with the works of Gilbert and Sullivan); Canadian Stage has presented A Little Night Music and Into the Woods; Neptune Theatre has presented Les Miz...and on it goes.
However, this did not mean that the smaller musicals, created in this country, were dead or even close to peril. Since the two-hander Billy Bishop Goes to War swept the country, many of the nation's best writers and composers have tried their hands at writing music, book, lyrics or all three for the musical theatre: Paul Ledoux with David Young (Love is Strange, Fire), John Gray (Don Messer's Jubilee, Rock and Roll). Companies have sprung up, like Taur-Pro (run by Joan Mathers and Jeffrey Latimer), to accommodate the small productions.
Brad Fraser's and Joey Miller's Outrageous premiered at Canadian Stage in October, 2000. Bittergirl the Musical by Mary Francis Moore, Annabel Fitzsimmons and Alison Lawrence features the unlikely multiple scenarios of being dumped from a relationship. It began as a play and morphed into a musical, opening at Buddies in Bad Times Rhubarb Festival in 1999, and subsequently travelling across the country.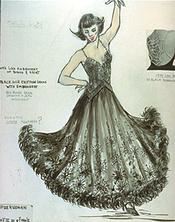 Florence Klotz's costume design for the
Garth Drabinsky
production of Puig's
Kiss of the Spider Woman
, directed by Harold Prince, 1993
There have also been productions, outside of Toronto, of the larger-scale musical genre. Starmania, the Alain Berger/Luc Plamondon phenomenon, has played this country several times, been a smash in France and is slated for adaptation into English. Snapshot Productions in Montreal tried a mega-musical version of the St. Joan story, Jeanne. Although it was not a financial success, it was seen by 80,000 spectators. In 1996 the Michel Tremblay/François Dompierre musical Demain matin, Montréal m'attend was given a quasi-mega-musical treatment by director Denise Filiatrault to much success. (It was revived at the Montreal Casino in 1999.) In 1997, Duddy was revived to much success, in Yiddish, by the Yiddish Theatre In 1998, Joe Maalouf tried to launch Jerusalem at the Saidye Bronfman Centre, to little success. But in the same year, in the summer, a Québécois adaptation of Grease, co-produced by Jeanne's Allan Sandler, played to packed and enthusiastic houses for most of the season. (Sandler co-produced a 2000 French-language production of La Cage aux Folles as well; this project was considerably less successful than Grease.) In 1999, Plamondon's new musical, based on Hugo's The Hunchback of Notre Dame arrived in Montreal from its sold-out success in Paris. It had broken Montreal records for advance ticket sales and went on to tour to huge success. It is now performed, in English, in Las Vegas. A production, presented in the spring of 2000, in London, England, was very badly received by British critics. The made-in-Canada musical Napoleon by Andrew Sabiston and Timothy Williams opened in London, England, in October, 2000 to scathing reviews.
One of the happy consequence of the mega-musical phenomenon is the creation of made-in-Canada stars like Jeff Hyslop, Brent Carver, Louise Pitre, André Thérien and Robert Marien, and the bigger-scale showcasing of Canadian talents like Des McAnuff and Barbara Hamilton. The phenomenon has also enlarged the appetites for musical theatre across the country and allowed for diversity in careers like in those of Richard Ouzounian. His Dracula - with his constant composer Marek Norman - was presented at Neptune Theatre and Stratford, while his Emily was presented at the Charlottetown Festival even as he worked on a musical adaptation of Carol Shields' Larry's Party , which was presented at Canadian Stage, January, 2001.
More recently, new Canadian musical theatre works have enjoyed considerable success: The poignant and engaging Acadian story of Evangeline by Ted Dykstra premiered at the Charlottetown Festival in 2013. The highly acclaimed musical theatre production Ride The Cyclone by Jacob Richmond and Brooke Maxwell (music and lyrics) was developed and workshopped by Atomic Vaudeville over three years, and premiered in 2009 at Intrepid Theatre's Metro Studio in Victoria, and toured across Canada for four years. In 2019, it is slated for a production in Atlanta. Ride the Cyclone is a bizarre black comedy about six members of a teenage chamber choir from Uranium, Saskatchewan who die in a roller coaster accident at a travelling fair. In their final performance after their death, they celebrate their individuality while coming to terms with their untimely demise. Awards include: Dora Mavor Moore Award for Best Touring Production (2012); Toronto Theatre Critics Awards for Best Musical, and for Best Direction of a Musical (2012).
Come From Away by Irene Sankoff and David Hein, about the welcome extended by the citizens of Gander, Newfoundland, when 38 airliners were diverted there following the 9/11 disaster (Royal Alexandra Theatre 2016) received enthusiastic critical reviews, three Drama Desk Awards, and a Tony Award for best direction for its opening on Broadway in 2017. It won three Doras in 2017 for the Toronto production: best production of a musical, best new musical/opera, and outstanding female performance by Jenn Colella. It also received the Jon Kaplan audience choice award for outstanding production. In 2019, it won four Olivier Awards for its London debut, including Best New Musical, the first Canadian play to win this award. It has since been touring across North America, including Chicago, Fort Lauderdale, Edmonton, and Calgary, with productions in Ireland, Australia and Argentina.
Other notable productions include: Marathon of Hope: The Musical by Peter Colley (script) and John Connolly (music) (St. Jacobs Country Playhouse Drayton Entertainment Company 2016) about Terry Fox's heroic run for a cancer cure; and Prom Queen: The Musical, with lyrics by Akiva Romer-Segal, music by Colleen Dauncey, and book by Kent Staines, about a teenager who battled the school board when it refused to allow his gay date into the high school prom (Segal Centre for Performing Arts 2016). Retitled The Louder We Get, it played at Theatre Calgary in 2020.
In 2016, Onegin, an adaptation of the Tchaikovsky opera/Pushkin poem by Amiel Gladstone and Veda Hill (Arts Club Theatre, won ten Jessie Richardson Awards, and then toured across Canada to critical acclaim. In March 2017, Downstage Performance Society premiered a satiric Canadian musical, co-developed and produced with Forte Musical Theatre and Hit & Myth Productions in Calgary, entitled, Crime Does Not Pay, about the violent social consequences of the comic book industry in the 1940s. It was written by Calgarians Kris Demeanor and David Rhymer and directed by Simon Mallett.
Most theatre schools include some form of musical theatre training, and Theatre New Brunswick operates a musical theatre school.
Other articles of interest in the Canadian Theatre Encyclopedia on the WWW: Leslie Arden, Children of Kush Arising, Colours in the Storm, Pied de Poule.
Sources: Benedict Nightingale. "The West End is starstruck," The New York Times, 17 Sept 2000; Kate Taylor. "Under Siege in the West End," The Globe and Mail, Toronto, 10 Oct 2000.
Profile by Gaetan Charlebois and Anne Nothof. Additional information provided by Alison Franck, Peter Sipos, Christopher Hoile, Pierre Karch, Ian Easterbrook, M.K. Piatkowski, Jim Betts and J.Kelly Nestruck.
Last updated 2020-02-10