Drabinsky, Garth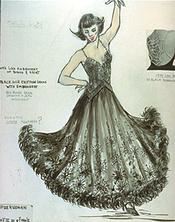 Florence Klotz's costume design from Garth Drabinsky's Tony Award-winning production of Kiss of the Spider Woman
Ontario-based entrepreneur, born in Toronto in 1949. Garth Drabinsky was the producer, chairman and CEO of Livent, one of Canada's biggest producers of live entertainment, specifically musical theatre.
He was striken with polio at three and underwent several operations. After receiving a law degree from University of Toronto in 1973, Drabinsky produced films and co-founded Cineplex Odeon Corporation which he helmed until 1989, and from there, in 1992, Livent.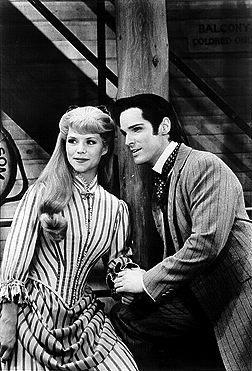 A scene from the multi-Tony Award-winning New York production of Showboat
Drabinsky was also instrumental in the renovation of historic theatres in New York (Apollo), Toronto (Pantages) and Chicago (Oriental Theatre).
Under him, Livent presented productions that won awards in Canada and the United States and helped to make Toronto into Broadway North. Among the shows were Phantom of the Opera, Kiss of the Spider Woman, the controversial revival of Showboat, Joseph and the Amazing Technicolour Dreamcoat, Aspects of Love and the musical adaptation of E.L. Doctorow's Ragtime.
In 1998, Drabinsky gave over the reigns of Livent to Hollywood super-agent Michael Ovitz (more recently of the Disney empire) and ran the theatre section exclusively. However, in August, 1998, just as Fosse: A Celebration in Song and Dance opened in Toronto, Livent suspended Drabinsky following allegations of "serious irregularities" in the company's bookkeeping. In 2009 he was convicted and sentenced to prison for fraud and forgery. In 2013, he was granted full parole.
In 2016, Drabinsky launched another production company called Teatro Proscenium, and announced the premiere of a musical entitled Sousatzka, based on a 1962 novel by Welsh author Bernice Rubens about the relationship between a music teacher who is a holocaust survivor and her student prodigy from South Africa. It premiered to negative reviews in March, 2017 (dir. Adrian Bolt) at the Elgin and Winter Garden Theatre Centre.
Profile by Gaetan Charlebois and Anne Nothof. Additional information from J.Kelly Nestruck, The Globe and Mail 9 Dec.2016.
Last updated 2020-08-10