Elgin and Winter Garden Theatre Centre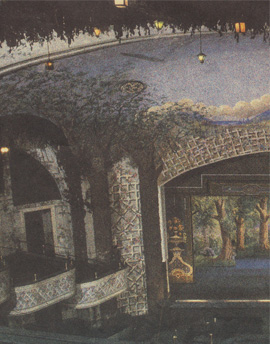 Winter Garden Theatre
Splendid historical theatre complex in Toronto, Ontario, designated a national historic site. The Elgin and Winter Garden Theatre Centre is the last "double-decker" or stacked Edwardian theatre facility in the world. It was constructed in 1913 at a cost of $500,000 as the flagship of the famous Loews chain of vaudeville theatres, designed by American theatre architect Thomas W. Lamb. The lower 2000-seat Yonge Street Theatre (now the Elgin) was an opulent space with royal boxes and gilded plaster ornamentation. The upper 1400-seat Winter Garden was approached via a seven-floor sweeping marble staircase, and three elevators; the walls and boxes were covered with trompe l'oeil paintings of trellises and roses, with trees as columns, a simulated garden on the stage flats, and beech bows, leaves, and lanterns hanging from the ceiling. The 130-foot long lobby featured a terrazzo floor, faux marble columns, gold-leaf trim, and gilded plaster friezes.
Both theatres operated in tandem for fourteen years: the Yonge Street Theatre hosted continuously running vaudeville performances during the day, and the Winter Garden offered the same repertoire in the evenings and weekends to a more affluent audience. Visiting stars included Milton Berle, Edgar Bergen, Burns and Allen.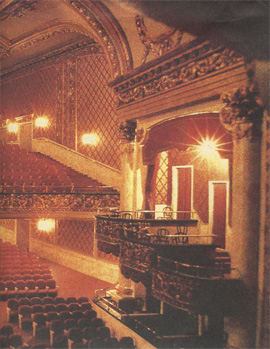 Elgin Theatre
With the end of the vaudeville circuit in 1930, the Elgin functioned as a cinema, while the Winter Garden fell into disuse in 1928.
In 1981 the complex was bought by Ontario Heritage Foundation to help boost the profile of Toronto theatre, and in 1985 Cats was mounted for a two-year run while the lobby renovations were begun. Renovations to the theatres began in 1987 and were completed in 1989, at a cost of $29 million.
Productions at the two theatres include Andrew Lloyd Webber's Aspects of Love (1991 dir. Robin Phillips); the Lutvick/Taur-Pro (Joan Mathers/Jeffrey Latimer) co-production of Forever Swing (1999/2000); The Magic Flute (2001); George Walker's Nothing Sacred; Michael Healey's The Drawer Boy; Anne of Green Gables (2009) by Donald Harron and Norman Campbell; and Barrymore with Christopher Plummer (2011).
Source: The Elgin and Winter Garden Project, The Ontario Heritage Foundation.
Website: www.heritagetrust.on.ca
Last updated 2020-08-24