Anne of Green Gables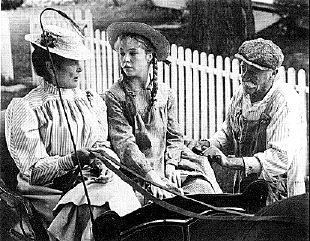 Photo from the successful
CBC
-television non-musical adaptation of
Anne of Green Gables
(l-r)
Colleen Dewhurst
as Marilla,
Megan Follows
as Anne and Richard Farnsworth as Matthew
Several theatre versions of Lucy Maude Montgomery's book (published in 1908) exist, including Anne, by Paul Ledoux presented by Young People's Theatre in 1998), but the most famous Canadian one is the musical theatre adaptation Anne of Green Gables, with music by Norman Campbell, book by Donald Harron, with lyrics by Harron, Campbell, Mavor Moore and Elaine Campbell, directed and choreographed by Alan Lund, premiered July 27, 1965 at the Confederation Centre of the Arts, Charlottetown, featuring Barbara Hamilton, Peter Mews and Dean Regan. It is a family-oriented tale of an orphan and her adoptive parents which has become the longest running musical in the history of Canada. As of 2019, it has been performed 2500 times, with 19 different actors in the role of Anne.
Marilla and Matthew (brother and sister) adopt a red-haired girl (when they had been hoping for a boy) to find that she is a stack of trouble. They grow to love her eccentricity and passion while she grows to love the farm, her friends, her parents and Prince Edward Island, where the work is set.
Anne of Green Gables has toured Canada, and performed in Japan, London, and New York. It is the mainstay of the Charlottetown Festival each summer.
Website: www.anneofgreengables.com
Last updated 2020-10-28