Regan, Dean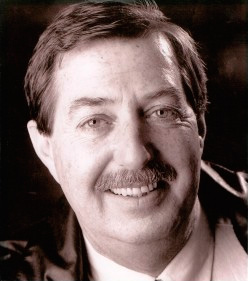 Dean Regan
Multi-talented theatre artist—composer, actor, singer, playwright, director, and choreographer, who has created several popular musical theatre productions. As a boy, he frequented dance clubs, absorbed by the frenetic energy of the dancers. From his first professional dance performance at 8 years old and his roles as child star Tommy Vickers at Theatre Under the Stars, Dean Regan was recognized as a major talent. In 1959 he changed his name to Dean Regan and headed for Hollywood then New York, where he apprenticed with George Balanchine, Aida Broadbent and Alan Lund, and toured with Buster Keaton, Rudy Vallee and Paul Whiteman. In 1964, he returned to Canada to tour for five years with the satiric review, Spring Thaw. In 1965, he performed in the premiere of Anne of Green Gables. Since then he has performed in most major theatres in Canada as well as in TV, film, nightclubs, commercials and recordings.
In 1991, Regan's hit show, A Closer Walk with Patsy Cline opened at the Arts Club Theatre, and then toured across Canada. It played for nine months at the Playhouse Theatre in Boston, Mass. and toured the U.S. twice. It has been produced over 150 times across North America. Regan has personally directed over twenty productions. The narrator, a small-town radio D.J. recalls the short, tragic career of Patsy Cline, from her a radio performance at the age of fourteen to her first appearances at the Grand Old Opry and Carnegie Hall, to her death in a plane crash at the age of 31 in 1963.
Red Rock Diner (50's rocker) premiered at the Arts Club Theatre in June, 2014, and in the U.S. at Hallmark Theatre, Kansas City. It enacts through song and dance the career of Red Robinson (born March 30, 1937 in Comox, British Columbia) the first disc jockey to play Rock and Roll music in Vancouver.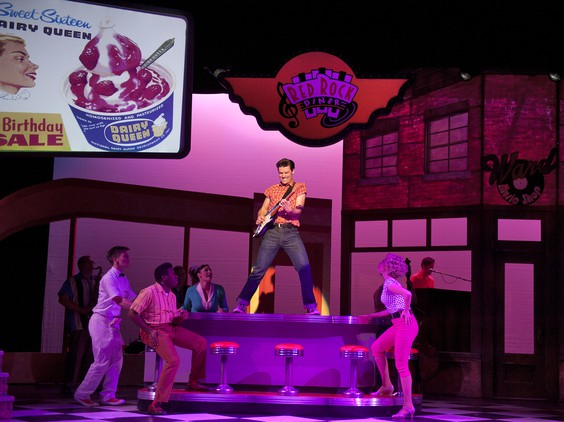 Red Rock Diner, Arts Club Theatre, 2014, with Zachary Stevenson. Photo by Emily Cooper.
Forever Swing, the popular big band musical, opened the Arts Club's Stanley Theatre in 1998, and then toured nationally, including the Winter Garden Theatre in Toronto, with Michael Bublé in the cast, and the Aladdin Theatre in Las Vegas in 2001. It follows the fictitious Tommy Vickers Band as it plays in various ballrooms and nightclubs on tour. In Act II, the band is in uniform during World War II, broadcasting from the London Palladium. Hotel Porter (Cole Porter Revue) played at the renovated Stanley Industrial Alliance Stage in 2000.
The narrative line and characterisation in Regan's works functions primarily as a frame for the music. They cater to audiences that enjoy hearing musical favorites, and the music speaks for itself. Regan considers his style to be like music videos: "Every number has a story to it. It's not written. It's choreographed, it's emotionalized."
Dean Regan was inducted into the B.C. Entertainment Hall of Fame.
Last updated 2021-08-31