Prince Edward Island

Maritime province of Canada with a population of 160,536 (Statistics Canada 2021).
Theatrical production in Prince Edward Island dates from 1800, with the founding of the Charlotte-Town Amateur Theatre, which provided popular entertainment for thirty years during the winter months, comprising primarily British farces and comedies in found spaces. In the 1880s and 90s the Benevolent Irish Society sponsored Irish plays, and in 1886 opened the 900-seat Lyceum Theatre. The Independent Order of Oddfellows sponsored light opera by Gilbert and Sullivan. In 1851, the Sons of Temperance Hall opened, which became the Academy of Music, operating the first resident stock company. In 1893, the Masons built an elegant opera house, which hosted touring companies from the US. By the 1920, these had been converted to movie houses, and live production was again the purview of Little Theatre.
To address the dearth of local stories, the Community Theatre Program was incorporated in 1980, performing new works in halls and community centres. The intent was "to help Islanders to find their own individual and unique voices; to speak and to act" (quoted in Belliveau). Ron Irving was executive and artistic director of what became Theatre PEI. Between 1981 and 2001, when government funding ceased, Theatre PEI produced dozens of original plays, most of which were collective creations by young actors, tackling subjects from racism to environmentalism. Special interest shows included The Venerables (1984), developed by seniors about the foibles of aging. The works of more established writers were also featured, including Michael Hennessey's Trial of Minnie McGee, about the first woman sentenced to death in PEI; David Weale's A Long Way From the Road, and Kent Stetson's comic one-person show about the dissolution of agrarian life, Horse High, Bull Strong, Pig Tight.
Much of the contemporary theatrical life of Prince Edward Island is centred on the Confederation Centre of the Arts and the Charlottetown Festival. However, there is also theatre at the University of PEI and community theatre all across the Island. PEI is also rife with theatre festivals, notably the Stage Door Theatre Festival and the Children's Theatre Festival.
Notable among the venues outside of the capital are the Victoria Playhouse (Victoria) and King's Playhouse (Georgetown), which host a variety of plays during the summer season, and concerts during the winter.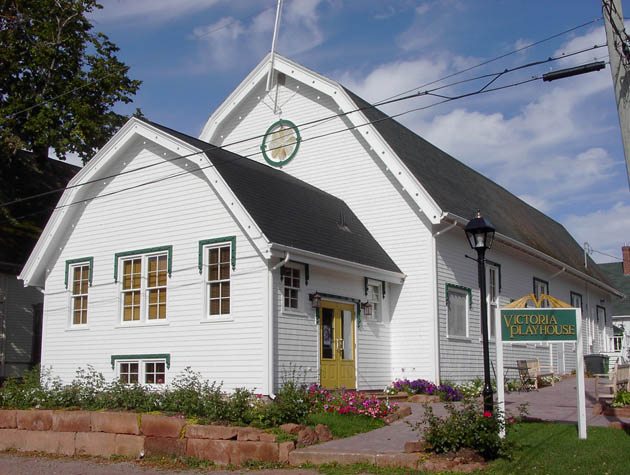 Victoria Playhouse. Photo by Wendell Dennis
Also see article: Canadian Theatre History.
Source: George Belliveau with Josh Weale and Graham Lea. "Theatre PEI: The Emergence and Development of a Local Theatre," Theatre Research in Canada 26 (2005): 64-81.
Last updated 2021-08-20