Neptune Theatre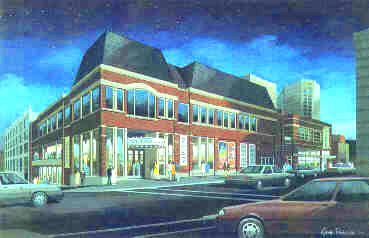 Neptune Theatre
Theatre in Halifax, Nova Scotia, named after the first theatrical production mounted in Canada: Théâtre de Neptune en la Nouvelle France.
It was supported, originally, by Tom Patterson (founder of the Stratford Festival), and the Canada Council in a bid to extend theatre beyond Central Canada. Originally housed in the 525-seat Garrick Theatre, it opened its doors in 1963 with a production of George Bernard Shaw's Major Barbara. It has been one of the most important regional houses ever since, and the first to adopt a 52-week a year schedule (engaging artists and technicians year-round).
The company's first Artistic Director was Leon Major (1963-68), who saw a need to stage productions with strong regional content. The first writer-in-residence was John (Jack) Gray who set out the company's mandate as follows: "The Neptune Theatre is an attempt to establish a fully professional regional theatre presenting plays in repertory...its repertory season will include the best plays of the past in balance with new plays, Canadian wherever possible, but new."
Subsequent artistic directors have been Heiner Piller (1969-71), Robert Sherrin (1971-74), John Wood (1974-77), John Neville (1978-83), Tom Kerr (1983-86),Richard Ouzounian (1986-90), Linda Moore (1990-2000), Ron Ulrich (2000-08), and George Pothitos (2009-17). The current A.D. is Jeremy Webb.
The company has had some financial difficulties and was forced to restructure its season which now goes from October to May. In the 1993-94 season it presented Les Misérables which was a smash hit.
In October, 1997, the Company opened its new $13 million home with a production of Major Barbara on the main stage, named Fountain Hall after its benefactors. The venue now includes a smaller studio theatre (now Scotiabank Stage), a 180-seat flexible space (which was launched with a production of Kanishibetsi by Soh Kuramoto). It also houses the Theatre School which runs year-round (with an enrolment of 1000).
The Neptune features a children's theatre company called Young Neptune which tours the region.
In 1991, in memory of the Blackmore Brothers, Neptune's Foundation created the Blackmore Brothers Bursary Fund to aid students in the technical section of the Dalhousie University Theatre program.
Productions of Canadian plays have usually been on the smaller second stage of the Studio Theatre, including: Don Messer's Jubilee by John Gray, Riot by Andrew Moodie, Problem Child by George F. Walker, Possible Worlds by John Mighton, World Without Shadows by Lance Woolaver, Homeward Bound by Elliot Hayes. In 2010, the Neptune produced popular Canadian plays Sexy Laundry by Michele Riml, Bigger Than Jesus by Rick Miller and Daniel Brooks, and Mesa by Doug Curtis. The 48th season featured 7 Stories by Morris Panych, and The Fly Fisher's Companion by Michael Melski. More recently, Neptune Theatre has produced works by Robert Chafe: Oil and Water, and Tempting Providence; and a new work by Daniel MacIvor (New Magic Valley Fun Town in 2019).
Website: www.neptunetheatre.com
Reading: Richard Perkyns. The Neptune Story. Hantsport: Lancelot Press, 1989.
Additional information provided by Gisela O'Brien, Randall Ulrich and Angela Murray.
Last updated 2021-07-07