Billy Bishop Goes to War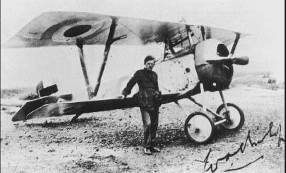 Billy Bishop (National Archives of Canada)
Culturally and historically significant Canadian musical drama by John Gray and Eric Peterson, premiered at the Vancouver East Cultural Centre (in association with Tamahnous Theatre), November 3, 1978, directed by Gray, and featuring Peterson as Bishop (and several other characters) and Gray as the pianist/narrator. Set and lighting were designed by Paul Williams. The play subsequently toured the country and played virtually every major centre and theatre, and then moved off-Broadway (produced by Mike Nichols) and finally to Broadway at the Morosco Theatre.
It has since been revived more than 150 times by other companies and with other actors - including, in 1997, by Geordie Theatre, and in 2000 by Atlantic Theatre Festival. In 2008, John Gray's son, Zach Gray performed on the piano, with Ryan Beil as Billy Bishop in a production at the University of British Columbia, remounted at the Arts Club Theatre in 2010 and the Western Canada Theatre Company in 2011. Also in the 2010/11 season, the Citadel Theatre mounted a new production, with John Ullyatt as Billy Bishop and Ryan Sigurdson on the piano, directed by James MacDonald.
In 1998, it was revived and toured with the original cast by Canadian Stage; and again by Soulpepper Theatre Company in 2009 (dir. Ted Dykstra), with a subsequent production at Theatre Calgary in 2011. It had a more nostalgic tone, as Billy Bishop reflects on his youth from old age, and the conclusion commemorates the sacrifices made by Canadian soldiers in many wars through the use of archival film footage. An abbreviated version of the Soulpepper production was filmed by the CBC, available on-line at: www.cbc.ca/video. In 2011, a movie version with Peterson and Gray, directed by Barbara Willis Sweete, came to the big screen, with Billy at the age of 65 recalling his younger self.
In November 2020, to commemorate Remembrance Day, Ron Jenkins directed an imaginative and entertaining production of Billy Bishop Goes to War at the Highland Arts Theatre in Sydney, Cape Breton, when the Covid-19 pandemic was closing theatres across Canada and the world; the production was also live-streamed across the country. Mark Delaney played Billy Bishop and others; Chuck Homewood was the piano player and narrator.
The play has won the Governor General's Award, the Chalmers Award and the Los Angeles Drama Critics Award. Although the reception of its first production in New York was mixed, as John Gray indicates in his introduction to the published play, it has since received accolades for its many productions across the United States, in England and Scotland.
Like many Canadian "history plays," Billy Bishop Goes to War critically examines its protagonist, questioning the nature of heroism and the reasons for and consequences of war. It shows how values are compromised and changed; and how heroes are constructed. It considers Canada's relationship to its colonial past, and its attempts at self-assertion and independence – the formation of national values. In this funny, sad story of the Canadian WWI flying ace, his feats of daring and his tribulations, the myth of the man is parsed as he tells of crossing swords with commanders, the Germans, the British in general (who treated him as a colonial inferior) and all those who saw war as a good time. Billy Bishop gradually loses his innocence, beginning his story as a delinquent, naive youth, and finishing as a hardened adult, having survived a brutal power struggle initiated by larger political and social forces by being stronger and smarter and luckier than his opponents. He learns to see through the lies of the propaganda to the reality of war; and he is determined to survive. Although he is exploited by the British military and social system, he learns how to use his exploiters. In achieving a degree of freedom, in defying convention, he embodies the spirit of a newly emerging nation. Ironically, his fame and fortune come about only because of the war, and he has lived fully because he was confronted with death on a daily basis. His final judgement, "It was a hell of a time," is ambivalent: war is hell, but it can also be exhilarating if you are one of the winners.
In the play Bishop also functions as an effective satiric device: his naive point of view shows the military establishment in Canada and England to be tragically farcical in its ineptitude. In many respects, the military bureaucracy was more naïve than he was.
The story is presented as a series of anecdotes by Bishop as he recounts his battles and the ecstasy of flying, occasionally singing and enacting his exploits as a fighter pilot. Act I comprises a series of dramatic setups, "each of which devolves into a comic anti-climax" (Wasserman 4). Every time Bishop is ready to embark for England to begin his heroic exploits, he is set back by an accident. For every step forward, there is a step back, a qualifying failure for every victory. The prevailing direction is "down." But once he has made his first kill, he is set on a different course; he will never be the same again. The excitement of this first encounter is developed through an extended monologue – a graphic story of individual combat. The first act ends with song that captures his mood of ambivalence towards war – the horror of death in the trenches, and the beauty of the dance of death in the sky.
Act II begins with another song, but in a very different mood. Bishop is more experienced, and his priority is survival. The glory of war has dissipated, and it has become a game of kill or be killed. He is more focused and ruthless. Each scene marks another encounter, another kill: the prevailing direction of his career and his reputation is up. Again there is an extended monologue in which Bishop enacts his attack on the German airfield, in radical contrast to the comical socializing with British gentry. He is at the height of his fame and glory – a living legend. The climax is undercut, however, by his account of the deaths of two German airmen, and again, the mood becomes darker, and Bishop becomes more reflective. Ironically, it is in the final celebration of his heroism at the Empire Soiree that the satire becomes most caustic: the history of wars is the history of the world. The piano player provides an epilogue which sums up Bishop's career until the beginning of yet another war, and Billy joins him in a final song which expresses his mixed feelings: even in the horror of war, to confront death is to live fully.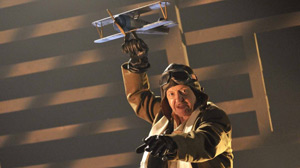 Eric Peterson as Billy Bishop in the 2011 film
In the 1998 and 2009 revivals, Peterson adapted the role of a young, brash Billy Bishop to that of "a middle-aged veteran with a drinking problem [with] a far more ironic, soulful take on the pilot he once was. Though he tells the same tales and sings the same songs as before, they have taken on a resonance that only the passing of the years can bring" (Maclean's 28 Dec 1998: 69). Peterson has commented on the play's changing significance for him: "Before, when Billy sang about survival, I always took it as a romantic thing, to do with the war. But now I see the musical as a metaphor for life: we're all trying to survive" (Maclean's 69). To which Gray has added, "The older you get the more you realize that just surviving takes courage too."
Sources: Jerry Wasserman, ed. Modern Canadian Plays Vol 1, 4th ed. Vancouver: Talon, 2000.
Maclean's 28 Dec 1998.
Commentary by Gaetan Charlebois and Anne Nothof.
Last updated 2020-11-13