Western Canada Theatre Company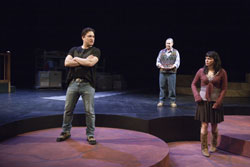 Kevin Loring, August Schellenberg & Lisa C. Ravensbergen in The Ecstasy of Rita Joe. A Western Canada Theatre & Canada's National Arts Centre co-production - Photo by Barbara Zimonick.
Company in Kamloops, British Columbia, founded in 1969 by Tom Kerr as a young people's theatre, the Western Canada Youth Theatre. The company used grants, such as the Local Initiatives Program, to fund productions. It broadened its mandate and became fully professional in 1975 under Kerr. Works are produced from September to May.
Western Canada Theatre Company presents a season of five mainstage works at the Sagebrush Theatre (built in 1978; 714 seats), and two alternative and experimental theatre productions in the Pavilion Theatre (1988; 165 seats).
It has premiered many Canadian works, notably by Eric Nicol (Free at Last, Ma); Jeff Pitcher (Christmas Carol, The Honourable Member); and George Ryga (Ploughmen of the Glacier). In 2004, it premiered Tomson Highway's Ernestine Shuswap Gets Her Trout, which then travelled to the Magnetic North Theatre Festival in Edmonton. In April 2009, the theatre company produced Ryga's seminal Canadian work, The Ecstasy of Rita Joe, in a co-production with the National Arts Centre (dir. Yvette Nolan). In October 2012, it produced Where the Blood Mixes by Kevin Loring, in a co-production with Theatre Aquarius and Theatre Network. In June 2013, it produced For the Pleasure of Seeing Her Again by Michel Tremblay (dir. Glynis Leyshon) at the Magnetic North Theatre Festival in Ottawa. In 2014, it co-produced the premiere of Liberation Days by David Van Belle (dir. Daryl Cloran). Set in a small Dutch town at the end of World War II, it shows the positive and negative personal consequences of "liberation" by Canadian soldiers.
WCT has also workshopped Children of God by Corey Payette (created by urban ink productions and Raven Theatre) --"a beautiful heartbreaking musical about the residential school experience" (Edmonton Journal 31 May 2016) that played on the National Arts Centre's mainstage in 2017.
David Ross was Artistic Director and Producer from 1983 until his death in March 2009. From 2010 to 2016 the Artistic Director was Daryl Cloran. His last production at the theatre was Made In Italy, a new solo play by and starring Edmonton actor Farren Timoteo, designed by Cory Sincennes.
In August 2016, James MacDonald, formerly Associate Director of the Citadel Theatre, was appointed Artistic Director. For his first season, he directed the premiere of the musical Glory by Tracey Power, about Canada's first women's hockey team, set during the Depression in 1933.
Website: www.wctlive.ca
Profile by Anne Nothof, Athabasca University. Additional information provided by James Hoffman, Thompson Rivers University.
Last updated 2022-03-08