The Ecstasy of Rita Joe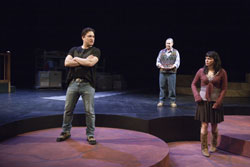 Kevin Loring, August Schellenberg & Lisa C. Ravensbergen in The Ecstasy of Rita Joe. A Western Canada Theatre & Canada's National Arts Centre co-production - Photo by Barbara Zimonick.
Drama in two acts by George Ryga, premiered at the Vancouver Playhouse, November 23, 1967, directed by George Bloomfield, set and lighting designed by Charles Evans, costumes designed by Margaret Ryan, featured Frances Hyland, August Schellenberg, Chief Dan George, Henry Ramer, Walter Marsh, Robert Clothier, Patricia Gage, Rae Brown, Claudine Melgrave, Bill Clarkson, Merv Campone, Alex Bruhanski, Jack Leaf, Jack Buttrey, Leonard George, Robert Hall, Frank Lewis, Paul Stanley, Willy Dunn and Ann Mortifee as the Singer. This production opened the studio theatre of the National Arts Centre in 1969, and played in Washington, DC, in May, 1973, with George and Hyland. It has subsequently been produced by Alberta Theatre Projects in 1976; by Citadel Theatre in 1979, with Susan Andre and John Hamelin as the lovers, Tanya Ryga, the playwright's daughter, as "The Singer", and Margo Kane as Eileen Joe; by Prairie Theatre Exchange in 1981, with Tom Jackson as Jaimie Paul and Margo Kane as Rita Joe, and an all-Indigenous cast; and by Western Canada Theatre Company in 2009 (dir. Yvette Nolan), with August Schellenberg as David Joe, Lisa Ravensbergen as Rita Joe, Kevin Loring as Jaimie Paul, and Layne Coleman as the Magistrate.
The play was published by Talonbooks in 1970, and anthologized in Modern Canadian Plays Vol 1 (ed Jerry Wasserman) in 1985. It was translated into French by Gratien Gélinas and presented at the Comédie-Canadienne. It was adapted as a ballet by the Royal Winnipeg Ballet in 1971. In 2007, it was produced at the Maple Leaf Theatre, Tokyo in a translation by Toyoshi Yoshihara.
Although Indigenous and critical responses have varied since its first production, the play is seminal in the history of modern Canadian drama. The Ecstasy of Rita Joe recounts the story of a young Indigenous woman who comes to the city to find freedom from the limitations of reserve life, only to experience racism, marginalization, and finally rape and murder. This contemporary tragedy condemns the brutality of a system that limits, rejects, or sentences Indigenous people to lives of social and spiritual poverty, that takes away their pride, their traditions and their language. The death of Rita Joe comes as a consequence of the imposition of a colonizing power on Indigenous peoples.
The story is told in songs, montages and disconnected scenes -- in a stream-of-consciousness style which collapses past and present, as Rita Joe recalls her youth on the reserve during her arraignment in court on charges of prostitution. Events and characters are presented from her point of view, as the salient moments of her life are replayed just before her moment of death. Her "ecstasy" is an ironic allusion to the euphoric state of enlightenment experienced by a Christian martyr before her reunion with God.
Ryga effects this collapsing of time through the set design -- a circular ramp that encloses the present, with a cyclorama to evoke the past. Lighting effects isolate characters and cast shadows of prison bars across Rita Joe as she sleeps, creating a mood of fear and claustrophobia. This "expressionist" style and form projects the state of mind of the protagonist, externalizing feelings through action and image. Ryga portrays the helplessness of the individual in the face of large social and political forces. The structural metaphor of The Ecstasy of Rita Joe is that of the trial -- of Rita Joe, but more significantly, of the audience.
The characters, particularly the white antagonists, tend to be stereotypes representing large, impersonal forces -- the law, the church, white "do-gooders." The portrait of Rita Joe is more complex: she is insecure and defiant, caught between two cultures.
The critics were virtually unanimous on two counts: the work's structural challenges; the work's odd power. Jack Richards of the Vancouver Sun echoed many other writers with, "I don't know if it is a great play. But if the role of the stage is to communicate...Ryga and...Bloomfield have accomplished their purpose." On the revival in 1976, Jamie Portman of the Vancouver Province wrote, "Yet...the play still worked. Rita Joe was a landmark in more ways than one. It was - and remains - a play for all seasons and for all peoples." However, Indigenous playwright Kenneth T. Williams has called it a white tourist play, "poverty porn", which is "just as destructive as the forces of colonization Ryga decries in his play" (quoted from Day, 23). More recently, it has been regarded by director Yvette Nolan as just as current and powerful as when it was first produced. It has reached international audiences, and was the first Canadian play produced in China -- at the Shanghai Theatre Academy.
Readings: James Hoffman. The Ecstasy of Resistance: A Biography of George Ryga. Toronto: ECW Press, 1995.
Moira Day. "Ryga, Miss Donohue, and Me: Forty Years of The Ecstasy of Rita Joe in the University," Theatre Research in Canada 38:1 (2017) 11-30.
Commentary by Gaetan Charlebois and Anne Nothof
Last updated 2020-06-12