Hyland, Frances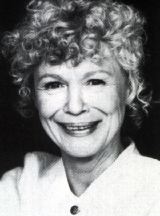 Frances Hyland
Accomplished and highly regarded actor born in Shaunavon, Saskatchewan in 1927; died July 11, 2004 in Toronto.
She studied acting with Mary Ellen Burgess, and won her first award at the age of 13 playing the title role in Oscar Wilde's The Birthday of the Infanta.
She then studied at the University of Saskatchewan before receiving a scholarship sponsored by the Order of the Daughters of the Empire, the Regina Little Theatre and the Princess Patricia Club to study at the Royal Academy of Dramatic Art in England. She graduated with a silver medal and made her professional début in London in A Streetcar Named Desire.
She was invited by Tyrone Guthrie in 1954 to join the Stratford Festival and was to appear there several times over the next four decades notably as Isabella in Measure for Measure (1954), Portia in Merchant of Venice (1955), Ophelia in Hamlet (1957), Olivia in Twelfth Night, Desdemona in Othello (1959), Goneril in King Lear (1964), and Queen Margaret in Henry VI (1966) and Richard III (1967).
During the winter months, she toured with the Canadian Players, appearing in Shaw's Saint Joan in 1955. Her roles at the Crest Theatre included Eliza in Pygmalion (1958-9), and Cleopatra in Caesar and Cleopatra (1964).
Since then, she performed across Canada: at the Manitoba Theatre Centre (Catherine in Brecht's Mother Courage 1964, Ariel in The Tempest 1966); Citadel Theatre (Michel Tremblay's Forever Yours, Marie-Lou 1975); National Arts Centre (Timothy Findley's Can You See Me Yet? 1976); Globe Theatre; Theatre Plus; Shaw Festival (Lady Utterword in Heartbreak House 1968, Candida 1970, Back to Methuselah 1986, John Gabriel Borkman 1978); Vancouver Playhouse (where she created the title role in George Ryga's The Ecstasy of Rita Joe 1967). She performed in the Canadian premiere of Escape From Happiness by George F. Walker (Factory Theatre, directed by the author, 1992).
She also appeared frequently in television and film.
Frances Hyland also directed, notably the Canadian premiere of Beverley Simons' Crabdance (1972). Other directing credits include Pinter's The Birthday Party at Theatre Calgary (1970), and the Stratford production of Othello (1979).
She was a member of the Order of Canada, and the recipient of two honorary doctorates and the Governor General's Award for lifetime achievement.
Of her performance as Ophelia for the Stratford Festival, Christopher Plummer (who played Hamlet) wrote: "Brooks Atkinson of The New York Times, drained of all superlatives, simply called her Ophelia the finest of the century. She seemed to have all the qualifications, the looks, the grace, the emotion and the range to cope with that subtle and tricky exercise... Frannie also had a big voice for such a little throat with an enormous range at her command." (In Spite of Myself, p. 252).
Profile by Gaetan Charlebois and Anne Nothof.
Last updated 2021-02-01