Highway, Tomson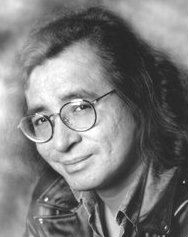 Tomson Highway
Playwright and novelist, born in 1951 in northern Manitoba, and one of the country's foremost voices in First Nations Theatre.
His mother, Pelagie, was a quilt-maker and bead-worker, who gave birth to twelve children (of whom only five survived). Tomson Highway helped his father, Joe, a caribou hunter and world champion dogsled racer, working from dawn to dusk before attending the Guy Hill Indian Residential School from the age of 6 to 15. The sexual abuse he suffered at the hands of the priests who ran the school impacted his life and art, and that of his brother, dancer/choreographer René (with whom Tomson often worked and who died of AIDS in 1990). He subsequently went to high school in Winnipeg, living with several different white families.
In 1975 Highway completed his studies in music at the University of Western Ontario. As part of his B.A. program, he took a minor in English and met James Reaney. For several years he worked for many Indigenous organizations as a social worker, travelling across the country and to learning about the problems of many of Canada's First Nations.
At age 30, Highway decided to describe what he saw, and felt that the theatre had traditions that were similar to the First Nations cultural experience and oral history. His first work, The Rez Sisters, was a critical and popular success: it has been performed across the country and abroad (including in French by the Théâtre Populaire du Québec. It won him a Dora Mavor Moore Award as did his next play,Dry Lips Oughta Move to Kapuskasing which also won the Chalmers Award (and was the first Canadian play given a commercial production at the Royal Alexandra Theatre.
Other early plays include: Aria (NEPA, 1987, directed by Larry Lewis), New Song...New Dance (NEPA, 1988), The Sage, The Dancer and The Fool (NEPA, 1989, René Highway and the author), Annie and Old Lace (Centaur Theatre, 1989, Jerry Franken).
His musical, Rose, the third play in what Highway envisaged as a cycle of seven "Rez" plays, was produced in January 2000 by the University College Drama Program (affiliated with the University of Toronto).
Highway served on the faculty of the Native Theatre School and, from 1986 to 1992 he was artistic director of Native Earth Performing Arts(NEPA), an organization dedicated to the promotion of First Nations theatre.
In 1994 he was inducted into the Order of Canada, the first Indigenous writer to be so honoured.
Discouraged by the difficulties attendant on play production, Highway concentrated his efforts on the writing of a novel, Kiss of the Fur Queen (1998), which has been acclaimed for its imaginative scope, and its uncompromising portrait of the sexual abuse of First Nations children in residential schools and the traumatic consequences.
He returned to the theatre after a 10-year hiatus with Enestine Shuswap Gets Her Trout, commissioned by Western Canadian Theatre in Kamloops, B.C. and the Secwepemc Cultural Education Society (2004). It is set in 1910, and the "Big Kahoona of Canada" is paying a visit to the Thompson River Valley. Four First Nations women prepare for Laurier's arrival, and witness the erosion of their own society. In 2009, it was performed at Theatre Espace Go in French.
In 2008 Highway wrote the libretto for an opera in Cree: The Journey (Pimooteewin), a musical adaptation of a First Nations myth about the trickster's visit to the land of the dead. It premiered in February 2008 at the St. Lawrence Centre, with music by Montreal-based composer Melissa Hui. The production was directed and choreographed by National Ballet alumnus Michael Greyeyes, and featured soprano Xin Wang, tenor Bud Roach and the Elmer Iseler Singers.
The (Post) Mistress had its world premiere on the main stage of Magnus Theatre on January 27, 2011. Highway set the play to music during his tenure as Playwright-in-Residence in the 2008/2009 season at Magnus Theatre. It subsequently played at the Ode'min Giizis Festival in Peterborough Ontario in 2012 and at Berkeley Street Theatre in Toronto in a co-production by Pleiades Theatre and Théâtre Français de Toronto in French and English (French translation by Highway, who also played the piano). In this one-woman musical tour de force, the post mistress of a small northern town shares the stories told in the letters she handles every day. A samba beat accompanies the tale of a local woman's passionate but doomed affair with a man from Rio de Janeiro; a rhythmic tango plays as Marie-Louise divulges a friend's steamy tryst in Argentina. Twelve diverse musical pieces, ranging from Berlin cabaret to French café chanson to smooth bossa nova, accompany the French, Cree, and English libretto. The Manitoba Theatre Centre's extraordinary production of The (Post) Mistress was filmed and streamed across Canada in April, when the Covid-19 pandemic closed theatres around the world.
Highway wrote the lyrics for The Cave, "an interspecies song-cycle" told through the perspective of animals and created with composer John Millard, and book author Martha Ross. It was developed with Soulpepper Theatre Company, and premiered at the Luminato Festival in 2019. The world's creatures are taking refuge in a cave during a forest fire, where they reflect on their lives and impending doom in songs sung in English and in Cree.
Lynx Lamour Goes to Nashville, a one-woman Cree musical, written and composed by Highway in 2019 for Cree/Metis singer/actor Krystle Pederson, toured across Canada for two years, and in New Zealand.
Highway's first language is Cree, and increasingly, he is incorporating Cree in his works. His earlier plays were written in a lyrical, occasionally haunting, English, with cross-cultural allusions and imagery, and an atmosphere of the fantastical.
He has also published three beautifully illustrated children's books written in Cree and English.
Highway has received numerous awards, including six honorary doctorates, and has been writer-in-residence at the Universities of Toronto, Concordia, British Columbia, and Simon Fraser (Kamloops campus). In 2015, he was awarded the Canadian Theatre Critics Association's biennial Herbert Whittaker-CTCA Award for his long-term contribution to Canadian theatre and his influence on and inspiration for First Nations theatre artists.
He has lectured and performed at institutions across Canada and abroad, and is a much sought-after speaker, having visited over fifty countries to date. He lives with his partner of 37 years in Gatineau, Quebec.
An archival collection on this subject is available at the L.W. Conolly Theatre Archives at the University of Guelph, Ontario.
Profile by Gaetan Charlebois and Anne Nothof
Last updated 2021-05-19