Espace Go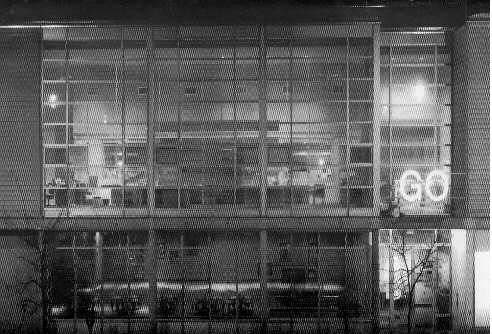 The new Espace Go, inaugurated in 1995; the previous house had been in a garage
First a venue, then a company in Montreal, Quebec, originally located in a renovated garage. The space was named in 1985. The original company performing in Espace Go was the feminist group, Théâtre Expérimental des Femmes, helmed by Ginette Noiseux since 1987.
In 1994, the company changed its name to Théâtre Espace Go, and broadened it mandate, performing works with a heightened aesthetic quality, which continued Ginette Noiseux's attention to imaginative theatrical design.
The company progressed slowly but surely by presenting theatre that was sometimes esoteric, often stimulating, and usually challenging. Although the company maintained its ties to the female theatrical community (often employing creators like Sylvie Drapeau, Lou Arteau, Daniele Lévesque, Brigitte Haentjens, Alice Ronfard, and Martine Beaulne and creating works like Shakespeare's La Tempête/The Tempest featuring Françoise Faucher as a female Prospero), Théâtre Espace Go also introduced Montreal to the emerging Daniel Danis with productions of Celle-là and Cendres de cailloux.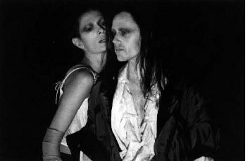 In 1988 the company received the Grand Prix du Conseil des Arts de la Communauté Urbaine de Montréal for its contribution to the city's culture, and in 1991 a special prize from the Association Québécoise des Critiques de Théâtre saluting its audaciousness and the excellence of its artistic direction.
On January 10, 1995, the company moved into a brand new five million dollar theatre (an astounding, flexible space).
The symbol that the company had come of age was surely its 1995-96 season with a magnificent production of Heiner Müller's Quartett and a dream cast - Sylvie Drapeau, Guylaine Tremblay, Monique Mercure, Sophie Clément, Andrée Lachapelle and Élise Guilbeault - in a revival of Michel Tremblay's Albertine, en cinq temps directed by Martine Beaulne. Both productions made virtually every critic's year's-best list with Quartett winning the Association Québécoise des critiques de théâtre's award for best Montreal production. The production of Albertine continued to be revived and toured into the 1999/2000 season. In October, 1999, the company opened a small studio space in their venue.
In that same year Alice Ronfard's production of Michel Vinaver's King was cut short -- from twenty-two performances to ten -- with the theatre was losing a huge portion of the audience at intermission. Critics had blasted the work, with La Presse calling it "An exercise without flesh or soul." The company decided to absorb the $35,000 loss the cancellation would cause rather than face the ever-weakening ticket-sales. Such cancellations, common in some Canadian cities, are very rare in Montreal particularly in a subsciption house (though only 10% of Espace Go's house is subscription).
Despite such problems, the venue and company continue to produce some of the loveliest and most controversial works in the city. A 1999 production of Cocteau's telephone drama, La voix humaine, starring Drapeau, directed by Ronfard, and stripped of its telephone was hotly debated. In January 2002, a production of Jean-Luc Lagarce's Juste la fin du monde featuring a dream cast of Serge Denoncourt, Julie McClemens, Monique Miller, Anne Dorval and Luc Picard was very well received.
In its 2009-10 season, Espace Go presented Tomson Highway's Ernestine Sushwap Gets Her Trout in French.
Website: www.espace.go.com
Profile by Gaetan Charlebois.
Last updated 2020-09-01