Béland, Marc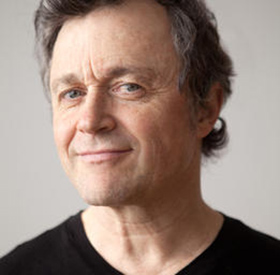 Marc Béland
Highly disciplined and visible Quebec actor, born March 15, 1958. Marc Béland began his artistic life as a dancer with the iconoclastic and internationally renowned company La La La Human Steps. He studied at the CEGEP Lionel-Groulx.
Since 1987, he has worked virtually non-stop in theatres across the province. Notably he has appeared in Le roi Lear/King Lear and Les oranges sont vertes at Théâtre du Nouveau Monde/TNM (1998); in Racine's Bérénice at Espace Go; and in Robert Lepage's Le Polygraphe's international tour.
Among lead roles for which he has been praised are those in Hamlet, also at the Théâtre du Nouveau Monde, Being at home with Claude (Théâtre du Rideau Vert, 1988); and the phenomenal Caligula at the Nouvelle Compagnie Théâtrale / Théâtre Denise-Pelletier (1993), in which he gave a highly stylized and thoroughly hypnotic performance.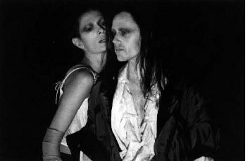 Marc Béland also performed in the freewheeling production of Cabaret Neiges Noires, and in the premiere of Michel Tremblay's Messe solennelle pour une pleine lune d'été at the Compagnie Jean-Duceppe under the direction of André Brassard (with whom he had previously worked at Théâtre du Rideau Vert in Chekhov's La Mouette/The Seagull). In 1996 he amazed audiences and critics with a laid-bare performance in Espace Go's Quartett by Heiner Müller, in which he played both men and women. In January, 2000, he appeared in the Nouvelle Compagnie Théâtrale / Théâtre Denise-Pelletier production of Crime et châtiment/Crime and Punishment; in April, 2000 in the Espace Go production of Électre, and in September, 2000, in the TNM production of Ce soir, on improvise/Tonight We Improvize.
Though perhaps best remembered for his dramatic roles, he is no stranger to comedy as well, especially the highly physical comedy for which he seems particularly well trained by La La La Human Steps. He has seduced both audiences and critics with his performances in Feydeau's Le Dindon and the darker, more talky production of Le visiteur in which he played God.
Marc Béland has also directed, notably the premiere of Yvan Bienvenue's Réglement de contes at Théâtre de Quat'Sous. He has also been seen on television and in film.
Source: Luc Boulanger, "Marc Béland, Le tourbillon de la vie," Voir, Montreal, 14 September 2000.
Profile by Gaetan Charlebois.
Last updated 2020-09-01