Théâtre du Nouveau Monde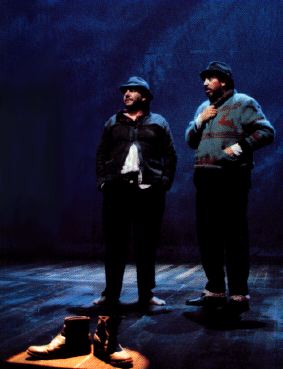 Company in Montreal, Quebec, founded in 1951 by Georges Groulx, Jean Gascon, Jean-Louis Roux and Guy Hoffmann.
It was established as a repertory house with an accent on the works of Molière, but has evolved into a house which presents a combination of large-cast classics (Shakespeare, the Greeks), Quebec repertory (Michel Tremblay) and the occasional new work (Michel Marc Bouchard's Voyage de couronnement).
The first thirty years of the company were dominated by Jean Gascon (AD until 1968) and Jean-Louis Roux (AD until 1981). The company was itinerant at the beginning, playing the Salle du Gésu and the Orpheum (later Comédie-Canadienne, and later still taken over by the TNM itself in 1972). It included a training facility (much of which became the National Theatre School of Canada). In 1958, the company toured to France to ecstatic reviews from the critics for the its production of Molière, and the company has not looked back since. It is now a fixture of Montreal cultural life despite fiscal and artistic ups and downs.
From the start it was home to the emerging stars of Quebec theatre: Denise Pelletier, Monique Miller, Geneviève Bujold, Albert Millaire, and in more recent years, Claude Poissant, Sylvie Drapeau, Lorraine Pintal (the present AD),Michel Tremblay, Macha Limonchik and René Richard Cyr. It also employs the best designers in the country like Claude Accolas and Daniele Levesque.
The house underwent a complete renovation in 1997 (by architect Dan S. Hanganu).
Since becoming artistic director in 1992, Lorraine Pintal has responded well to the criticism that the TNM was in artistic stasis by presenting seasons that are imaginative combinations of the classics reinterpreted and more recent works (for instance, a season that included Cyrano de Bergerac, a premiere of Michel Marc Bouchard's latest work, Hedda Gabler and Lulu). A night at the TNM is a night at a well-funded, large-scale theatre that doesn't count its pennies in terms of design. TNM has also experienced its share of controversy. It was the centre of one of Quebec's biggest debates, that surrounding Denise Boucher's Les fées ont soif. In a more recent season, there was some discussion surrounding the production of Wedekind's Lulu, and unpleasant (but brilliant) images director Denis Marleau had created from the work. The posters for its 1998-99 season, each featuring nudity, also generated debate, with some being banned from bus shelters.
At the beginning of the 1999/2000 season, for the revival of the previous season's Don Quichotte, adapted from Cervantes by Wajdi Mouawad, Mouawad published, in the program, his violent and scatalogical opinion of sponsors' placards, which appear on the stage prior to performances. Pintal, who also published a rebuttal in the program, claimed the author's right to free speech even as she abjured the words.
In 2001, TNM celebrated its 50th season, beginning it with a production of L'Orestie/The Oresteia, from France, and then remounting L'Avare/The Miser, the first piece presented by the company. They also took their adaptation of Réjean Ducharme's L'Hiver de force to Paris.
The 65th anniversary season included: Tartuff by Moliere, Le Jeu de L'Amour et du hasard by Marivaux, and Pourquoi tu pleures? by Christian Bégin and Marie Charlebois.
Forced to close for eighteen months during the Covid-19 pandemic in 2020-21, TNM opened for its seventieth anniversary for the 2021-22 season with productions of Les Reines by Normand Chaurette (dir. Denis Marleau); Lysis by Fanny Britt and Alexia Burgey (dir Pintal); Les Trois soeurs by Chekhov (trans. and dir. René Richard Cyr); Un ennemi du peuple by Ibsen (dir. Edith Patenaude); and Cher Tchekhov by Michel Tremblay (dir. Serge Denoncourt).
Viewings: Côté cour... côté jardin, dir. Roger Blais, National Film Board, 1953 - backstage during a TNM performance of L'Avare/The Miser, featuring Gascon, Hoffman, Roux, Pelletier, Antoinette Giroux and Jean Duceppe.
Website: www.tnm.qc.ca
Profile by Gaetan Charlebois.
Last updated 2021-12-06