Roux, Jean-Louis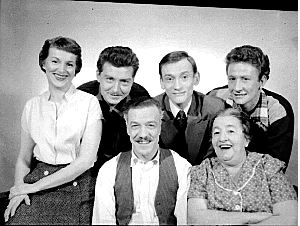 A young Jean-Louis Roux (fourth from the left) in the cast of the national phenomenon
La Famille Plouffe/The Plouffe Family
co-produced by
CBC
and
Radio-Canada
televisions
Director/actor/translator/administrator, born in Montreal Quebec May 18, 1923, died November 28 2013 at the age of ninety. He received a classical education (alongside friend and long-time theatrical partner, Jean Gascon) and was noticed even as he acted in school productions.
He began his career with the Montreal Repertory Theatre and Compagnons de Saint-Laurent before being counselled to study in France. He left his studies in medicine at the Université de Montréal in 1946 to do just that. On his return to Canada he founded the Théâtre d'Essai de Montréal (1950-51) and then co-founded the Théâtre du Nouveau Monde/TNM becoming a lead actor and director with the company. He took over as artistic director in 1966 and remained there until 1982 when he was named director of the National Theatre School of Canada. He returned to a freelance career in 1987.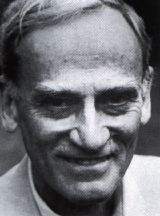 Jean-Louis Roux
As actor he has performed in over 150 productions, playing leads in many works of Shakespeare, Molière, Chekhov and Shaw and has performed in English as well, including at the Stratford Festival.
He has written many plays for radio, television and the theatre, including Bois Brulés (1967), an epic account of the Metis rebellion under Louis Riel. He has also translated many works including six of Shakespeare's works (notably King Lear, Romeo and Juliet and Hamlet), and Peter Shaffer's Equus. As a translator his work is faithful to the original and avoids literariness even as it embraces a love of language.
When spectators and critics saw Roux, the actor, they usually noticed, first, the voice and then the elegant presence. His style was reminiscent of the Old Vic school. As a director Jean-Louis Roux's work was unobtrusive and intelligent; stylistic hijinks are left behind.
He also had a successful career on television and in film. He is particularly well remembered for his role of Ovide in La Famille Plouffe/The Plouffe Family a Radio-Canada and CBC television co-production that had the cast performing an episode in French one evening on Radio-Canada and in English the next on CBC.
He was a Companion of the Order of Canada, and was appointed to the Senate in 1994. After he was appointed to become the Lieutenant Governor of Quebec in 1996, a scandal erupted concerning certain activities in which he participated while he was a student in university. In an interview, he had admitted that he had worn a swastika on his lab coat during the war, and had joined in an anti-conscription rally which turned into an anti-Jewish rally. As a result of the storm of controversy which followed the interview, he resigned from his political post.
In 1998 he published his memoir We Are All Actors. Also in 1998 he was appointed the Chairman of the Canada Council. In 2004, he received a Governor General's Award in Performing Arts for lifetime achievement.
Jean-Louis Roux continued to work into his eighties, notably playing Freud in the production of Eric-Emmanuel Schmitt's Le Visiteur at Théâtre les gens d'en bas; in the Nouvelle Compagnie Théâtrale / Théâtre Denise-Pelletier production of de Musset's Lorenzaccio (March, 1999); and in the National Arts Centre production of Quand Marie est partie (November, 2000).
Jean-Louis Roux believed that should be transformative, inspiring social change by making people see the world in a new way. As a passionate federalist, he believed that theatre could bridge differences in the country.
He was married for sixty years to Monique Oligny, the sister of Huguette Oligny, and had one son.
Viewings: Côté cour... côté jardin, dir. Roger Blais. National Film Board, 1953 - backstage during a TNM performance of L'Avare/The Miser
Profile by Gaetan Charlebois. Additional information provided by Alvina Ruprecht and Lisa Fitterman (The Globe and Mail 21 Dec 13: S11.
Last updated 2020-07-17