Molière
Since there have been Frenchmen on this continent there has been Molière, even when the clergy was trying to outlaw his works (see Censorship: L'Affaire Tartuffe). Indeed, Molière's works have crossed over into English theatres throughout the history of the country, and not simply when garrison soldiers performed them or when francophone artists like Jean Gascon directed them at the Stratford Festival. Although not presented in English Canadian theatres as much as Shakespeare is presented in the French, Molière is no stranger to anglo companies across the country.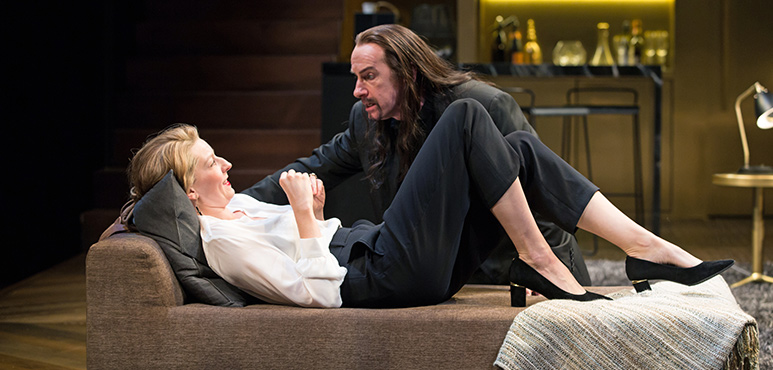 Molière, his plays and his language have had a direct effect on the formation of Quebec drama in virtually the same way that Shakespeare has had in the rest of the country: theatre has been created in the image of Molière's plays or in revolt against them. There is a mystique surrounding his works, some of it caused by the Catholic proscription that existed, but also by the fact that many of the works, upon the page, still seem modern.
What has happened, as has happened with Shakespeare, is that the works are now being deconstructed; for example, Jean-Frédéric Messier's Le dernier délire permit, an adaptation of Don Juan), understood and played in a thoroughly modern context that is being embraced by a new generation of theatre goers. Productions of Molière at the Nouvelle Compagnie Théâtrale / Théâtre Denise-Pelletier (which plays to student audiences) are keeping spectators awake and delighted when a generation ago, studying or seeing Molière was seen as an often sleep-inducing chore.
Also, whereas forty years ago, a company like Théâtre du Nouveau Monde/TNM could venture into France with Molière and be understood (classically-accented French was still being taught in schools and spoken on the boards), even Molière's language is being reconfigured, and it is likely that some modern readings of Molière produced in this country would need subtitles in France, just as some of Canada's French-language television exports to France need subtitles.
Companies which presented Molière in the most classical of ways (TNM), are now performing him differently, understanding that the emotional underpinnings of his works are still current, and that the themes of social conformity, hypocrisy and duplicity are as relevant as they ever were.
Molière is now performed in every style by a wide range of theatre companies.
Viewings: Côté cour... côté jardin, dir. Roger Blais, National Film Board, 1953 - backstage during a TNM performance of L'Avare/The Miser
Le Misanthrope, dir. Florent Forget, Radio-Canada, 1977 - a production of the Molière play staged for television and featuring Louise Turcot.
Commentary by Gaetan Charlebois.
Last updated 2020-11-07