Beaty, Maev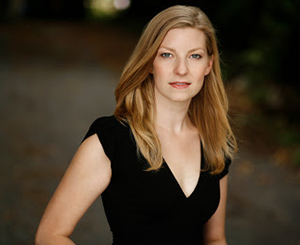 Maev Beaty
Award-winning actor and theatre creator, born in 1977, and based in Toronto, Ontario. Maev Beaty grew up on farms in the Thousand Islands region of Ontario, and completed high school in Kingston. She graduated from the drama program at University College, University of Toronto in 1999.
Maev Beaty has acted in twenty-one Canadian premiŤres and participated in major theatrical events such as Theatre Junctionís premiere of Angelís Trumpet by Sharon Pollock (2001); Theatrefrontís The Mill series (2009, 2011); Volcano Theatreís The African Trilogy (Luminato 2010); and The Penelopiad (Nightwood Theatre 2012).
She has played for seven seasons at Stratford Festival, as Goneril in King Lear; Hippolyta in A Midsummer Nightís Dream (2015); in Bunny by Hannah Moscovitch (2016); and as Elmire in Tartuffe and Lady Sneerwell in The School for Scandal (2017). In 2019, she played a ruthless and determined newspaper owner in Michael Healey's adaptation of The Front Page. In 2020, she played Beatrice in Much Ado About Nothing, and Gertrude in Hamlet.
She has acted in such diverse and challenging plays as The De Chardin Project (Theatre Passe Muraille 2014); Terminus (Outside the March, 2012); Proud by Michael Healey (2012); Montparnasse (co-creator with Erin Shields and Andrea Donaldson,  Groundwater, 2011); Wide Awake Hearts (Tarragon Theatre); Birnam Wood (Theatre Rusticle 2010); Dance of the Red Skirts (Theatre Columbus); Palace of the End by Judith Thompson (2008); A Midsummer Nightís Dream (Canadian Stage). For Soulpepper Theatre Company, she has starred in La Ronde (2013), Parfumerie (2009), and The Last Wife (2017).
For Maev Beaty, there is a heightened risk in working with new plays: ďIíve gotta be nimble. Iíve gotta work quick and deep. And, to be honest, Iím also consistently forced to figure out what is about my ego and what is the work: rewrites, cuts, re-ordering of scenes, shifts in intention, shifts in whoís driving the story, how buried the subtext is. Can I act that bit or do I need to say it? I love it; it lights up all the bits of my brain. Then weíre in previews and itís the very first time any other humans are going on the journey, and everyone is bonded by risk and curiosity about whether the story is going to get across.Ē (quoted from www.intermission.ca)
She is a three-time Dora Mavor Moore Award winner (The Penelopiad, Passion Play, The Last Wife), and nine-time nominee.
Beaty is co-Artistic Director of Sheep No Wool with her husband, director Alan Dilworth, which launched an Edward Bond festival in Toronto in 2012. She is also Artistic Associate of Groundwater Productions and Outside the March.
Website: www.meavbeaty.com
Profile by Anne Nothof, Athabasca University
Last updated 2019-12-23