Hennig, Kate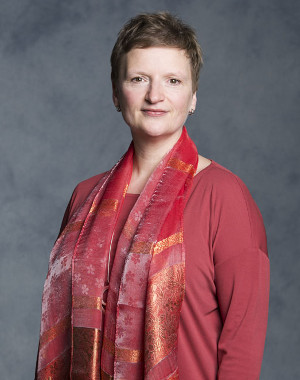 Kate Hennig
Accomplished actor, playwright and teacher, based in the Niagara Region of Ontario. She has an MA in Voice Studies from the Central School of Speech and Drama in London, England.
As an actor she has over 35 years of professional experience, including seasons on Broadway, with the Royal Shakespeare Company, and with both the Shaw Festival and Stratford Festival (the Nurse in Romeo and Juliet 2013, and Mistress Quickly in Breath of Kings 2016). In 2020, she plays the role of Gypsy Rose Lee in Gypsy at the Shaw. She has played leading roles in regional theatres across Canada, including a "note-perfect" Margaret Thatcher in The Audience (Manitoba Theatre Centre 2016); Julia Tesman in Hedda Gabler (Necessary Angel); and Kathleen in The December Man by Colleen Murphy (National Arts Centre). In 2019, she acted in a co-production of A Doll's House, Part Two at the Manitoba Theatre Centre.
Other varied roles include: Eurycleia in The Penelopiad (Royal Shakespeare Company/National Arts Centre); Emma Goldman in Ragtime, Rose in A Man and Some Women (Shaw Festival); Agnete Ottosen in The Danish Play (Nightwood Theatre); Sally Bowles in Cabaret, Candida in Candida, Julia in A Delicate Balance (Theatre Calgary); Maureen in Beauty Queen of Leenane, Leni Reifenstahl in The Blue Light by Mieko Ouchi, Ruth in Cosi (Alberta Theatre Projects); Amanda in Private Lives (Globe Theatre); Ismene in Phedre (Soulpepper Theatre Company); Gwendolen in The Importance of Being Earnest, Dorine in Tartuffe (Atlantic Theatre Festival); Donnie in The Cryptogram, Charlotte in The Real Thing (Theatre Junction).
Her acting awards include two Dora Mavor Moore Awards (Ratbag 1993, and Billy Elliot the Musical); three Betty Mitchell Awards (Cabaret 2002, The Beauty Queen of Leenane, and Cosi); and a Toronto Theatre Critics Award.
She has also acted on television in: Thirty-Two Short Films About Glenn Gould (1993), Mrs. Winterbourne (1996) and Anne of Green Gables (2016).
Her play The Eleventh David was acclaimed by critics and audiences at Toronto's SummerWorks Festival in 2006. More recently, The Last Wife – a contemporary look at Katherine Parr, the sixth wife of Henry VIII — premiered at the Stratford Festival in 2015 and enjoyed a sold-out and extended run. Directed by Alan Dilworth, the play provided a perfect vehicle for actor Maev Beaty. It has subsequently been produced in Chicago, Toronto (Soulpepper Theatre Company), Victoria, Houston, Calgary (Alberta Theatre Projects, dir. Glynis Leyshon). The play was critically acclaimed: Robert Cushman called the writing "racy, in the sense of both pungency and speed" (National Post); and it was shortlisted for the Carol Bolt Award. Hennig's second play about the Tudor queens, entitled The Virgin Trial, was commissioned by the Stratford Festival and opened at the Studio Theatre in 2017 (dir. Alan Dilworth). It is a searing, intellectually engaging and witty consideration of a struggle for power after the death of Henry VIII between the young Elizabeth (compellingly acted by Bahia Watson) and her uncles, acting as "guardians." The Virgin Trial won the 2017 Carol Bolt Award. Hennig's third play in the series, entitled Mother's Daughter premiered at Stratford in 2019 (dir. Alan Dilworth). It explores the relationship between the infamous Mary Tutor and her dead mother, Katherine of Aragon, and the struggle with her half sister, Elizabeth, to become England's first reigning Queen. It revisits history to complicate and challenge the sobriquet "Bloody".
A world premiere of Wilde Tales, based on four stories for children written in 1888 by Oscar Wilde for his own children, premiered at the Shaw Festival in 2017 to very positive reviews.
In the program for the Stratford Festival production of The Virgin Trial, Hennig is described as a "writer and theatre artist, drawn to subjects and characters that give women a greater historic content and context for their cultural lives, while striving to balance gender perspectives on our stages. She also writes about acts of grace."
In 2015, Hennig received the 2015 Christopher Plummer Foundation Award for excellence in the classical theatre.
In May 2017, she was appointed Associate Artistic Director of the Shaw Festival. For the Shaw, she directed Holiday Inn in 2019.
Website: www.katehennig.com
Profile by Anne Nothof, Athabasca University
Last updated 2020-01-07