Murphy, Colleen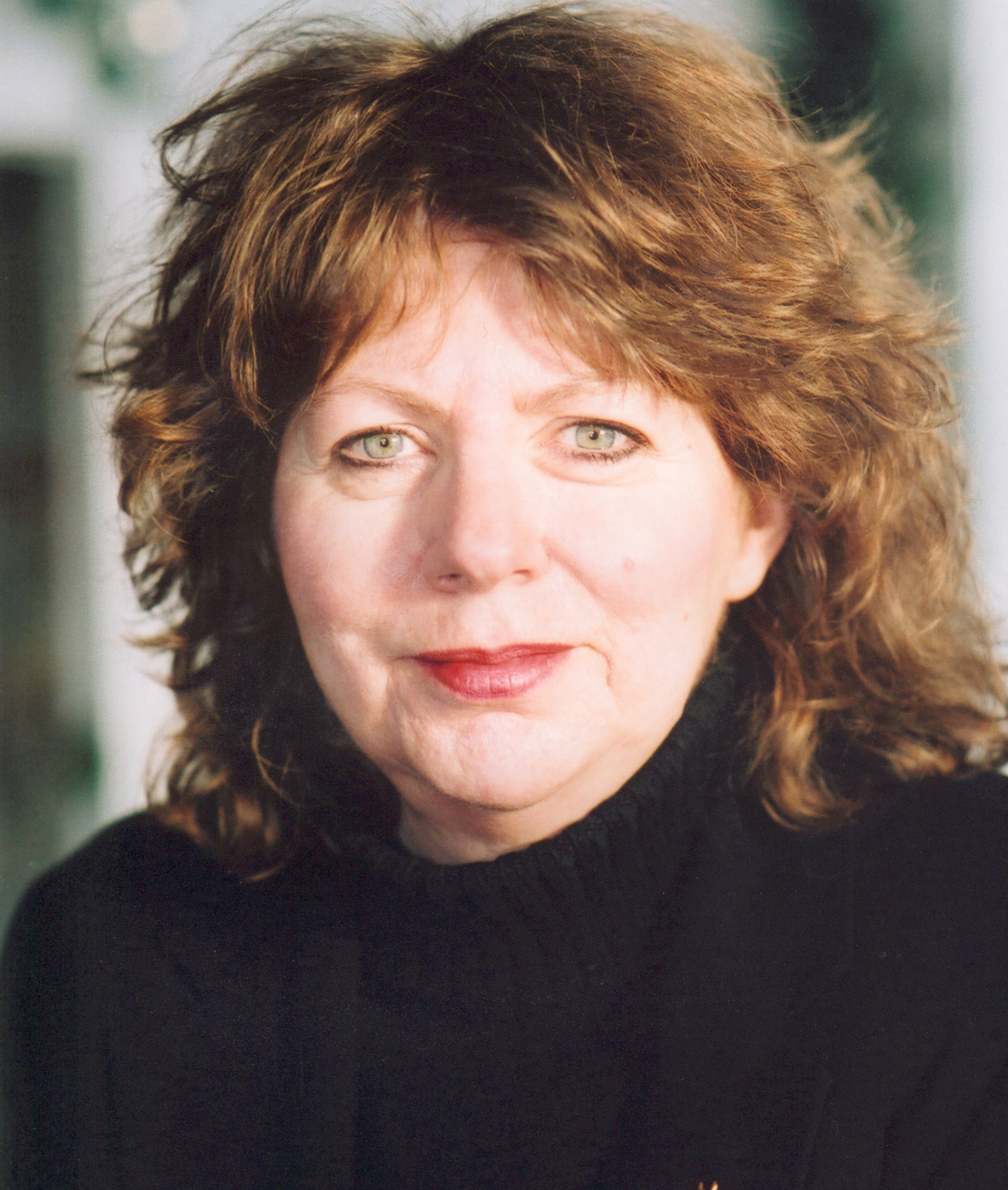 Playwright, filmmaker and librettist, Colleen Murphy was born in Rouyn-Noranda, Quebec in 1954, and raised in Northern Ontario. She currently lives in Toronto. She studied acting at Ryerson University and at the Strasberg Institute in New York. She twice won prizes in the CBC Literary Competition for her radio plays Fire-Engine Red (1985) and Pumpkin Eaters (1990).
In 1985 she joined the playwrights unit at the Tarragon Theatre, which produced her first stage play, All Other Destinations are Cancelled in 1987. The critical response discouraged her from writing for the stage for ten years, and she turned her attention to filmmaking.
She returned to the stage with Beating Heart Cadaver (1998), developed while she was playwright-in-residence at Necessary Angel Theatre, directed by Richard Rose. The play was nominated for a 1999 Governor Generalís Award and a Chalmers Award.
A large-scale production of The Piper, was mounted by Necessary Angel Theatre in 2002 and was also directed by Richard Rose. It is a satiric musical interpretation of the German story of the Pied Piper of Hamelin, in which there is not much difference between the rats and the townspeople in respect to avarice and corruption. In his review of the Downstage Performance Society production, Bob Clark writes: "The pungent two-act musical begins on a chorale of lost innocents, followed by a chorus of townsfolk--led by their irrepressibly officious bumble of a mayor--discussing everything from whose butter will go on their corporate democracy's popcorn to which children aren't missing, after it's reported one of them is. Woven throughout this colourful litany of collective trivial pursuit is a theme of parental indifference and disregard which surfaces more prominently after the appearance of a strange pied piper who suddenly strays into their midst" (Calgary Herald 23 May 2009).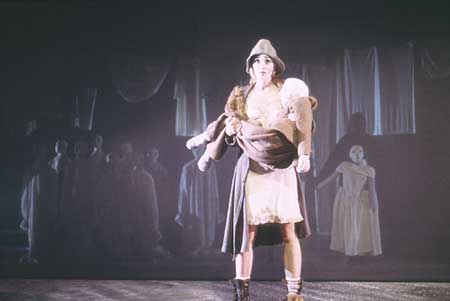 The Piper, University of Regina production, 2003. Photo by Don Hall
The December Man premiered at playRites Festival in Calgary in 2007, directed by Bob White. Based on the Montreal massacre of women students at …cole Polytechnique in 1989, the play examines the wrenching guilt experienced by a young man ordered out of the classroom where the women were shot, and the ways in which his parents attempt to help him. The play is published by Playwrights Canada and won the 2007 Governor General's Award, the CAA/Carol Bolt Award, and the Enbridge Playwrights Award.
In 2011 and 2012, she was Canadian playwright-in-residence at the Finborough Theatre in London, England, which produced three of her plays, including the world premiere of The Goodnight Bird, about an older couple whose condo is invaded by a homeless man. It portrays "old love and new courage." She has also been playwright-in-residence at the University of Regina in 2006-07, at the University of Guelph (2011), and guest playwright at the Citadel Theatre, where she ran the Playwrights Forum with Brian Dooley.
In June, 2014 she was appointed Lee Playwright-in-residence at the University of Alberta for three years. For her commission, she wrote an ensemble work for a cast of twelve, entitled Bright Burning (Studio Theatre March 2017, dir. Jan Selman). A group of disaffected and inept young adults break into a mansion to steal enough to pay for their own particular wants, including paying off a drug debt to a threatening dealer and her hit man. When the owners' daughters return early from a trip to Hawaii, they engage in a verbal battle against the anarchistic impulse to pillage and destroy. They argue that they cannot be held responsible for their privileged position, any more than can their captors for their impoverished lives. A pizza delivery man trapped in the chaos provides a humorous release from the escalating tension, but a sense of inevitable catastrophe mounts as the house is trashed and the family boat crashes through into the foyer. As Liz Nicholls comments in her review: "Itís one of those plays that tests the inevitability of its storytelling with a horrifying ending that would seem outlandish ó if there hadnít been the play first" (12thnight.ca. 31 March 17)). Following its premiere, the play's title was changed to I Hope My Heart Burns First.
In 2013, Armstrong's War premiered at Arts Club Theatre. When a young girl volunteers to read stories to a young soldier injured in Afghanistan, he responds with his own shocking story.
Pig Girl
,
Theatre Network
November 2013, with Nadien Chu and Randy Hughson. Photo by Ian Jackson, Epic Photography
Pig Girl, based on the horrific murders of Vancouver Indigenous women by pig farmer Robert Pickton, opened at Theatre Network in November 2013 (dir. Bradley Moss). The four characters, Dying Girl, Killer, Sister, and Police Officer, remain onstage, telling their own stories: the Sister and Police Officer over a period of nine years as they respond to the missing Girl; the Girl and Killer in real time, as the Girl is brutalized, then murdered. In this play, the dead woman can talk: her strength of character is clearly evident, and her struggle has tragic dimensions. Murphy often tackles risky social and personal issues in her plays. She confesses that she sometimes scares herself (Edmonton Journal 7 Nov 2013: C1). Pig Girl won Murphy a second Governor General's Award in 2016.
In a program note for the Theatre Network production of Pig Girl, Colleen Murphy outlines what she believes are the values of live performance: "Theatre is a place where we can confront notions about how to die, ... how to live, and subsequently how to love. The Greeks understood this, so did Shakespeare and so do modern dramatists ... Theatre offers equality of scale. Members of the audience are the same size as the actors on stage and both actors and audience breathe the same oxygen at the same time. Theatre offers also equality of power. An audience cannot 'turn off or unplug' the actors onstage, and actors onstage cannot 'turn off or unplug' an audience. The value of theatre is that it offers a living, breathing experience between audience and actors and in that exchange exists the possibility of catharsis; the cleansing of emotions, strength through suffering."
For the Stratford Festival 2017 season, she wrote The Breathing Hole with Siobhan Arnatsiaq-Murphy (trans. Janet Tamalik McGrath; dir. Reneltta Arluk, with an Inuk cast). It recounts 500 years of Canadian history from the perspective of a polar bear. The text is published by Playwrights Canada Press (209).
In November 2017, Rumble Theatre premiered The Society for the Destitute Presents Titus Bouffonius, a grisly and deranged bouffon clown interpretation of Shakespeare's Titus Andronicus, which won six Jessie Richardson Awards. Its Edmonton production at Theatre Network netted an Elizabeth Sterling Haynes Award for outstanding production.
Her extensive film work includes Putty Worm (1993), The Feeler (1995), Shoemaker (1996), Desire (2000), War Holes (2001), Girl With a Dog (2006), and Out in the Cold (2008).
She was married to documentary filmmaker Allan King, who died in 2009.
Profile by Anne Nothof, Athabasca University
Last updated 2020-12-08