Dooley, Brian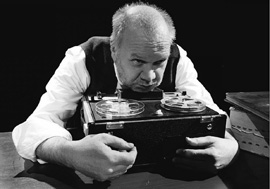 Brian Dooley as Krapp
Bilingual and multi-talented actor, director, writer, dramaturg, born in Sherbrooke Quebec, and based in Edmonton Alberta from 1996 to 2018, when he moved to Montreal. He graduated from Bishop's University with a B.A Honours in 1977, and trained in theatre at the National Theatre School of Canada.
For over thirty years he has worked in diverse roles across the country and abroad. His recent acting credits include an exasperated cop in Alias Godot by Brendan Gall (Theatre Network 2008); a convincingly depressed protagonist in Krapp's Last Tape by Samuel Beckett (2010); the emotionally distraught husband and father in The December Man by Colleen Murphy (Citadel Theatre 2010); Jack Kerouac in Michel & T-Jean by George Rideout (Theatre Network 2011); the ghost of an alcoholic Franco-Albertan farmer in Récolte by Joelle Préfontaine (UniThéâtre 2013); the police officer in Pig Girl by Colleen Murphy (Theatre Network 2013). For UniThéâtre in April 2016, he acted in both French and English as an elderly plumber who pursues the recently widowed love of his life in The Passion of Narcisse Mondoux by Gratien Gélinas. Later in the same month, he convincingly played an irredeemably drunken father in Theatre Network's production of Gordon by Morris Panych. In November 2020, he played William Lyon Mackenzie King in King of Canada by Paul Van Dyck for Infinithéâtre, live-streamed during the Covoid-19 pandemic.
From 2012 to 2018, he was Artistic Director of UniThéâtre, introducing new works from the Francophone community in Alberta to Edmonton audiences.
His work as a director has included Pretty Goblins by Beth Graham (Workshop West Theatre 2018).
For seven years to 2017, he headed the Playwrights Forum at the Citadel Theatre, which focused on playwright development.
Dooley has worked in film as a producer and director with Great North Productions and Alliance Atlantis. He also teaches at the National Theatre School of Canada.
He is committed to new play development, inspired by the words of Mexican playwright Victor Hugo Rascon Banda: "The theatre moves, illuminates, disquiets, disturbs, lifts the spirit, reveals, provokes and violates conventions. It is a conversation shared with society. Theatre is the first art to confront emptiness, shadows and silence to make words, movement, lights and life surge forth."
Source: Liz Nicholls, "Dooley named artistic director of L'UniThéâtre," Edmonton Journal 3 March 2012.
Profile by Anne Nothof, Athabasca University
Last updated 2020-11-24