Graham, Beth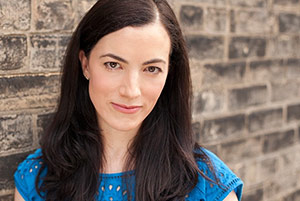 Beth Graham
Actor and playwright, based in Edmonton, Alberta, who undertakes challenging issues and ideas in her theatre work. Beth Graham was born in Antigonish, Nova Scotia and grew up in Cochrane, Alberta. She graduated with a Bachelor of Fine Arts in acting from the University of Alberta in 1998.
With university classmate, Daniela Vlaskalic, she founded Bent Out of Shape Productions, a company dedicated to: "the collaboration between creation based artists in voicing ideas and issues that are important to them and challenge their community; the celebration of the freedom of expression that we have today by looking at examples of oppression in history; the creation of strong roles for women in the theatre"(website).
Graham, Vlaskalic, and Charlie Tomlinson created The Drowning Girls in 1999 for the Edmonton Fringe Festival. A revised version of the play premiered at Alberta Theatre Projects' 2008 playRites festival (imaginatively designed by Narda McCarroll and Bretta Gerecke), and toured nationally. It was published by Playwrights Canada Press, nominated for the Carol Bolt Award, and received the Gwen Pharis Ringwood Award for Drama in 2010. Set in Edwardian London, it features the three dead wives of the philandering murderer, George Joseph Smith, all sitting in the baths in which they were drowned for the insurance money. Graham and Vlaskalic played two of the brides in white wedding gowns which evoke their tragic spectral state as they experience the moments that preceded their deaths.
Other collaborations include Comrades (with Vlaskalic and Tomlinson), in which two young anarchists leave their villages in Italy to pursue their dreams in the United States. Facing discrimination and political paranoia, they are mistakenly imprisoned for murder for seven years and electrocuted.
In The Last Train (with Vlaskalic. Shadow Theatre 2003), art work confiscated by the Nazis leaves Paris for an uncertain future. Five actresses play the roles of the portraits.
In Victor and Victoria's Terrifying Tale of Terrible Things (with Nathan Cuckow), fraternal twins discover a mysterious book on a dark and stormy night, which reveals a sinister family secret that will radically change their lives. The play was inspired by the darkly funny stories and macabre gothic artwork of Edward Gorey. The premiere production at the New York International Fringe Festival (Kill Your Television Theatre, August 2011) starred Graham and Cuckow as the terrified twins. It premiered in Canada at the Varscona Theatre in 2012.
The Gravitational Pull of Bernice Trimble premiered at Factory Theatre (co-produced with Obsidian Theatre Company, dir. Philip Akin) in November 2013. It dramatizes the impact on a black family when the mother is diagnosed with Alzheimer's and wants to end her life before she is mentally incapacitated. She is the "gravitational pull," for her second daughter, who functions as the narrator in the play, assembling a casserole as she awaits the inevitable conclusion. She has secretly agreed to support her mother's decision. The eldest daughter responds with egocentric and histrionic denial, while the brother evades the crisis as long as he can. According to Graham, "This isn't a play that relies on suspense, but on character, how this particular family deals with what's asked of them – the joy and intrigue that appear along the way to its end." (quoted in Jon Kaplan, NOW 33.10 [2013]). Its Alberta premiere at Theatre Network in November 2014 (dir. Bradley Moss) featured a white cast. The play was published by Playwrights Canada Press, and nominated for a Governor General's Award in 2015. It received the Gwen Pharis Ringwood Award for drama in June 2016.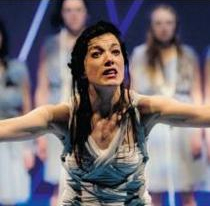 Beth Graham as Penelope in The Penelopiad
With Jonathan Christenson, she wrote the script for Fortune Falls, a musical parable about the ways in which the closure of a chocolate factory affects the lives of the people it has employed. The last man hired is a security guard, who oversees the process of dissolution. A Catalyst Theatre production, it premiered in Calgary at Alberta Theatre Projects in November 2016.
Pretty Goblins (Workshop West Theatre 2018, dir. Brian Dooley) was inspired by Christina Rossetti's Goblin Market, in respect to its gothic and erotic sensibilities. Twin sisters struggle to disentangle themselves from a world of drug addiction. It is published by Playwrights Canada Press (2019).
With Theatrefront and Hit & Myth (Calgary), Beth Graham and Daniela Vlaskalic created Mules (Crow's Theatre, February 2019, dir. Vikki Anderson). "Holed up in a washroom in Vancouver's International Airport, Cindy and Crystal are fighting for their lives. Crystal has a belly full of cocaine and a limited time to get it out of her system and Cindy is trying to keep her violent drug smuggling boyfriend at bay. When the janitor interrupts them, the crisis escalates and the consequences are tragic" (Theatrefront website).
In May 2022, Dora Maar: The Wicked One by Graham and Vlaskalic premiered in the Big Secret Theatre, Arts Commons, Calgary, part of One Yellow Rabbit's 36th annual High Performance Rodeo. It was directed by Blake Brooker, with Vlaskalic as Dora Maar. In 1935, the brilliant photographer and artist, Dora Maar meets Pablo Picasso at a café in Paris, beginning a relationship that was mutually inspirational and tempestuous. Maar was the model for Picasso's fractured portrait of a weeping woman.
Among the many diverse productions in which Graham has acted are The Glass Menagerie; Strawberries In January by Evelyne de la Chenelière, (Globe Theatre); Summer of My Amazing Luck by Chris Craddock (Theatre Network), and Nevermore by Jonathan Christenson (Catalyst Theatre 2009). She has undertaken the challenging roles of Eurydice in Sarah Ruhl's play about memory and forgetting (University of Alberta Studio Theatre, 2010); a solo show created from T.S. Eliot's The Wasteland for the 2012 Edmonton Fringe; a strong-willed Penelope in The Penelopiad by Margaret Atwood (Citadel Theatre, 2013); a mysterious, sinister woman who hails from "all parts" of Europe" in Cause and Effect by Stewart Lemoine (Teatro La Quindicina 2013); Sandy in The Crackwalker by Judith Thompson (Kill Your Television Theatre, 2014).
Beth Graham has been a member of The Playwright's Forum at the Citadel Theatre, and writer-in-residence at Workshop West Theatre. In 2020, she was appointed Lee Playwright in Residence at the University of Alberta.
Profile by Anne Nothof, Athabasca University
Last updated 2022-05-10