Kill Your Television Theatre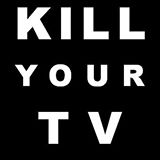 Founded in Edmonton Alberta in 2001 by Nathan Cuckow, Kevin Sutley, and Chris Fassbender, Kill Your Television is an independent theatre company which specializes in producing challenging and provocative plays. Annual productions include: suburbia by Eric Bogosian (2001); Stop Kiss by Diana Son (2003); Fool for Love by Sam Shepard (2005); Monster by Daniel MacIvor (2007), Comrades by Beth Graham and Daniela Vlaskalic (2008); Hello…Hello by Karen Hines (2009); Victor and Victoria's Terrifying Tale of Terrible Things by Graham and Cuckow (Edmonton Fringe Festival 2009, New York City Fringe Festival 2011, main stage production 2012); Mourning Dove by Emil Sher (2010); The Crackwalker (2014) by Judith Thompson; and The Ugly One (2015) by Marius von Mayenburg.
In 2016, KYT premiered The Conversion by Sutley and Cuckow, about two vigilantes who abduct a wealthy businessman and attempt to change his sexuality with abusive and unorthodox methods, until they uncover a disturbing history about themselves. In 2018, the Company mounted Shakespeare's R&J, by New York actor/playwright/screenwriter Joe Calarco. Four boys at a strict Catholic boys' prep school meet after class to read Romeo and Juliet, and begin to enact the roles across gender lines, freeing themselves from social and personal limitations.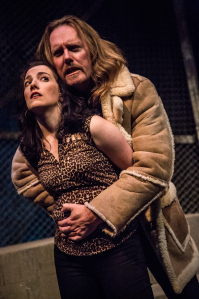 The Crackwalker (2014), with Beth Graham and George Szilagyi
Productions typically feature some of Edmonton's best actors. In The Crackwalker (dir. Sutley), Nadien Chu provided a compelling interpretation of Theresa as an amoral innocent, Beth Graham gave a contrasting performance as the cynical, hardened yet vulnerable Sandy, Nathan Cuckow ran the emotional gamut from hope to despair in his relationship with Theresa, George Szilagyi was a volatile and violent threat to others and himself, and Sheldon Elter haunted the play as the Crackwalker, existing on the margins as a social conscience.
Kill Your Television has won seven Sterling Awards, including Outstanding Independent Theatre for SubUrbia, and Outstanding Fringe Production for Victor and Victoria's Terrifying Tale of Terrible Things.
The company performs in the Arts Barns, Varscona Theatre, or the Roxy in the Old Strathcona district.
Co-Artistic Directors are actor, producer and writer Nathan Cuckow, and director, actor and educator Kevin Sutley.
Website: killyourtelevision.wix.com/kytt
Last updated 2021-02-16