Fassbender, Chris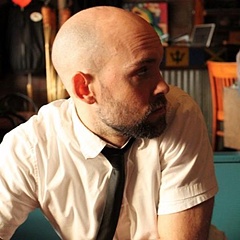 Chris Fassbender
Chris Fassbender is a video editor, sound designer and actor who has been working professionally in theatre and film for more than twenty-five years. After attended the American Musical and Dramatic Academy in New York City, he returned to Canada to act in Edmonton Alberta theatres. He is currently based in Chilliwack BC.
As an actor in the 1990s, he was particularly noted for his work in alternative and experimental theatre, for which he has been awarded three Elizabeth Sterling Haynes Awards (Sterling Awards), including for Marty Chan's play How I Wonder What You Are in 1999. He also played a riveting psychopath in Chan's The Bone House, in Tom Stoppard's Rough Crossing, and in David Belke's Between Yourself and Me, among others.
He came to national recognition in February, 2000, when he took on the difficult solo role in Wajdi Mouawad's Alphonse (Northern Light Theatre, directed by Sandhano Schultze) to positive reviews. Colin MacLean, in The Edmonton Sun, called his performance "riveting."
He was a co-founder of Kill Your Television Theatre.
Profile by Anne Nothof, Athabasca University.
Last updated 2020-12-01