Hines, Karen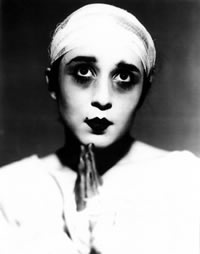 Karen Hines as Pochsy
Playwright, actor, director, born in Chicago and raised in Toronto. Both of her parents are scientists: her father is an atmospheric physicist, and her mother a physiologist, who instilled in her a strong sense of the ultimate magic of creation: "that it happened at all to begin with, that we are somehow able to apprehend it, and that, as it turns out, there are delicate physical properties that order the fragile chemistry of creation that we can destroy or preserve, as we choose" (Karen Hines. The Pochsy Plays). She is an alumna of Second City, and was playwright in residence at Alberta Theatre Projects for three years until 2012.
As a playwright, she is perhaps best known for her trilogy of "Pochsy" plays, black allegorical comedies, in which she played the role of the sad and lonely protagonist as a narcissistic white-faced bouffon. In her Introduction to the published plays, Hines describes bouffon as "a dark form of clowning ... which prescribes the use of body affliction in combination with parody to achieve its theatri-political effect, as well as an antagonistic, even hateful relationship between herself and the audience" (12). She created a personal bouffon "based on aspects of oneself that one is repelled by, or on more external horrors," including societal and cultural affliction. "Pochsy" is an anagram of "psycho," and pronounced "poxy," referencing the "dis-eased" state of the young woman who has worked at a mercury factory. The metaphor of mercury poisoning functions as both a personal affliction and a social crime. Hines also composed the lyrics for the ironic or melodramatic songs in the plays – in a cabaret style similar to that in Billy Bishop Goes to War. The performance style is improvisational, directly addressed to the audience, and responding to audience sounds and actions, such as cell phones and late arrivals. According to Hines, "the performance walks a very fine line between innocence and cruelty, sweetness and acidity, darkness and light" ("Introduction" 18).
Pochsy's Lips (score by Greg Morrison, dir. Sandra Balcovske) premiered at the Orlando Fringe Festival in 1992, and then travelled to Fringe Festivals in Montreal, Saskatoon, Edmonton, Vancouver, and Victoria, typically enjoying sold out status. It is set in a hospital room, suggested by an uncomfortable, "possibly dangerous" bed, a side table covered with gauze and get-well cards written by Pochsy to herself, a phone, and an I.V. pole. Pochsy has a chalk-white face, with dark circles under her eyes, and blood-red lips. The play is a meditation on consumerism, environmental disaster, and existential loneliness. Before she dies, Pochsy concludes that "We live at a time when imagining a meaningful future is irrational and unrealistic" (51).
Oh baby! (Pochsy's Adventures by the Sea) (score by Greg Morrison, dir. Sandra Balcovske, Toronto Fringe Festival 1993) is a prequel to Pochsy's Lips. Perhaps referencing Beckett's Happy Days, it is set on a slag pile on which is perched a giant blue clam half-shell, and takes a zany look at our deformed and contaminated world. Hines won a Dora Mavor Moore Award for her performance of Pochsy as an obnoxious tourist at the Last Resort on an island "just off the coast of the state of Grace."
Citizen Pochsy: Head Movements of a Long Haired Girl (score by Greg Morrison, dir. John Turner, One Yellow Rabbit High Performance Rodeo, 2003) is a prequel to Oh baby!. Pochsy searches for a religion that will keep her young forever.
The Pochsy Plays are published by Coach House Press (2004). The collection won the Alberta Writers Guild Award for Drama, and was Governor General's Award finalist.
Karen Hines has also authored Hello...Hello (A Romantic Satire) (Factory Theatre 1999), which "probes the sweet, sexual, and suicidal impulses that thread through a century of escapist Hollywood films, consumeristic urges and romantic desire" (www.pochsy.org). In her review of the published play for Canadian Literature 194 (Autumn 2007) Shelley Scott finds the work appealing "mainly for Hines' gorgeously descriptive, funny/sad writing." "Hello … Hello is told by Ben and Cassandra and supported by a Male and Female chorus, two actors who play over fifty characters each. There is no set, only indelible images created by words and music of a world in which dead birds fall from the sky, climate change has gone berserk, consumerism has reached both epic and intimate proportions, and the latest fashion craze is a shiny ball of poison to wear around one's neck. Hines has played Cassandra in all the productions so far, and there are echoes of her popular and subversive clown character, Pochsy, in the delicate balance between beauty and horror." It was nominated for five Dora Mavor Moore Awards, and won the Alberta Writers Guild Award for Drama.
Drama: Pilot Episode premiered at playRites Festival in Calgary in 2012 (dir. Blake Brooker). In this play, part film noir, part absurdist satire, a female forensic psychiatrist who has relocated from Toronto to Calgary investigates an epidemic of soullessness in society, haunted by the ghost of a patient who has killed himself in despair over the impossibility of pitching a TV script with any meaning. It repeatedly asks of its characters and the audience, "Why are you here?" Critic Bob Clarke calls the production "magnificent": "We go from chic to cheek, from satire to melodrama, from ant farms to the meaning of babies, from soul of the mind to spirit in the veins, from Nietzsche and David Mamet to Desperate Housewives, as we are moved by playwright Hines through a very clever, cautionary play-with-epilogue about becoming the medium for what we watch on television and being what we consume" (Calgary Herald 14 Feb 2012). Drama: Pilot Episode won the Betty Mitchell Award for best new play. It is published by Coach House.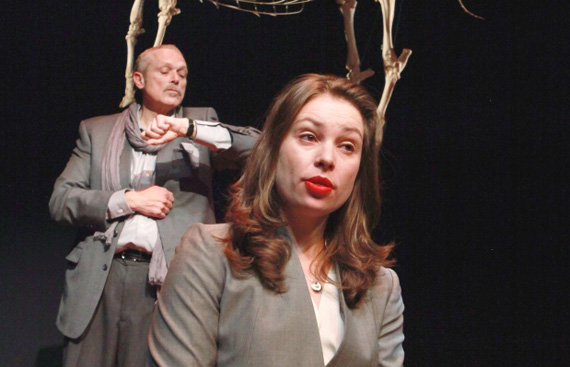 Daniela Vlaskalic
as Penelope and Allan Morgan as Sage in
Drama: Pilot Episode
. Photograph by Gavin Young,
Calgary Herald
In 2015, Hines enacted the painful memory of buying an overpriced tiny yellow house in Toronto, which she soon discovered was derelict under the paint. Crawlspace was performed before audiences of fifteen in Videofag, a tiny arts space in Kensington Market, created by Jordan Tannahill and William Ellis.
All the Little Animals I Have Eaten premiered at One Yellow Rabbit's High Performance Rodeo in Calgary, January 2017. It is set in a grotesquely trendy bistro of an all-women's condominium, where a tender-hearted young server (Ellen Close) attempts to navigate the most harrowing shift of her life. Despite Frankie's best efforts to serve drinks and narrate the evening menu, she is haunted by a trio of alternate versions of herself (played by Denise Clarke, Georgina Beaty and Nadien Chu), who occasionally transform into a kind of depressed literary female trio: Virginia Woolf, Anne Sexton and Sylvia Plath. The play examines the commodification of feminism, neo-liberalism, and the increasingly unattainable dream of owning a home. It is an effort to demonstrate that it is possible for women to move beyond gender stereotypes, to realize Virginia Woolf's ideal "transgendered" state.
Hines has directed the premieres of Linda Griffiths's Age of Arousal (Alberta Theatre Projects 2009), and Heaven Above, Heaven Below (Theatre Passe Muraille 2013); and all of the Mump and Smoot plays.
She has also acted extensively in film and television, including Ken Finkleman's The Newsroom and Married Life. Two of her films featuring Pochsy have screened at many international festivals, and a third film wrapped up shooting in 2012.
In 2020, she was shortlisted for the Siminovitch Prize in Theatre.
She lives in Calgary with her partner, Blake Brooker.
Website: www.pochsy.org
Profile by Anne Nothof, Athabasca University
Last updated 2021-01-27