Tannahill, Jordan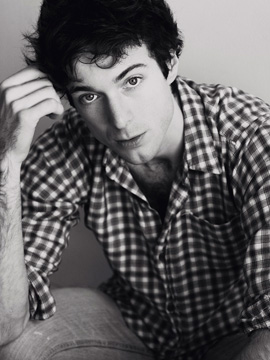 Jordan Tannahill
Innovative playwright, novelist, and theatre director, born in Ottawa, Ontario in 1988, and currently living in Budapest, Hungary and London, England.
Through his theatre company Suburban Beast, Tannahill has written and staged performances in theatres, galleries, and found spaces. Described in 2012 as "one of Canada's most promising young independent theatre artists" by The Toronto Star, Tannahill's work frequently incorporates multimedia projection, verbatim text, elements of magic realism, and explores themes of queer identity, youth subculture, tropes of masculinity, and suburban ennui.
His early works include Post Eden (2010) and rihannaboi95 (2013)--a piece performed entirely over Internet live-stream. In Late Company (SummerWorks 2013), the parents of a teenager who has committed suicide invite the family of the boy who bullied him to dinner. It was mounted by Stage Traffic at the Finborough Theatre, London early in 2017, and subsequently relocated to Trafalgar Studios in London's West End in August, 2017.
Peter Fechter: 59 Minutes was inspired by the death of a young East German bricklayer, shot as he was attempting to cross the Berlin Wall in 1962. As he lies dying for 59 minutes, images of his life flash before him. The play was published by Playwrights Canada Press in 2013, one of a trilogy of solo plays, entitled Age of Minority. It won the Governor General's Award for drama in 2014. At the age of 26, Tannahill was the youngest winner in the English drama category.
In October 2012, Tannahill and his partner William Christopher Ellis founded Videofag, a storefront theatre they opened in a converted barbershop in Toronto's Kensington Market. Videofag grew into a vibrant hub of independent theatre and was named a 'Superhero of 2013' by Torontoist and Toronto's 'Best New Gallery' by BlogTo in 2012. It has developed and presented new work by emerging and established theatre artists including Nina Arsenault, Sky Gilbert, Mitchell Cushman, Stewart Legere, Henri Faberge, Salvatore Antonio, Vivek Shraya, Gein Wong, Zack Russell, Erin Fleck, Karen Hines and many others. After four seasons, it closed in 2016.
Concord Floral (2014) (created with Erin Brubacher, Cara Spooner, and a group of Toronto teenagers) is an adaptation of Giovanni Boccaccio's medieval allegory The Decameron, in which ten young people take shelter in a villa to hide from the Black Death. Concord Floral unearths the dark memories, fears, and desires that haunt an abandoned greenhouse, a suburban hangout that has become a place of refuge from an often inhospitable and bewildering adult world. It won a Dora Mavor Moore Award for best new play in the independent theatre category, and is published in Canadian Theatre Review Summer 2015. It played at the National Arts Centre in March 2016, and at Theatre Junction in April 2016.
In 2016, Canadian Stage premiered Botticelli in the Fire, about the relationship between Renaissance painter Botticelli and his patron, Lorenzo de Medici; and Sunday in Sodom, based on the story of Lot's wife. The plays won a Dora Mavor Moore Award for best production. In 2018, the Playwrights Canada publication of the two plays won a Governor General's Award.
Botticelli in the Fire was produced at the Hampstead Theatre in London, England in October-November 2019. In her review, Arifa Akbar points to the contemporary relevance of a play about a Renaissance artist: "It features Botticelli as a rock'n'roll artist living in politically dangerous times; its mashup of historical fact and fiction revolves around the ideological clashes between liberals, elites and the masses, the latter of whom rise up in 15th-century Florence, first to dismantle the ruling class and then to mobilise in a wave of anti-liberal zealotry that leads to the persecution of "sodomites"... The conflations of past and present, and of art and reality, give Jordan Tannahill's script a veneer of playfulness, but it moves towards dark and serious parallels between Botticelli's time and our age. Tannahill has spoken of the 'queering of history, in which omitted narratives and voices are excavated. First performed in 2016, his play seems even more relevant now in its unpicking of the complicated forces that turn 'people power' into angry, intolerant populism" (theguardian.com 27 Oct 2019).
Draw Me Close, a virtual reality collaborative work with the National Film Board and the National Theatre, London further explores Tannahill's relationship with his dying mother. It premiered at the Tribecca Film Festival in New York City in 2017; and was produced by Soulpepper Theatre Company in 2021. It is a one-hour individual immersive experience, with timed entries.
Canadian Stage premiered Declarations in 2018 (dir. Tannahill). This multi-media work is "an ode to mortality - that of the playwright's mother, his own, mankind's - a joyful and moving attempt to capture the objects, sensations, and experiences that make up a life. Through a lyrical text and choreographed physical score, five performers chronicle a life pulled through time, encountering meteorological phenomena, mythology, political calamity, pop culture, and everyday happenstance along the way. What accumulates is a staggering archive of images, sense memories and voices asserting that here lived, for a time, a woman" (Canadian Stage website). It is published by Coach House.
Other directing credits include the world premiere of Sheila Heti and Dan Bejar's musical All Our Happy Days are Stupid in 2013.
His works have received six Dora Mavor Moore Award nominations (winning 'Best New Play for Young Audiences' for rihannaboi95 ), four awards at the SummerWorks Festival including 'Best Production' and 'Best New Play', the 2012 Enbridge playRites Award, the 2012 Uprising National Playwriting Competition, and the 2011 Ken McDougall Award for Emerging Directors. In 2013, his play Post Eden was named one of the 'Top 10 Canadian theatre productions' by The Globe and Mail. In 2014, he was named a "Canadian Artist of the Year" by J. Kelly Nestruck in The Globe and Mail (27 Dec 14). As director or playwright, his work enjoyed five separate productions in Calgary, New York, Ottawa, Toronto, and Winnipeg. Also in 2014, he was awarded the John Hirsch Award for new directors.
He has written a text on the practice of contemporary theatre, Theatre of the Unimpressed: In Search of Vital Drama, in which he claims that most mainstream theatre suffers from "dramaturgical insecurity"--avoiding risky political issues and innovation. Theatre should envision alternative futures and model "co-operation, collectivity and community" (quote from Michael Healey in Theatre of the Unimpressed, p. 90).
His autobiographical novel, Liminal (published by House of Anansi 2018) portrays what Tannahill calls "the liminal space between a protracted adolescence and a stunted adulthood, where you're not engaged in the life of broader society" (quoted from thestar.com 13 Jan 2018). It also explores his relationship with his mother, who has stage 4 cancer. The Listeners (2021) is "a masterful speculative novel exploring the fine lines between faith, conspiracy, and mania in contemporary America" (HarperCollins website). It has been short-listed for a Giller prize.
Website: www.jordantannahill.com
Last updated 2021-11-27