Brooker, Blake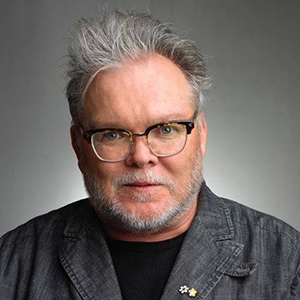 Blake Brooker
Director, writer, born in 1955, and based in Calgary Alberta. He is co-founder and Artistic Director of One Yellow Rabbit, an innovative performance theatre company which combines music, dance, stage imagery, and language.
For OYR he has created or collaborated on The Erotic Irony of Old Glory, Tears of a Dinosaur, Serpent Kills, The Land The Animals, Dance Freak, Breeder, Permission, Alien Bait, The Ugly Man by Brad Fraser, Conniption Cabaret, Mata Hari: Tigress at the City Gates, So Low, Hunger's Brides, Doing Leonard Cohen (a dramatization of Cohen's novel Beautiful Losers), In Klezskavania, Death In New Orleans, Somalia Yellow, The History of Wild Theatre, Thunderstruck, Featherland, Letters To Wendy's, and High Performance Radio: Andrew Allan's Chair, and Down With Up With People: The Untold Story of Anthony Curtola. Many of his works have been presented across Canada and in Europe.
In October 2006 OYB's Dream Machine was performed at the National Arts Centre. Dream Machine is a hallucinogenic chronicle of the 1950s American Beat movement, including William S. Burroughs and his mentor, the Edmonton native, Brion Gysin, who attempted to build the "Dream Machine," a device that used flickering light to alter brain waves and plunge the user into a waking dream state, free from the influences of advertising and mass culture. The work combines live and electronic music, evocative visuals and physical movement.
"What we're doing is attempting to create a piece of musical theatre that has meaning," says Brooker. "When you say 'musical,' a person usually thinks of the musical, but in this case, it's about music. There is a structure, but with no plot or characters. Instead, it's about rhythm, metaphor and connecting themes – music that interacts with the human spirit." (FFWD Weekly 27 Feb 2003)
Blake Brooker has collaborated with Bruce McCulloch on a screen adaptation of Barbara Gowdy's Mr. Sandman, and directed a music video from Dream Machine for Bravo!FACT.
In 2016, he was named a Member of the Order of Canada for his contribution to Canadian theatre arts.
Source: One Yellow Rabbit web site: www.oyr.org
Last updated 2022-05-10